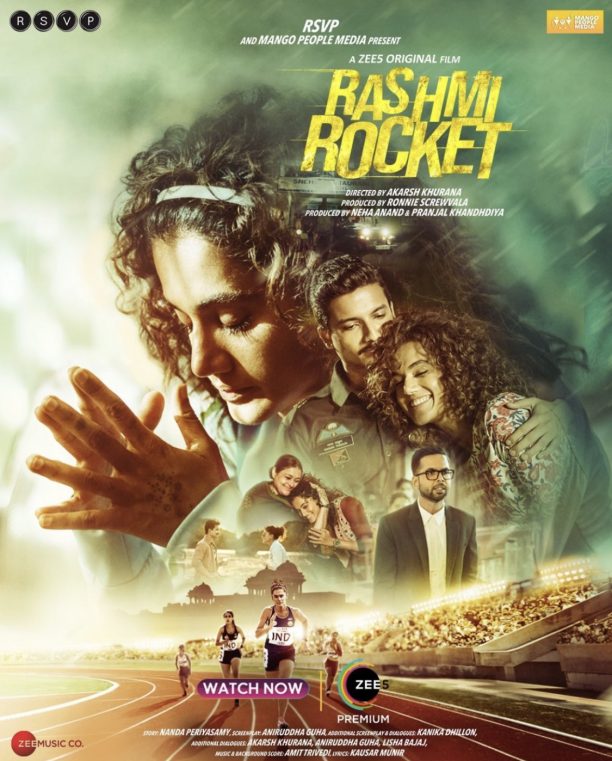 The brilliant Taapsee Pannu stars in the new sports drama Rashmi Rocket, which begins streaming on Zee5 on October 15th. Akarsh Khurana directs the film that also stars Supriya Pathak, Abhishek Banerjee, Boloram Das, Priyanshu Painyuli, Supriya Pilgaonkar, and more.
Rashmi Rocket, set in the salt marshes of Kutch in Gujarat, follows the story of a young girl that is blessed with a gift – she's an incredibly fast runner. As a result, Rashmi is recruited to run for the national Indian team. However, what seems like an incredible opportunity for her turns into a personal battle for respect, honour, and gender equality.
I knew the basic storyline, but I wanted to experience the movie without getting any specific details. Not knowing made this story even more captivating, immersing me in Rashmi's world and her journey.
Based on an original story by Nanda Periyasamy, Aniruddha Guha and Kanika Dhillon are also writers of the brilliant screenplay. It is, at its core, a simple tale of a woman who has a gift of speed, but it is truly so much more! The movie's screenplay is so well crafted. Although fictional, this tale is grounded in the disturbing reality of the problems and discriminations that women athletes still face today. I felt every moment; I never thought, oh, I am watching a sports film. I was watching a human tale. Rashmi Rocket was one runner's tale, actually many women athletes' stories, and it rang so true that it was real, not reel.
I don't want to give you any hints or any more details regarding her journey. I really want you to experience this film for yourself. It would be best if you didn't go in with a preconceived notion. It hits so much harder this way. It did for me.
A lot of credit must go to director Akarsh Khurana for showcasing this tale in such a moving, thought-provoking, romantic, dramatic way. Add in many other descriptors. I smiled, cried, cheered, and got so mad at one point I yelled NO at the screen. As I watched, I was anxious to know if Rashmi would triumph. I desperately wanted her to. It moved me so much that I think this movie will stay with me for a long time. The scenes and the performances have come back to me long after the credits rolled. If a director can make a viewer feel all that, he has done his job brilliantly.
A few nit-picky things took me out of the story, but again I want you to experience the film for yourself, so I won't reveal them. Though, I have to mention the powerful way the film ended. When the choice is made for the film to fade to black at what you feel is a crucial moment, this is a personal pet peeve. However, you actually don't need to know what happened, but Mr. Khurana, I really want to know. My desire to learn what happened is a testament to this incredible movie.
The performances are excellent! From the family, the team members, the doctors, to the lawyers (shout out to Abhishek Banerjee), the judge, the association members, the coach, and Priyanshu Painyuli as Major Gagan Thakur, they all were terrific! Never are you taken out of the story's world by any false notes. Any unauthentic moments, especially with Taapsee's brava-worthy performance, would have stood out. Every player within the tale was played perfectly.
Supriya Pathak must be spotlighted for her incredible contribution to this film. When we see her enter onscreen in any movie, we know that she will be excellent and genuine at every moment. Once again, the actress is impressive in every scene. She adds so much to the film, and I cannot imagine it without her Bhanuben.
All praise and really a standing ovation must be given to Taapsee Pannu's performance as Rashmi. In every film, the actor is brilliant, but she takes it to another level of excellence. Honestly, she does not say much; it is all about her embodying Rashmi, not pretending to play Rashmi. You felt every emotion, even when the character was keeping them hidden. Her eyes, her body language say so much without any lines spoken. Then when the lines are delivered they are impeccable and so authentic. The training and the trials she must have had to go through to become Rashmi. Wow! I never ever doubted who this character was, and not many actors can pull that off. I could write pages just on her performance but let's end this rave paragraph with Taapsee is absolutely Outstanding! She is the movie.
Applause must also be given for the music, both soundtrack and background score by Amit Trivedi. The songs, though only four, added to the piece and the background music, made the moments even more powerful, emotional and the movie was enhanced and even better. I loved every note. Give a play to the OST.
As I said, I went in with no idea what was about to unfold, and Rashmi Rocket surprised me in so many ways! It was a woman's story, a runners' story, a family tale, a romance, and a sports drama. There were so many layers to this, it is deep, but that is what makes it so good. It is such an important woman's athlete story that must be told, and I, for one, applaud the entire cast and crew for bringing this tale to the world. Rashmi Rocket will blow you away. I say it is a MUST watch!
Produced by Ronnie Screwvala's RSVP & Mango People Media, Rashmi Rocket begins streaming on Zee5 on October 15th. Again I have to say do not miss this epic film! Wah!