The veteran actress, Rati Agnihotri gave the mahurat shot for her upcoming movie Purani Jeans that will also see her as sharing the screen space with her son Tanuj Virwani for the first time.
What we hear is that, Rati Agnihotri was so excited about the movie that she herself drove for 14 hours from Chandigarh where she was shooting for Shaadi Ke Side Effects to Manali just to give the mahurat clap for Purani Jeans!
A source close to the production teams says,"Ratiji was shooting in Chandigarh for Shaadi Ke Side Effects. But she insisted on giving the Mahurat shot for the movie. So she drove herself from Chandigarh to Manali just to give the clap! All of us on the sets were overwhelmed by this gesture!"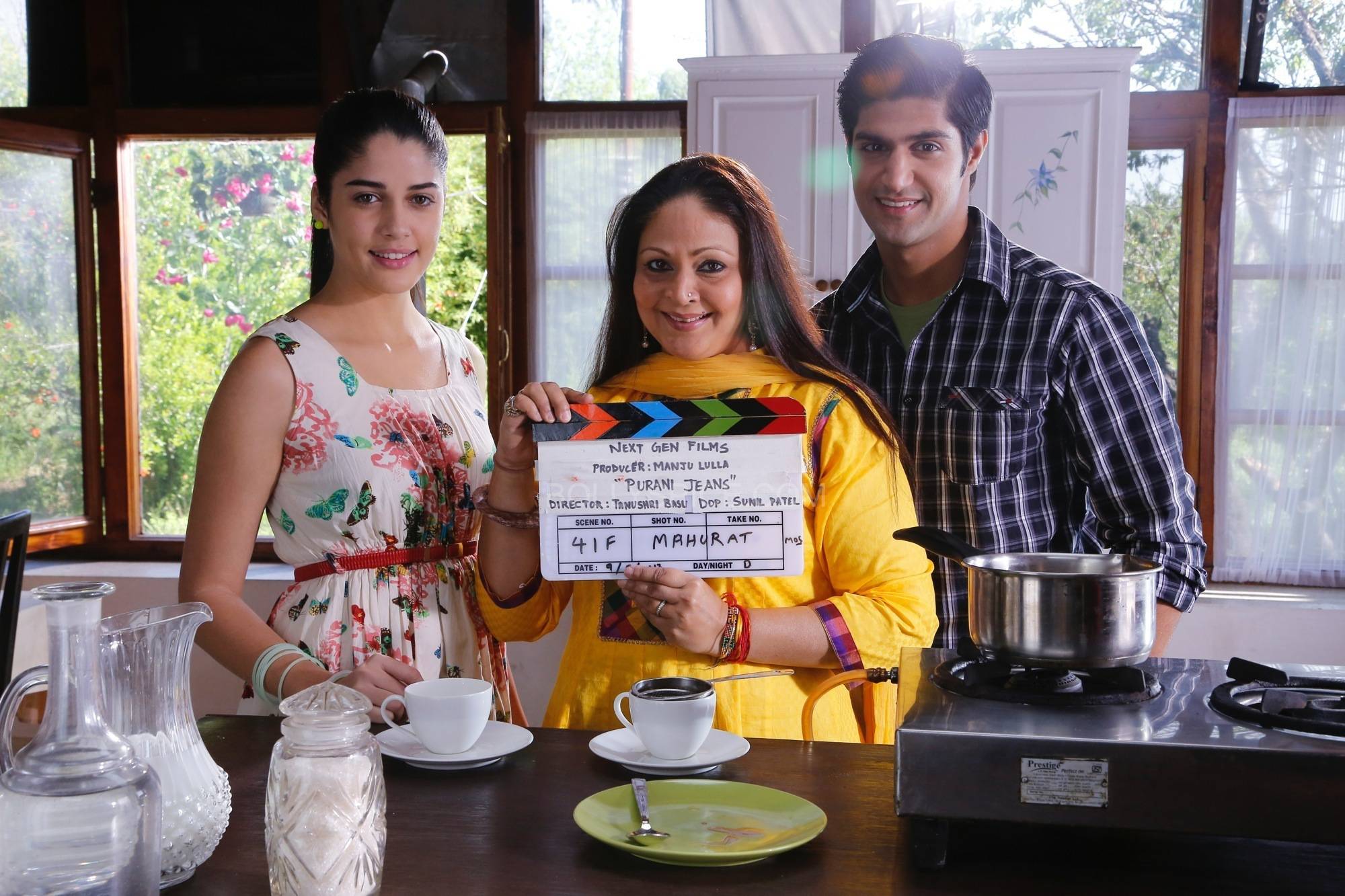 Purani Jeans is fun filled, coming of age saga, starring Tanuj Virwani, Izabelle Leite and Aditya Seal who promise to take you back to relive the youthful days once again! The movie has a retro vibe to it making you believe that friendship is indeed like Purani Jeans, waiting at the back of your closet to be rediscovered!
Produced by Manju Lulla of Eros International and NextGen Films, Purani Jeans is directed by the award winning ad director Tanushri Chattrji Bassu and is all set to release on 1st May 2014!!
Check out the trailer
[bolt id="704894″]
Synopsis
This is the belief that the protagonist Siddharth Ray comes to realize as he rediscovers bonds of friendship on his return to India from New York after 12 years. The film travels with Siddharth as he explores equations with his past to rebuild friendships with his four friends whom he grew up with in a small town in Himachal Pradesh in India. Told in a genre similar to Cinema Paradiso, a large part of the film happens in flashback about that one summer that changed Siddharth's life forever. We show Siddharth, as a successful, computer engineer based in New York City. He owns a big software company but leads a lonely life. One day, suddenly his mother passes away and he is forced to make a journey back to India. As he travels back to his hometown from the US, he remembers the most important summer of his life. The summer of 1996. In flashback we see Siddharth as a simple guy in a small town, who loves writing poetry, he hangs out with his friends Tino, Bobby, Susheel (Suzy) and Sam, all of whom form the Kasauli Cowboys. Sam is the larger than life extroverted, hero of the gang, as he is also Siddhart's best friend. As the summer unravels we see Sid, Sam and the boys, enjoy a rollercoaster ride, experiencing the agony and ecstasy of growing up. We see their world through Siddharth's young eyes as he chronicles everything in his diary, forming enviable bonds of friendship, trust, jealousy and love. Also that summer a young girl called Nayantara and her sister come into town. Siddharth falls in love with her but is too introverted n shy to commit. The girls join the group, triggering off a complex chain of events. The summer now unfolds more dramatically as the boys make detrimental choices – of love, sex, of friendship, jealousy, of heartbreaks and betrayal, finally leading to broken bonds of friendship. When Siddharth lands in India from the US; ghosts from his youth loom up. He finally overcomes the complications and sets right all the wrongs done in his past and rediscovers bonds of friendship. In the end Siddharth goes back to New York a better man; reconciled with his past & most importantly rediscovering a happier today. He returns to New York with the belief that friendship is indeed like Purani Jeans, the older the better.