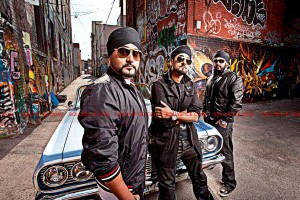 Bhangra's original and best international super group RDB is exclusively set to rock the Urban Asian music scene as they plan their next series of headline gigs in the new music hotspot of the world – Pakistan. Surj, from RDB said: "We are so excited and thrilled to include Pakistan in our next series of performances. We love the country and the fans there are so pumped up whenever they hear our songs – it's great."
The three brothers, Surj, Manj and Kully, from Bradford in the UK have blazed a trail in Urban-fusion Bhangra music  since they emerged on the scene over a decade ago, and have set the stage for others to follow. RDB have not only pioneered their unique form of Punjabi infused Dance and R'n'B hit songs, they have also led the way as hit-making producers to develop other artists' talent.
RDB has been responsible for some of the biggest international and Bollywood hits, and have been pivotal in both performing and producing for several Bollywood A list films, including Akshay Kumar starrer Speedy Singhs, for which they created the lyrics, music and production arrangement, together with Grammy Award winner Ludacris, for "Shera Di Kaum". Their other leading collaborations include tracks with music heavyweights Snoop Dogg, Elephant Man and Public Enemy. Other Bollywood hits include Singh is Kinng, Kambakkht Ishq, and chart-buster Aloo Chaat.
Often imitated in musical style and image by several 'wannabes', RDB remain the Asian music world's true originators of Bhangra, both in the UK and internationally, with a worldwide fan base.
With their eagerly awaited new album Worldwide, a pure feel-good collection of dance and Bhangra hits, about to release and a series of sold-out gigs in Pakistan on the horizon, RDB are set to seal their position at the very top of the musical summit.