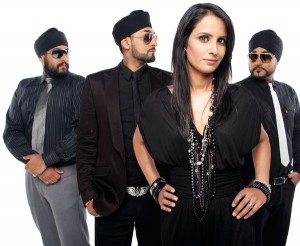 RDB, standing for Rhythm, Dhol and Bass, are one of the UK's leading and multi talented international music artists. Formed in 2000 by three brothers, Kuly, Manj and Surj, they have pioneered the style of traditional British Bhangra music by giving it a raw urban sound.
After working on the soundtracks for films such as Namastey London, Singh is Kinng, Kambakkht Ishq, and working with international stars such as Snoop Dogg and Elephant Man, it is their latest international collaboration with hip-hop sensation Ludacris, for the film Breakaway, that has got everyone's hips moving.
Breakaway is an international film that is produced by Paul Gross and Akshay Kumar. Hollywood actors Rob Lowe, Camilla Belle, comedian Russell Peters will all star in the movie alongside Anupam Kher and newcomer Vinay Virmani.
We caught up with RDB in a one to one interview to talk all about creating the song 'Shera Di Kaum', working with hip hop sensation Ludacris, and this week's release Breakaway.
You have a very distinct sound that sets you apart from the rest. Tell us about that.
Surj – It's an international sound so it's a collaboration of Punjabi, Indian melodies and lyrics mixed with hip hop beats, dance, house – whatever you want to call the Western style beats put together. It's a blend of all these different genres put together to make a Bollywood/Punjabi kind of sound mainly orientated towards films right at the moment. Before that we used to do a lot more of UK Punjabi tracks, but right now it's an international sound of all these different genres blended into one.
With it being such an international film, tell us about creating the music for Breakaway.
Manj – When we where making the music the first thing that came to our mind was 'Eye of the Tiger' because they wanted a go lucky kind of, win-win kind of track so we thought 'okay'. Ice hockey, for all people who are not familiar, is based around a lot of rock music so we said, 'Okay you know what, let's bring some guitars in, some heavy beats and mix a of bit hip hop along with some rock type of guitars and stick the Punjabi stuff in there', and then we have got Ludacris doing the rap. It was like a big kitchri and collage of everything, but just keeping that mind frame of ice hockey being based around rock music.
What do you think appeals to Akshay Kumar about your music that makes him approach you to work on the soundtrack for the majority of his films?
Surj – We just understand where he is coming from. When he puts an idea forward we just get it and within 12 hours we have done a guide for him. There is a link where he understands, and we understand exactly what he wants. So he will say 'there is a wedding type song but I don't want a typical wedding song it has to be something a little bit more up tempo.' So from that we will take it and make something that changes tempos, has something with electric breaks in there, something that is fresh and not just the stuff that he has heard in the past. He will actually go 'I like that, that's really good'. So nine times out of ten the first guide that we do for him he normally goes 'perfect.'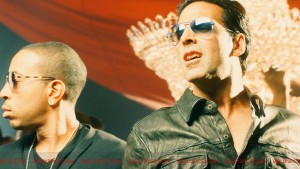 So Akshay is quite hands on then?
All  – Yeah.
Surj – Oh yeah, he is involved in everything that he does from the movies to the films to the producing.
So do you like working with Akshay? Do you get along very well?
Manj – Oh yeah.
Kuly – Yeah. Sunny Deol was like that as well. When we did Yamla Pagla Deewana he was really involved.
Surj – A lot of the high-class actors are into not just the film side of it, but the music side of it too. Because music is such a strong role in the Bollywood industry it makes or breaks the film sometimes. So they want to make sure that they get their hands on it.
Manj – It's like the packaging of the product. It's like they have made this amazing cake and now they are going to put it in a box and it has to be amazing. They have made this amazing film that has to be represented by the music so they are fully involved from day one.
What was the brief the director gave you for the songs?
Manj – What we did when really sat down, the 'Shera Di Kaum' track was made first, as in before the film was shot. That was just as an idea of a powerful type of song. Then we sat down with the director, Robert Lieberman, and the producer and they said 'this is a great song, I feel this is going to be a title track', and this was before Ludacris was on it, 'it feels like a title track for the film but we also need this type of song that is going to be at a point where the team is going to meet for the first time.' He gave us a couple of pointers for certain spots of the film, because they were still writing it at the time, and we made the music around the scoring of the film.
What was the inspiration behind 'Shera Di Kaum'?
Surj – It was the underdog song. The underdog coming out, that is where the song builds. It starts quite quiet and then it builds and builds and builds into this massive breakaway, never keep us down. It's the ultimate underdog song, for someone that has never really done well.
Manj – For anyone that needs that motivation, it's a very motivational song. They can just listen to this song and feel motivated and energy and just get them going.
Kuly– It also has a catchy tune!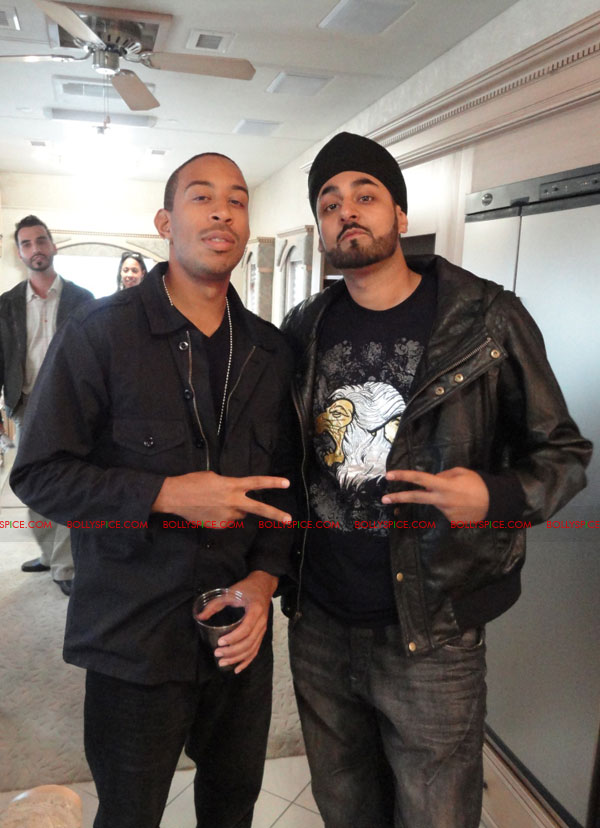 Of course we have to talk about Ludacris, tell us how that collaboration came about.
Manj – He basically got involved at our request. Basically we were making the track; we pitched it to the producers, the film directors, that it needed something. It needed an extra and because we had the links with people like Snoop, and these guys and we did Singh is Kinng in the past, we pitched out 'lets get someone on this'. There was a lot of names thrown into the basket but we kind of gave them the idea that Ludacris would be the ideal person because he is so heavily into collaborations, he does a lot of collaborations in mainstream and he would be fully willing to do something like this because of the Indian and international feel of the film. So when we got that deal done and we sent him the beat, he loved the beat and straight away he did. One take and that's it, it fitted so well. His lyrics he wrote himself and it gels with the song because he got the feel for the beat and the emotion of the film and everything, so his lyrical content fits that so well.
You previously worked with Snoop Dogg, for Singh is Kinng, and now have worked with Ludacris. How did the experience differ or compare.
Manj – They are a bit different. Musically wise, studio wise they are the same. They like to do their thing and then move on. On the set it is a different story because Snoop is such a chilled out guy, he comes on set and everyone just goes 'ahh'.
Surj – Snoop has that persona around him that everyone chills out when they see him. He is so humble as well, he sits with everyone in the canteen, he's not up himself, doesn't want to be in his own trailer.
Kuly – Takes pictures with everyone.
Surj – One of the cool stories was he actually brought his Uncle Elroy….
Kuly – Ahh that's his name.
Surj – Uncle Elroy came from LA to come to the cafeteria to cook fried chicken for everyone, for the whole cast and everything.
Manj – He is like a family guy, he likes to keep his business and everything orientated around his family. Ludacris is the complete opposite, he is very professional so he is like 'ok my trailer is over here, cool I will be in my trailer. I'll come out of my trailer, do my thing, talk to whoever I need to talk to, then I'll go back in my trailer and do my thing.' So he is really on a professional level. I guess that is because he is a Hollywood star and he does a lot of films as well. There are two total different kind of vibes.
Kuly– ATL and west coast, totally different ways.
So whom did you prefer?
Manj – Both, in their own right.
Surj – I am a big fan of Snoop, not just from when we were working with him, but previously I had Snoop T-shirts, dolls and things.
Do you see more international collaborations?
All – 100 percent for sure.
Surj – If we have anything to do with it then yeah.
Manj – Our aim of the game and our goal is to collaborate with as many mainstream acts as we can. With me living out in Toronto we are going to keep constantly, and my brothers come over all the time and we go over to the states, we go meet different agents and we just network all the time. So there is going to be more collaborations for sure.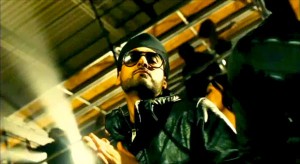 What other international artists would you love to collaborate with in the future?
Kuly – Justin for me.
Manj – Justin Timberlake is sick.
Surj – For me it would have been someone like Michael Jackson but unfortunately that is never going to happen now.
Kully – Jermaine Jackson? [All Laugh]
Surj – We did share the stage with him.
Manj – Just as many people as possible, as many as the big artists as possible.
But Justin Timberlake would be your dream.
Kuly – Oh yeah, the guy can dance, he can sing he does everything.
Manj – Or Madonna.
Talk to us a bit about your thoughts on the expansion of South Asian music throughout the world.
Surj – We did a conference in Canada at the TIFF and that question was asked and I put forward the idea of, I call it, the 'Bastard Generation', because that's basically what we are all apart of now – a new generation where here we are looked at as Indian, but when you go to India they look and say 'oh that's an English guy'. So really we are not from anywhere, we are just hybrids. There is a huge generation of all these people that are not just one thing. Therefore they don't just listen to one thing, they don't just watch one thing, they like a bit of both, and they have got the best of both worlds. That revolution is just starting now, in the past maybe 3 years, 3-4 years, the distribution networks, the cinemas have really picked up in a major way. Just for some of the stats, 65% of Bollywood's income comes from outside of India. So literally all the money, the majority of the money that they make comes from either North America or Europe. So because those markets are expanding in such a big way the producers of those films over there are like 'we really need to tap into this market, we need to make films that not only people in India, just the rickshaw vala like, but also the guys that are going to be watching in America, in England, and all over Europe, they need to like them'. So we need to involve those artists. So that's why this is just the tip of the iceberg. There is going to be a point where to see Justin Timberlake or Pink, or whoever, in a Bollywood film is going to be just normal because it's not just a Bollywood film anymore, it's a Bolly-Hollywood film. It will be a worldwide film. It will be a standard entertaining film.
Have you seen the film already? What did you like about Breakaway?
Surj  – Manj has.
Manj – I have seen the film I watched the film with the producers. It's a good film. I know a lot of people are comparing it with Bend it Like Beckham. It's not like Bend it Like Beckham. It's a more of a film that is based around a guy who has struggles around his life. I think a lot of the Punjabis, Sikhs, especially Turban wearing people, in Canada can really relate to that for sure. Because ice hockey is the biggest sport in Canada, as much as it is not as big here, it is huge over there just like football is here. I think it is one of those films that you have to keep your mind clear when you go in, from England specifically, because you are not going to understand ice hockey and what the struggles are of South Asians trying to play ice hockey. It's a sport that separates…
Surj – I suppose it is just like the Premier League here, how many Indians, how many brown people are in the Premiere League?
Manj – It's just a little bit more out there over there. Keep your mind open, go watch the film. It's just about feeling good about yourself, whatever you want to do, you can accomplish anything if you put your mind to it.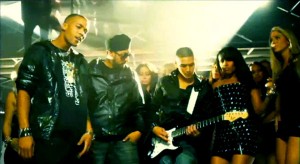 So you don't just have to like ice hockey?
Manj – Exactly.
Surj – The ice hockey is just a hold around the film, it is not the main theme of the film. The theme is obviously breaking away, the struggle, the family, the ties, the culture, which everyone can relate to.
Do you think Breakaway will crossover?
Manj – Yeah. It opened up the Toronto Film Festival and it had a massive, huge response there. Everyone was at the Toronto Film Festival from George Clooney to Brad Pitt and all these guys. So for it to open up at Toronto Film Festival, which is one of the biggest festivals in the world, is quite a big deal. I think it is going to get the attention of all the mainstream and the non South Asians.
Surj – It should work in India because Indians are mad about hockey.
Kuly- Not ice hockey but hockey.
Surj  – Hockey is like a major, major sport in India. So the fact that it is just ice hockey, there are slightly different rules, but they can appreciate what is happening.
Who do you guys think from the cast has the potential to make it big in the industry?
Manj – I love Russell Peters because I think he is just brilliant. I personally thought that he could have been a lot more funnier in the film.
Kuly- Yeah, they put him on a leash I think.
Manj – Yeah, they held him back but anything that he has done in the film is hilarious. Yeah he could definitely have his own film for sure.
Do you think he will appeal to the India market?
Manj – Yeah, oh yeah.
Surj – Potentially yeah, well if they understand him. They have dubbed it in Hindi for India, which kind of looses the flavor of Russell Peter's jokes.
Kuly – As soon as you translate something the comedy goes.
Surj – But if anyone is listening to it in English and they understand English, they speak English then yeah.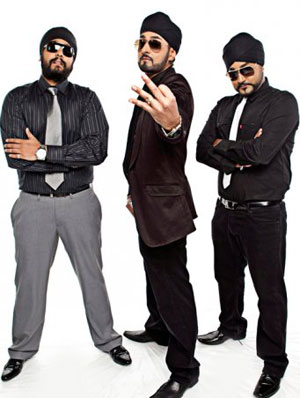 What other collaborations do you have in the works?
Surj – We have a few but obviously we can't divulge about it, but yes we do.
Now that you are a worldwide phenomenon your influences would most probably have changed. Would you still say your roots are in the UK?
Surj – Yeah I mean we are born and raised here in the UK, from the city of Bradford, so we have never left the UK. We are still here, we are still making music from our studio based in Bradford. It's just that we are venturing out into other areas as well. Now Manj is in Toronto, for the past ten years or so, we have got a studio out there. It kind of makes sense that we expand our market, and not just say that we have moved to a different country or moved out, we are just expanding.
Kuly – I mean England is the centre of the world. If you look at it its right bang in the middle, that's where we have GMT and zero, the time starts here. Musically, desi wise, it all starts here as well because it is the perfect melting pot. All the major Indian artists are all from England, the majority are from England. You have the Punjabi guys and then you have the Bollywood playback singers, but in terms of the guys that are doing proper crossover stuff it is all starting here. So yeah are roots are always going to be here.