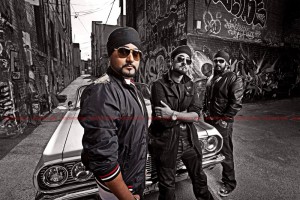 Millions of fans are continuing to pay their tributes to musician and producer Kuly from RDB, who passed away on the 22nd of May 2012.
The talented song writer, composer and producer will be missed by millions of fans from around the world after he sadly lost his battle with cancer. Kuly and his two brothers, Surj and Manj, who together form trio RDB, are responsible for some of Bollywood's biggest hit movie tracks, including: Aaja Mahi, Singh is Kinng, Aloo Chaat and Shera di Kaum. 
Fans from the UK, India, Pakistan, America and Canada have tweeted messages of condolence to Kuly's family, and scores have left messages of support on the official RDB Facebook page. Fans have been sharing fond memories of Kuly and RDB, and reliving musical highlights. Many have cited how RDB's music has been a defining point in their lives, shaping their musical tastes and younger days.
Fans, supporters and the music industry can pay their final respects to Kuly Ral, one third of super Urban-Bhangra group RDB, when his devoted family and Three Records label colleagues will set up a Memorial Page to enable people to donate to the Brain Tumour UK charity in his memory.
Kuly, the eldest of the three brothers from RDB, sadly lost his battle with brain cancer in Houston, Texas, USA. He had been undergoing specialist treatment to try and cure the disease in the United States.
But it is for his musical creativity and dedicated work ethic that Kuly will forever be remembered. His brother Manj remembers him fondly, saying: "Kuly was the most creative person I had ever known. I was privileged and honoured to learn everything I know today from him. He was my mentor as well as my older brother and I will always follow the example he set and keep making him proud of me."
Brother Surj added: "He always encouraged people around him to work harder, achieve more and as he would always say… keep breaking the boundaries. His incredible work ethic and legacy will continue to motivate us to move forward and help achieve the dreams he had for RDB and Three Records. We thank family, friends and most importantly our fans for helping us get through this tough time. Thank you."
Fellow group member and sister-in-law Nindy Kaur says: "Although Kuly was my brother in law I always looked at him as my own brother. He was always fair and never took sides with anyone, he looked at logic and people's feelings and that was the one thing I loved the most about him. I'm going to miss Kuly, my biggest fan in the studio, my brother and my decision making partner."
As well as his passion for music, the concept of 'Seva' (selfless giving) and education were very important parts of his life. A humanitarian, Kuly always wanted to give back to society and encouraged others to do the same. Along with a zest for life and charity, he also always wanted to continue learning and expanding his horizons.
Individuals looking to make donations to Brain Tumour UK, a charity which works tirelessly to fund research and raise awareness of this disease, can visit www.justgiving.com/Kulyrdb