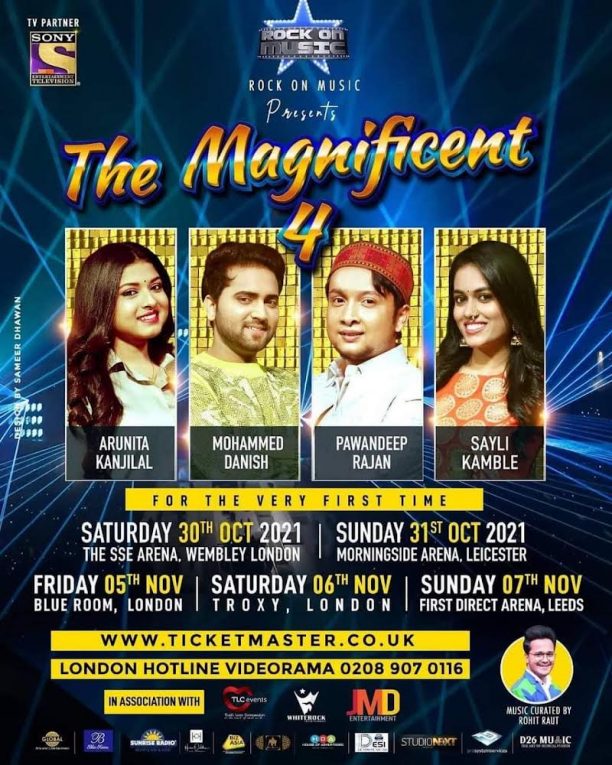 It has been a roller-coaster ride from relative obscurity to instant stardom for the finalists of Indian Idol Season 12, four of whom – Arunita Kanjilal, Sayli Kamble, Mohammed Danish and the winner – Pawandeep Rajan will perform in a U.K. Tour starting this weekend.
Whilst the competition has been popular since its inception, this season of Indian Idol enjoyed unprecedented interest. Millions of viewers worldwide were glued to their seats weekly as some of India's untapped but inherently talented singers made their presence felt after many rounds of gruelling competition.
They have captured the imagination and hearts of the world with their sheer singing prowess and endearing personalities. Judges and critics alike have been in awe at the quality of the contestants and believe that they will evolve into the future stars of the Indian music scene.
DATES
Saturday 30th October 2021 / SSE Arena Wembley, LONDON
Sunday 31st October 2021 / Morningside Arena, LEICESTER
Sunday 7th November 2021 / First Direct Arena, LEEDS
You can purchase TICKETS with this link!
The Magnificent 4 (Indian Idol Season 12 Winner & Finalists) UK Tour
As a teaser here is winner Pawandeep Rajan's latest release MANZOOR DIL