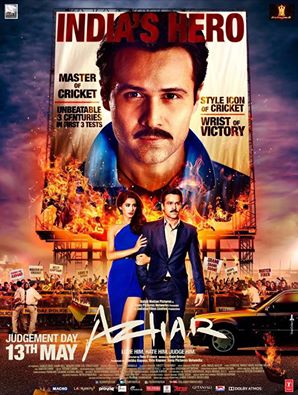 With the release of Azhar only a few days away, chatter about the movie has been at an all-time high! Many have speculated on whether the movie will expose a whole new side of cricket and it seems it just might! The long forgotten Tehelka expose video, that carried in depth hidden information about the match fixing scandal and went on to ruin careers of many iconic cricketers in 2000, will soon do the rounds and create a buzz in every Indian household once again.
The makers of the movie Azhar are trying their best to go through the legal route to use the glimpses of this sting operation in the movie to add to the authenticity of the scandal. The film's director, Tony D'Souza, says, "We have recreated the sting operation in the film from the footage that is available. But we're trying to get our legal team to figure out the process to insert parts of the real recording in the film. Let's see if the footage makes it to the big screen. Otherwise, the makers will have to rely on the recreated footage."
The use of these videos could bring back some really harsh memories like the blame game played by the cricketers when the news of the scandal broke out, the recall of how the news was broken to Sachin Tendulkar, the amount of money taken by cricketers, the scandalous Titan Cup of 1997, statements made by BCCI officials, inputs by the teammates and above everything the accusations that led to the black spot on Azhar's career.
Not much can be said until the makers of the movie get clearance to use these videos. However, one thing is for sure, the videos will add to the credibility of the movie, especially for those who are not aware of the incidents that took place in the year 2000.
Though Azhar is not a biopic, it is based on some well-known incidents and facts of former Indian cricket captain Azharuddin's life. The film is directed by Tony D'Souza and stars Emraan Hashmi, Prachi Desai, Nargis Fakhri and Lara Dutt is slated to release on May 13, 2016.