As we say adios to 2012 we can't help but look back on a year of Bollywood and fashion. This year B'town's diary was crammed with awards ceremonies, film premieres, weddings and parties so naturally a stylish wardrobe was needed, whether it be a stylish suit or gown from a renowned International name or the creation of a home grown designer. Some stars learnt from past fashion mistakes and impressed us with their newfound style whilst others carried on impressing us showing that style is in their genes.  This year was certainly the year the Bollywood stars upped their fashion stakes giving some competition to their Hollywood counterparts. Let's hope this newfound love of fashion continues into 2013.  Scroll down to see the best fashion moments of the best dressed Bollywood stars of the year gone by.
Deepika Padukone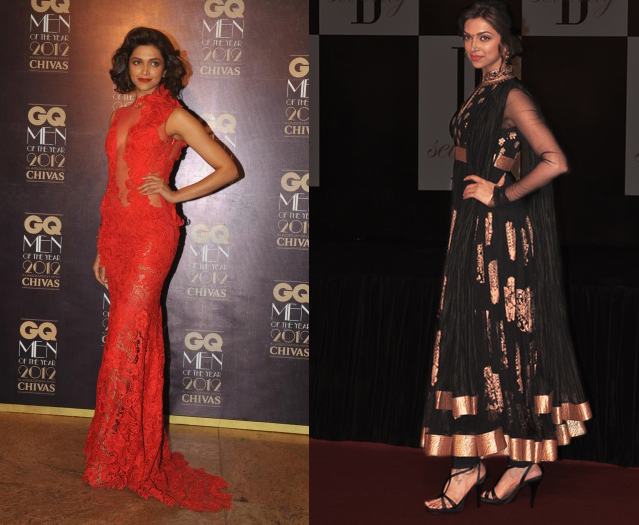 Deepika Padukone upped the style stakes this year and rarely got it wrong when it came to fashion whether it was on the big screen or whether walking down the red carpet. She proved she can work it whether she opts for a Gaurav Gupta gown or a Rohit Bal churidar. The actress certainly showed us that she knows a lot when it comes to fashion. We look forward to seeing what the actress wears in 2013.
Sridevi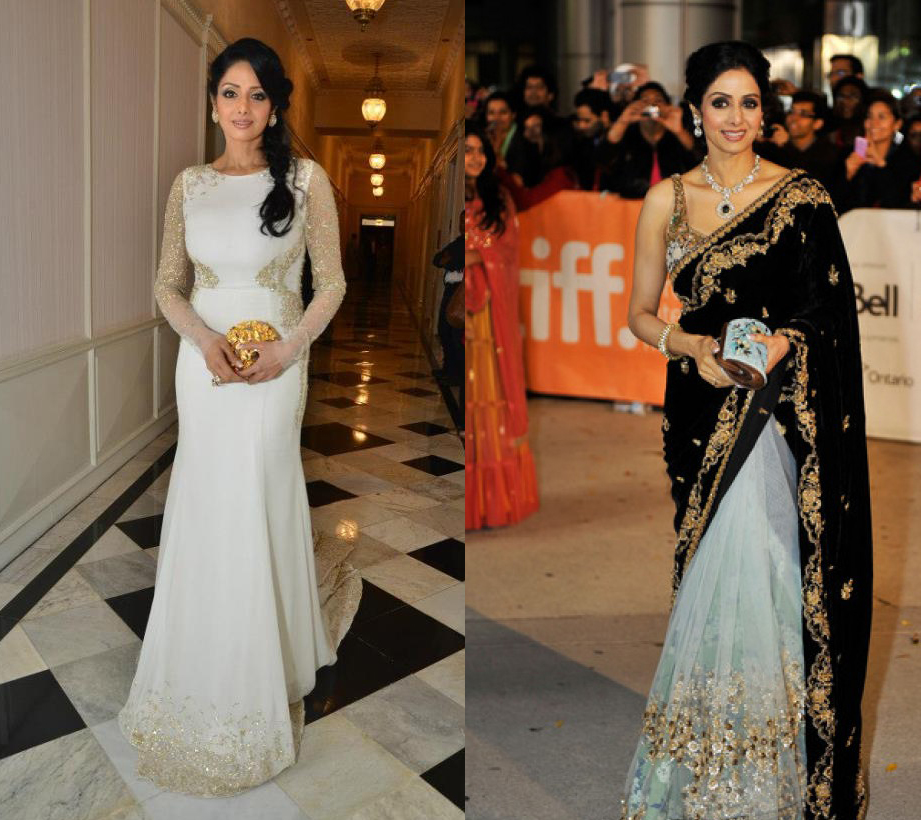 This was the year Sridevi returned to the big screen and boy did she come back with a bang! Not only where we impressed with her wardrobe in English Vinglish, and of course her brilliant acting, but we also couldn't keep our eyes of the talented actress when she walked down the red carpet, be it in an Elie Saab gown or a Sabyasachi saree. The actress shows us that fashion knows no age limit and could teach B'town's newcomers a thing or two when it comes to fashion.
 Sonam Kapoor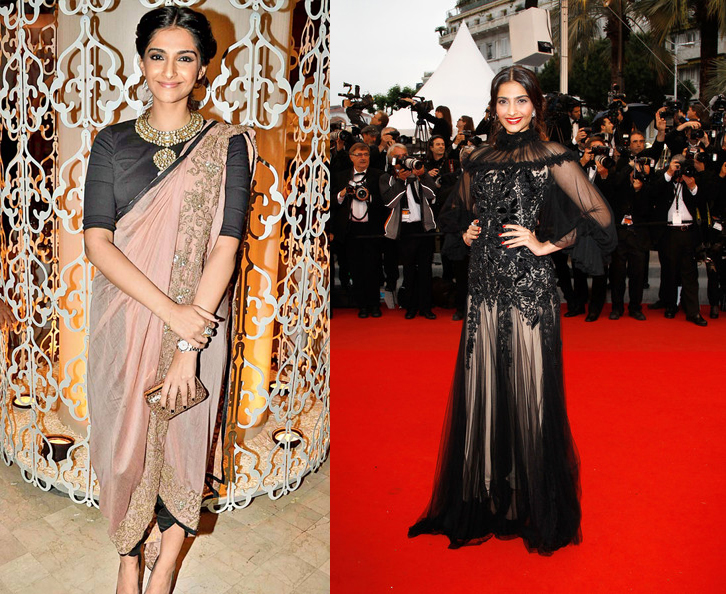 Actress Sonam Kapoor hardly ever gets it right but fashionista Sonam Kapoor for the majority of the time is a favourite of ours. We where bowled over by her impeccable fashion sense from the day she entered the industry. What's more is that she's yet to disappoint us when it comes to her style. This year was no different for Sonam Kapoor who wowed us on the red carpet be it in an Alexander McQueen dress or looking like an Indian princess in Anamika Khanna. If there is one thing we are certain for 2013, it is that Sonam Kapoor will carry on wowing us with her fashionable wardrobe.
Madhuri Dixit Nene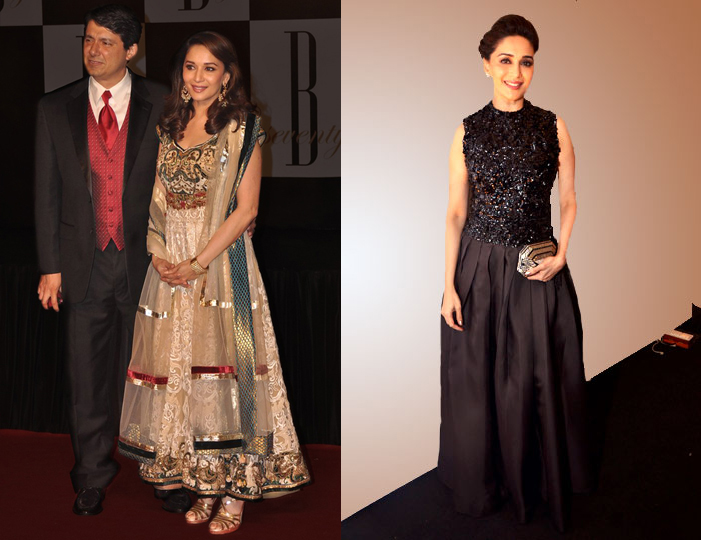 Madhuri Dixit Nene has had a busy year in 2012. She might not have had a film out this year but the actress has been busy with other work, which has seen her appear on the red carpet and at events several times. The legendry actress started the year on a low note when it comes to fashion however upped her game as the year concludes and lands on our list of Best Dressed stars. Madhuri sported a number of fabulous outfits that remain etched in our minds, whether it was the Christian Dior gown or the Manish Malhotra creations. We can't wait to see what Madhuri wears throughout 2013, one thing for sure it will be fabulous and graceful like her!
Sonakshi Sinha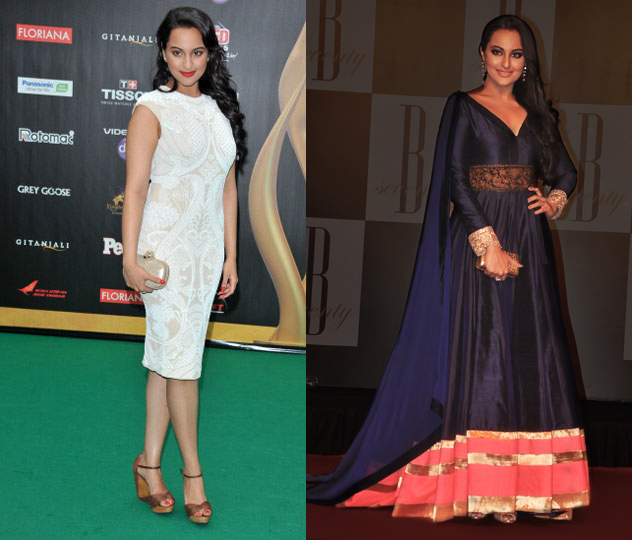 Sonakshi Sinha is one actress who knows what suits her and sticks to it. If there is something we love to see Sonakshi in then it is Indian attire because she really does work it be it a saree or a Manish Malhotra creation. The actress also showed us this year that she can work an international outfit too; how can we forget her at the IIFA awards in that McQueen dress.
Anil Kapoor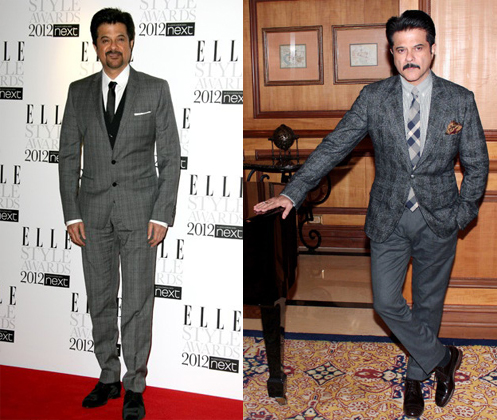 Generally we'd say the Kapoor clan are kinda ruling this list! The only male to make it onto this years list is Anil Kapoor. Anil Kapoor has been spotted not only at B'town events but has also been walking the red carpet at international events including the Elle Style Awards in London were the actor impressed us with his Dolce & Gabbana grey suit. We are not sure whether Sonam Kapoor has been giving her father fashion tips or whether the Kapoors have a fashion gene but one thing is for sure Anil Kapoor knows how to dress. He is one actor who is not afraid to try something different rather than opting for the same old black suit that many actors often opt for. Anil Kapoor shows us that grey is the new black and we think some of the actors of Bollywood need to take notes on how to work a suit from Anil Kapoor.
Dia Mirza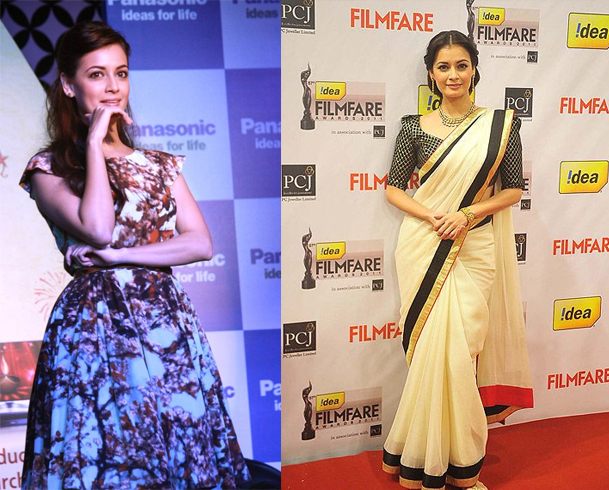 We're getting used to seeing Dia on this countdown. One of the most underrated fashionistas we have. She's subtle, elegant and takes our breath away each time. This year she did it many a times. There was the beautiful IIFA 2012 appearance in a classic Kerala silk saree, the Paanch Adhay appearance in a down to earth kantha, the striking day dress/gowns she opts for at various functions and of course the quintessential anarkalis. She rocks them all and how!
A few of our favourite celebs missed this list by a small mark however deserve a special mention nonetheless. Firstly, Kajol deserves a standing ovation for being the most improved fashionista. We love that she's having fun with her fashion and we are too seeing her try new and bold styles. Some times it works, sometimes it doesn't but its her effort we'd like to congratulate. There's also the ever stylish Neha Dhupia who is always surprising us with her various appearances, sometimes bad, but mostly good. We also have to give kudos to Kangana Ranuat for wearing Sabyasachi in a new way. If it wasn't for her appearances in the designer's creations we'd not realise a youthful and funky side to Sabyasachi.