While song and dance have always been a part of Bollywood, this year we saw a huge change in the way music was incorporated in films. A lot of the films used music in the background and there was actually very little dancing and not much room seemed to be left for innovative dance sequences. Yet, there was this ongoing trend of item numbers that filled up a lot of space.
Bollyspice takes a look at some of the most innovative and enjoyable choreography of 2012.
'Ishq Shava/Ishq Dance' – Jab Tak Hai Jaan
The newest and most modern choreography was seen in the only dance number in the movie Jab Tak Hai Jaan: 'Ishq Shava" with choreography by Vaibhavi Merchant.
The sequence begins with the prelude called Ishq Dance, which is one of the highlights of the movie, where Katrina Kaif is seen dancing to different styles with different dancers. This made everyone sit up and take notice.
Kaif revealed she practiced a lot for that part and it has really paid off as she shines. We certainly have never seen Kat move like this before!
Then we are treated to full song sequence, 'Ishq Shava', and Vaibhavi has outdone herself giving the song a modern freestyle feel. One can clearly see that both Katrina and SRK are having fun dancing to the song and we can only hope to see if it would be possible to get these two on stage to perform this song live for us.
---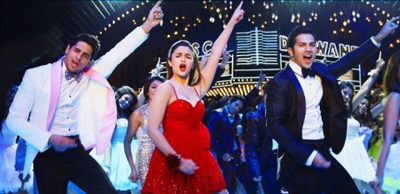 'Disco Deewana' – Student of the Year
When you think of Remo D'Souza, the dance style Disco is not the first thing that pops into your mind. But then again, 'Disco Deewane' is not your typical Disco song either.
The setting is a huge stage where the three debutants gear up for the dance competition of their lives.
Even though the song is revised/remixed, it brings you back to the 70s with several recognizable disco steps and of course the clothes. The steps used for the chorus is the disco we are familiar with, yet when the 2012 music beats kick in, we even see a little bit of locking and popping passing through.
A great mix of the new and the old come together to make you get off your seat and dance!
---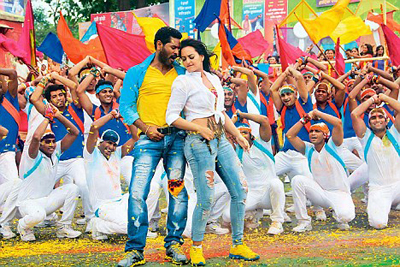 'Go Go Go Govinda' – OMG Oh My God
Prabhudeva is one of the best dancers India has ever seen and he shows his awesome skills in the song 'Go Go Go Govinda' from the film OMG Oh My God!
And what a task it must have been for Sonakshi Sinha to match up to Prabhudeva's steps, but what it shows is a new Sonakshi who is happy trying a different style and succeeding.
What awesome choreography to a song, which captures the happiness of Krishna Janamastami.
---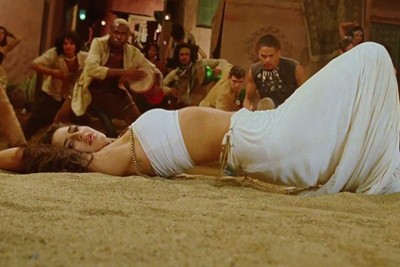 'Mashallah' – Ek Tha Tiger
Katrina Kaif has become synonymous with belly dancing ever since she did 'Sheila Ki Jawaani'. And no one can disagree that she does a fantastic job. With 'Mashallah' she just shows why she is the best when it comes to this specific style.
Choreographed by Vaibhavi Merchant, she truly knows how to utilize Katrina Kaif to its fullest while making her dance. The steps for Salman are kept simple and don't have the Salman trademark moves which he is famous for, a refreshing watch.
---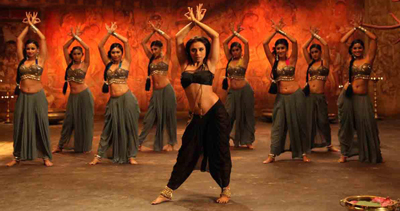 'Aga Bai' – Aiyyaa
This is Rani Mukherjee as we have never seen her before. We all know Mukherjee is a fantastic dancer and in this number she proves she can still dance as the best.
The choreography is a mixture between Indian and Arabic dance styles. If you think one had seen Katrina Kaif move her hips, it's Mukherjee who effortlessly amazes with her belly dancing skills.
This was definitely one of the most difficult songs to choreograph, when you listen to the beats and rhythm but Vaibhavi Merchant comes up with the most unexpected moves for this electronic dance number.