Namaste, Sas-re-kaal, A-salaam-al-e- kum and welcome to My Christmas/New year present to all you Bollywood fanatics. The 2012 countdown of the top grossing films. A year in which the total net amount earned by the top 10 films of the year is so far  1470 crores (compared to 2011's 930 crores), and this is predicted to cross 1500 crores by the end of this year! 2012 is the year in which nine films made the top thirty films of highest grossing films of Indian cinema as well as seven films crossed the 100 crore mark in the domestic markets.
Now for the countdown. Bear in mind that this countdown is based on pure fact and figures. This is a countdown based on what you the viewer have voted for with your feet, as you the viewer have taken the time out from your lives to see these films in your droves. You may agree with some of them you may not agree with some of them – but come what may, these are your top ten grossers for 2012.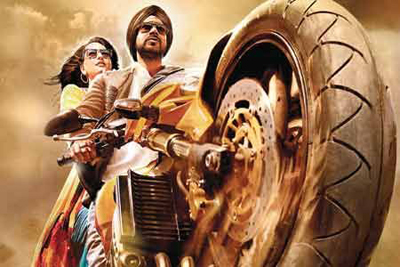 10. Son of Sardaar
Starring – Ajay Devgan, Sonakshi Sinha, Sanjay Dutt, Juhi Chawla, Mukul Dev, Vindu Dara Singh
Director – Ashwini Dhir
Producer – Ajay Devgan, N.R Pachisia, Pravin Talreja
Music – Himesh Reshammiya
Release Date – November 13, 2012
This 2012 action comedy offering from Ashwni Dhir released to competition with the Yash Raj film Jab Tak Hai Jaan, and managed to hold its own by doing excellent business at the box office worldwide.
Based on a story of two families whose leaders killed themselves many years ago, this Ajay Devgan starrer is a loose remake of Telugu film Maryada Ramanna directed by S. S. Rajamouli that faced its fair share of controversy before release. Ajay Devgan sent an intimation notice to Yash Raj Films two weeks before Diwali, accusing Yash Raj Films of monopolistic business practices, stating that they used "their dominant position in the Bollywood film market" to secure many high quality single-screens for their release Jab Tak Hai Jaan. The Competition Commission dismissed the case against Yash Raj Films on 6 November 2012, which led to Ajay Devgn appealing to Competition Appellate Tribunal after rejection of petition against Yash Raj Films. The Competition Appellate tribunal bench headed by chairman Justice V. S. Sirpurkar refused Ajay's stay against Jab Tak Hai Jaan but stated that the case against Yash Raj Films will be reviewed again.
Despite the issues Son of Sardaar managed to receive mixed reviews. Taran Adarsh gave the film four out of five stars saying 'If you liked Wanted, Dabangg and Rowdy Rathore, chances are you will relish Son of Sardaar as well. The North Indian audiences in particular and those residing abroad will be simply delighted by this chatpata, masaledaar fare.'
Bollyspice reviewer, Anjum Shabbir, compared this Diwali offering to sweet or salty lassi, saying you will either love it or hate it and gave the film two and a half stars out of five stars.
Now down to the nitty gritty. Son Of Sardaar opened to a 70% average at multiplexes and single screens, in North India. The opening day earnings grossed 8.50 crore. The second day earnings shhowed growth with collections of around 14 crore
Son Of Sardar's first-week total hit 62 crore and a total of 80 crore after its second weekend. Collections however dropped for Son of Sardar in week two where totals reached around 15.16 crore.
With a total of  88.50 crore in four weeks, Son of Sardaar is 2012's 10th Top Grossing Film.
---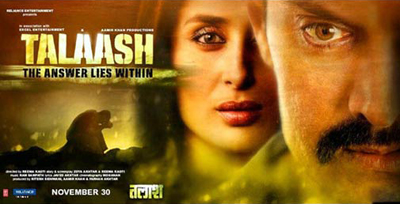 9. Talaash
Starring – Aamir Khan, Rani Mukerji, Kareena Kapoor
Director – Reema Kagti
Producer – Ritesh Sidhwani, Aamir Khan, Farhan Akthar
Music – Ram Sampath
Release Date – November 30, 2012
Following her 2007 directorial debut with the widely acclaimed Honeymoon Travels Pvt. Ltd., Kagti was approached to helm many projects by several production houses. However, unable to find any films that interested her, Kagti began working again on a script with her friend Zoya Akhtar that they wrote in early 2010.
Written with him in mind, Aamir Khan was approached in November 2010 with a final story and Kagti found her male lead and film producer.
Talaash received positive to mixed reviews from critics. Anupama Chopra of Hindustan Times gave it 3 out of 5, stating "For once, I also feel the need to explain my rating: I wanted to give four stars to the first half and two stars to the second half, so it averages out to three. See Talaash and do post comments. I'm curious to see how many were as furious as me.
Anjum Shabbir reviewed for BollySpice and recommended readers to get themselves down to their nearest cinema – they would not be disappointed. . Anjum also wondered where Talaash would rank amoung the big releases of 2012 – so here it is.
With opening collections of an average of 65-70% in the multiplexes and 40% in the single screens, Talaash collected 12.50 crore in its opening day and 64.31 crore in its first week. Pundits have put Talaash's four weeks figures at a total of 90.25 crore making it your Ninth Top Grossing Film Of The Year.
---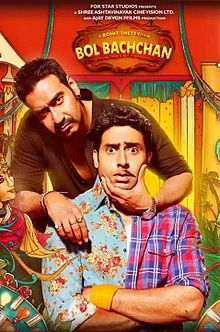 8. Bol Bachchan
Starring – Ajay Devgan, Abhishek Bachchan, Asin, Prachi Desai, Krushna Abhishek
Director – Rohit Shetty
Producer – Ajay Devgan, Dhillin Metha
Music – HImesh Reshammiya, Ajay-Atul
Release Date – July 6, 2012
Made on a massive budget of 70 crore, this year's Rohit Shetty offering was an official remake of the popular 1979 film Gol Maal. With its trailer released on 24 May 2012 and the release of the film on 6 July 2012 in approximately 2575 screens worldwide with 2700 prints, almost half a year behind its original release date of Diwali 2011.
Critically the film received mixed reviews. Devesh Sharma gave this summer offering four out of five stars stating that the film was a 'good leave- your-brains-behind product' which the masses would be happy with, the same however could not be said for the soul of the late Hrishikesh Mukerjee.
Shalu Dhyani reviewed the film for BollySpice and gave this Shetty offering two and a half stars out of five stars, saying that the film didn't have the laugh a minute quality of Shetty's earlier comedies.
Now the figures. Bol Bachchan's opening collections for single screens hovered around 70% while it's opening collections at the multiplexes were slightly lower at around the 60% mark. It's opening day collections were 11.25 crore with a jump on Sunday to reach a total of 38 crore. Bol Bachchan's first week collections stood at 60 crore, but saw a 70% drop in business in it's second Friday at the multiplexes due to the release of Saif Ali Khan and Deepika Padukone starrer Cocktail. Bol Bachchan managed to hold its own in the single screens which helped it land at this years number eight with a total gross of approximatly 100 crore.
---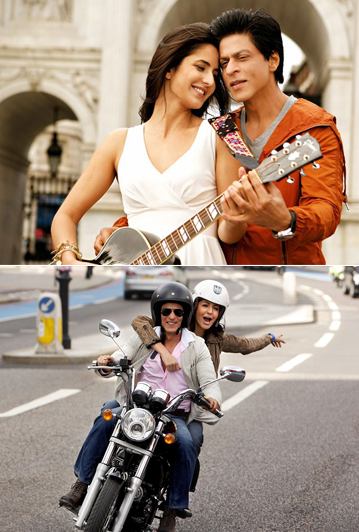 7. Jab Tak Hai Jaan
Starring – Shah Rukh Khan, Katrina Kaif, Anushka Sharma
Director – Yash Chopra
Producer – Aditya Chopra
Music – A R Rehman
Release Date – November 12, 2012
Jab Tak Hai Jaan, Chopra's fourth film to feature Shahrukh Khan in the lead role was his return to the silver screen following the eight year gap after the release of 2004 release Veer-Zaara. It was also to be his last film before his death of 21st October 2012.
Chopra's final Bollywood offering opened to positive to mixed reviews. The romantic drama was given four out of five stars by Taran Adarsh who mentioned in his review that the film was 'attention grabbing from inception till conclusion'. Sukanya Verma on the other hand gave the film two and a half out of five for Chopra's swan song, criticizing the screenplay and snappiness. Pooja Rao reviewed the film for BollySpice and suggested a three out of five rating, stating that it was sloppy and clichéd, but lead actor Shah Rukh Khan made it work.
Released on the same day as Son of Sardaar, Jab Tak Hai Jaan managed to out perform Son of Sardaar by a massive 20 crore despite the controversy and the competition.
Jab Tak Hai Jaan opened to 95% occupancy across the multiplexes and single screens across India and collected 12.50 crore on its opening day. A 50% growth on its second day saw the film collections rise by 19.54 crore. The end of the first week saw collections total 78 crore, second week collections fell considerably where totals reached were 15.9 crore. The film crossed its 100 crore mark 20days after its release on 2nd December. A fitting tribute to one of the best directors of Indian Cinema, Yash Chopra's final film is 2012's seventh highest grossing film.
---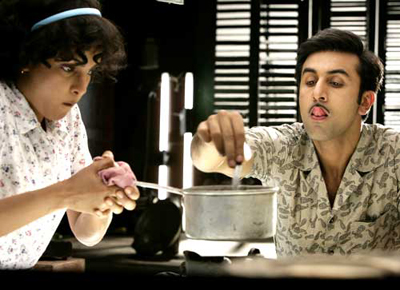 6. Barfi!
Starring – Ranbir Kapoor, Priyanka Chopra, IIeana D'cruz, Saurabh Shukla
Director – Anurag Basu
Producer – Ronnie Screwvala, Siddharth Roy Kapoor
Music – Pritam
Release Date – September 14, 2012
Barfi! Anurag Basu's 2012 Indian romantic comedy film tells the story of "Barfi", a mute and deaf boy in Darjeeling, West Bengal and his relationship with two girls. Official filming for Barfi! Began on 11th March 2011 and completion by April 2012. The release of the film was postponed from its original date of July 13th 2012 to August 31st 2012 and then again to September 14th at the request of the producers.
India's official entry for the Best Foreign Language Film nomination for the 85th Academy Awards in February, Barfi! Was made on a budget of 30 crore and released across 1300 screens in India. As with every Basu film there is always some element of controversy. Producer Siddharth Roy received notice from British radio maker Murphy Radio saying that their trademark Murphy baby had been used without permission. Roy responded to the notice by saying that there was nothing wrong with the intention with which the trademark had been used and that the brand had been shown in a very positive light.
Barfi! Opened to largely positive reviews, Madhureeta Mukerjee reviewed the film for The Times of India rated the film with four out of five stars, expressing 'Ranbir, in the most challenging performance of his career leaves us 'dumbstruck.' Pooja Rao reviewed for BollySpice and highlighted one of the messages of the film, which Barfi teaches us to value people by what they bring into our lives in an age when we are always judging people by what they cannot bring into our lives. Mentioning that the film leaves you with a warmth in the heart. Rao awarded the film three out of five stars.
Barfi! Had a strong opening at the multiplexes but experienced a weaker opening in the single screens largely due to the limited release. Grossing 8.56 crore on its first day, with 34 crore being its total takings on its first weekend. The first total week collections were 56.46 crore, second week total collections were 24.18 crores, third week collections stood at 15.75 crore and forth week collections were 6.15 crore. Final figures for this years number six are  106 crore. Not bad Mr Basu. Not bad at all.
---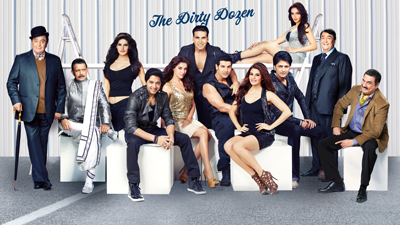 5. Housefull 2
Starring – Akshay Kumar, Asin, John Abraham, Jacqueline Fernandez, Rishi Kapoor, Randhir Kapoor
Director – Sajid Khan
Producer – Sajid Nadiadwala
Music – Sajid – Wajid
Release Date – April 5th, 2012
The sequel to the 2010 Sajid Khan release Housefull, Housefull 2 was unleashed on us in early 2012. Said to be inspired by 2003 Tamil film Banda Paramasivam and 1998 Malayalam film Mattupetti Machan, filming for the first schedule started on June 9th 2011 in London and Peterborough, the second schedule on 1st October 2011 in Filmistan Studios, Mumbai and the final schedule in December in Thailand.
Though initial announcements indicated that the film would hit the silver screen on June 1st, an announcement on September 30th 2011 confirmed the release date as April 5th 2012.
A 2700 screen release landed Housefull 2 in forth place behind Ra.One, Bodyguard, and Don 2.
Critically Housefull 2 received far more positive reviews than its predecessor, though the opinion was still largely mixed. Taran Adarsh gave the film three and a half stars saying 'if your idea of watching a comedy is to have a good time at the movies, then Housefull 2 is especially designed for you.'
Rajeev Masand on gave the film one out of five stars and declared that Housefull 2 was for four year olds who didn't know any better. Prateeksha Khot reviewed the film for BollySpice and awarded the film two stars out of five stating the reason behind it was the enjoyment levels experienced on two factors – where you see it and with whom.
Now the important part. Housefull 2 opened well and collected 13.25 crore on its first day, 12.75 crore on its second and 16 crore on its third day. Its 1st week alone saw its collection total 63 crore, however first weekend collections dropped by 4 crore  due to IPL matches, however figures for the its second week totaled 30 crore and by its third week the films collections had crossed 100 crore.
Final figures for this Khan Easter offering are well over 113 crore. The figure alone explains why Khan has confirmed the ideas of a Housefull 3 in a couple of years.
---

4. Agneepath
Starring – Hrithik Roshan, Rishi Kapoor, Sanjay Dutt, Priyanka Chopra, Om Puri, Zarina Wahab
Director – Karan Malhotra
Producer – Karan Johar, Hiroo Johar
Music – Ajay – Atul
Release Date – January 26th 2012
The retelling of the 1990 Amitabh Bachchan Agnipath starring Hrithik Roshan as Vijay Deenanath Chauhan was released in the early part of the year. Having harboured the intentions of remaking the film since the commercial failure of the first Agneepath, the discussions of the remake arose on the sets of My Name is Khan, where Karan Malhotra was assisting Johar. Johar maintained that the new film would belong to a different environment on comparison to the original. The film would be adapted to fit in with today's generation and time. Noticeable changes were made to the storyline of the original film. Characters were omitted and new characters were introduced.
Initially scheduled to release on 13th January 2012, the release was postponed by a week to 26th January to coincide with the Republic Day Celebrations in India. The film was released on 2650 screens worldwide and received positive reviews. Taran Adarsh awarded the film four and a half out of five stating that the film was a fitting tribute to the masterwork. Prateeksha Khot reviewed for BollySpice gave the film three and half out of five saying 'go watch this film for nostalgia and some really great performances to come out of the actors.'
Made on a budget of 60 crore, Agneepath broke the highest opening day collections record in India. On its opening day Agneepath grossed 21.76 crore surpassing the record held by Bodyguard. The first week total reached 85.88 crore. The second week collection 23.12 crore, the third week collections took totals to 116.59 crores and final collections stand at 121 crore.
Ladies and gents our forth top grossing film. Agneepath.
---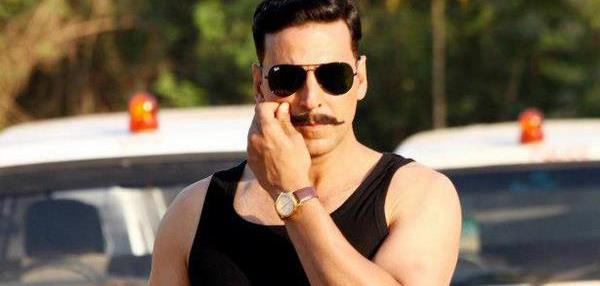 3. Rowdy Rathore
Starring – Akshay Kumar, Sonakshi Sinha
Director – Prabhu Deva
Producer – Sanjay Leela Bhansali and Ronnie Screwvala
Music – Sajid-Wajid
Release Date – June 1st 2012
Rowdy Rathore revolves around a thief, Shiva, who falls in love with a young woman named Paro.  Taking on the responsibility to care of deceased lookalike ACP Vikram Rathore's daughter, Shiva also seeks revenge from the main antagonist Baapji. Shot primarily in Mumbai at SLB Production House and made on a budget of 40 crore, Rowdy Rathore released on 1 June 2012 on 2700 screens worldwide.
Rowdy Rathore received a mixed response from critics, DNA India gave 3 stars out of 5 and said, "Rowdy is Akshay's return to action. And how! The actor takes charge of the film from the first scene and holds it tight all through. To put it simply, the film is to Akshay what Wanted was for Salman!"
Rajeev Masand of CNN-IBN gave movie 1 star out of 5 and said "Rowdy Rathore is the kind of movie that's made by people with a cash register in place of their brain. Because no legitimate reason, other than financial gain, can justify why this movie was made."
Prateeksha Khot reviewed for BollySpice and mentioned that Prabhu Deva fans would be disappointed with the half baked dish that Rowdy Rathore turns out to be, and recommended only to watch it if you were in the mood for some mindless, time pass entertainment at the weekend.
Reviews aside Rowdy Rathore opened to strong box office collections the film took a bumper opening at single screens with occupancy of around 95%-100%. It collected 15.06 crore in the opening day. Rowdy Rathore had a good opening weekend with collection of 47.50 crore
Rowdy Rathore collected 77 crore in its first week, 33.50 crore in its second week, 15 crore in its third week despite having new release, Ferrari Ki Sawaari. With a total gross of 133 crore I give you Prabhu Deva's Rowdy Rathore.
---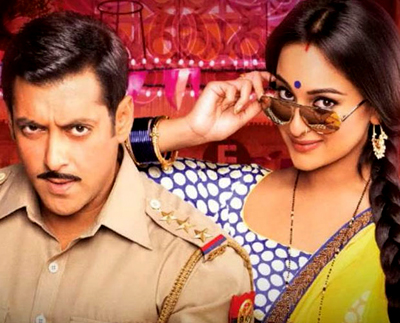 2. Dabangg 2
Starring – Salman Khan, Sonakshi Sinha, Prakash Raj, Arbaaz Khan, Vinod Khanna
Director – Arbaaz Khan
Producer – Arbaaz Khan, Malaika Arora Khan
Music –  Sajid – Wajid
Release Date – December 21st 2012
The sequel to the 2010 blockbuster hit was release in time for Christmas 2012.  Produced and directed by Arbaaz Khan the story saw Khan and Sinha reprise their roles from the 2010 release and continues in the Indian city of Kanpur with Prakash Raj playing the antagonist.
The development of Dabangg 2 commenced soon after the release of Dabangg, with filming commencing on March 9th in Mumbai, and released on 4150 screens worldwide, the highest screen number for any film, of which 3500 of these screens were in India.
Made on a budget of 60 crore, Dabangg 2 opened to mixed to negative reviews. Taran Adarsh gave the film four out of five stars and said "Dabangg 2 has Salman Khan, Salman Khan and Salman Khan plus entertainment, entertainment and entertainment in large doses."
Sanjukta Sharma from the Live Mint slated Dabangg 2 saying 'It had nothing to keep me engaged' and was largely disappointed.
Despite the mixed bag of reviews, Dabangg 2 had a strong opening across the multiplexes and the single screens grossing 19 crore on a non- holiday Friday, beating the previous record held by Don 2. Its first week totals stood at 99 crore with its two week total crossing 136 crore.
Reports are already abound for a Dabangg 3 to be made which would explore the beginnings of Chulbul Pandey, but Dabangg 2's Chulbul Pandey is sitting pretty at number 2 in this years chart.
---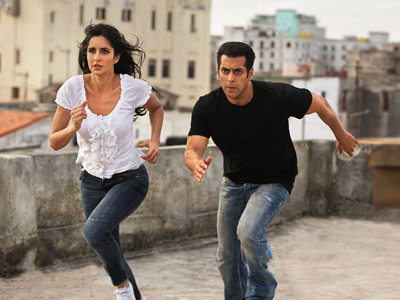 1. Ek Tha Tiger
Starring – Salman Khan, Katrina Kaif, Ranvir Shorey, Girish Karnad
Director – Kabir Khan
Producer – Aditya Chopra
Music – Sohail Sen, Sajid Wajid
Release Date – August 15 2012
Kabir Khan's 2012 Indian action film began pre-production in the latter part of 2010, with principle photography beginning in September 2011 and completeing in June 2012, however, due to delays the film finally hit the silver screen on Independence weekend in 3300 screens across India, which, at the time was the largest domestic release for a Bollywood film.
60% of Ek Tha Tiger's first weekend sales were received through advance bookings. Reports of certain multiplexes increasing the ticket prices were also an issue at the time.
Ek Tha Tiger opened to mostly positive reviews, Salman Khan in accordance to Taran Adarsh was the trump card in the film, saying that the film had 'style and substance', had 'stunning international locales' and had been stylishly executed and gave the film four and a half out of five stars. Rajeev Masand on the other hand suggested the film was far from unwatchable if you went into the cinema hall with low expectations while giving the film two and a half out of five. Shalu Dhyani for BollySpice was not quite impressed and stated 'the lack of a good script brought a potentially good film down. This Tiger doesn't quite manage to roar' and gave the film two out of five stars.
Now the figures. It crossed the 100 crore mark, within 6 days, breaking Bodyguard's previous record of 7 days, and why wouldn't it, Ek Tha Tiger reportedly opened with 100% occupancy at both multiplexes and single screens thus collecting a reported 31.93 crore on its first day. The extended five day weekend saw collections total 94.12 crore  with its first week collections standing in at 143.25 crore 29.50 crore in its second week running to make a total of 173 crore. By its fifth week totals had reached 186 crore. The film eventually made a total of 307 Crore worldwide making it the second highest-grossing Bollywood film of all time in India after 3 Idiots
It has been a bumper year for Salman Khan, and I have to admit that I am getting used to featuring his films in the top 10 countdown, but even this is a first for me where the first two slots are taken by the same person. But that is how this year has shaped up. Ladies and gents I give you this years number 1 film Ek Tha Tiger.