Bollywood Cinema is globally known for its glamour and beauty, however the gorgeous actors and actresses of B'town also require particular looks to complete their credibility in character. So it isn't just about good looks and this year has shown some fantastic styling ventures. In particular, 2013 has been a fantastic year for the men of Bollywood with 6 out of 10 of the "10 Best looks (on screen)" being grabbed by male leads. Let's take a look at who made an impression this year…
10. Sonam Kapoor – Ranjhanaa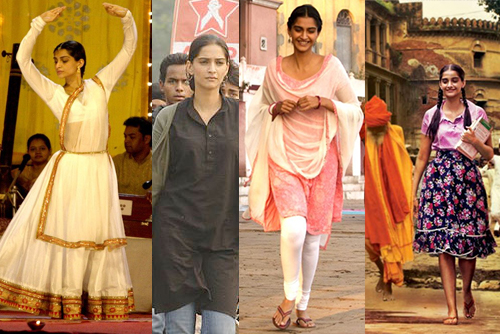 We're no strangers to Sonam Kapoor in ethnic wear, both on screen and off screen. However, as Zoya, a modest muslim girl, we see Sonam in simple kurtis paired with leggings and occasionally some lack-lustre cardigans. The long sleeved kurtis bring out the conservative nature of her character while the addition of cardigans complements the Delhi climate. Despite the plain make-up and basic outfits, embellished only with jhumkas, Sonam carries off Zoya charmingly.
9. Imran Khan – Gori Tere Pyaar Mein

Spoilt, rich, materialistic. Imran's look in this underwhelming love story complements these three adjectives to a tee. We see Imran, styled by Manish Malhotra, looking impeccable from start to finish in crisp shirts, dashing blazers, occasional bold colours and hipster wayfarers and we aren't left with any doubt that his character is, in fact, as image conscious as it gets.
8. Akshay Kumar – Special 26/Once Upon A Time

Special 26 sees Akshay Kumar delivering one of his best performances to date sporting a moustache and side parting. His clothes and hairstyling are perfect to complete the setting of 1980s India with sweater vests and slicked back hair giving him a signature period look. Akshay fans were not only happy with his performance but also with his novel look. Let's see if he tries out more period roles in 2014.
7. Deepika Padukone – Chennai Express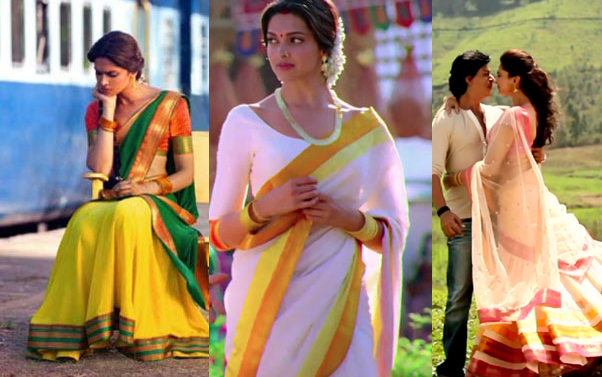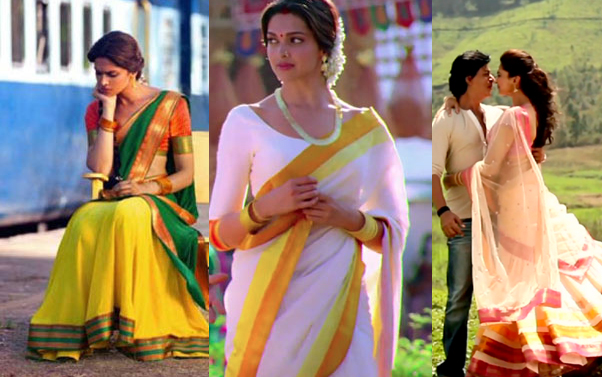 Deepika is one of the few actresses that can carry off both eastern and western wear with ease. Most recently remembered for her super sexy look in Cocktail, we see her in a completely different avatar in Chennai Express. Playing a traditional south Indian girl, she has been styled in bold and contrastingly coloured half-sarees and classic Kerela off-white sarees.  She naturally brings oodles of glamour to each outift with her perfect figure and flawless features, but it is refreshing to see her sporting a traditional nose ring, bindi and flowers in her simply-styled hair in almost every scene.  Deepika's southern look certainly inspires us to bring more colour into our wardrobes.
6. Dhanush – Raanjhanaa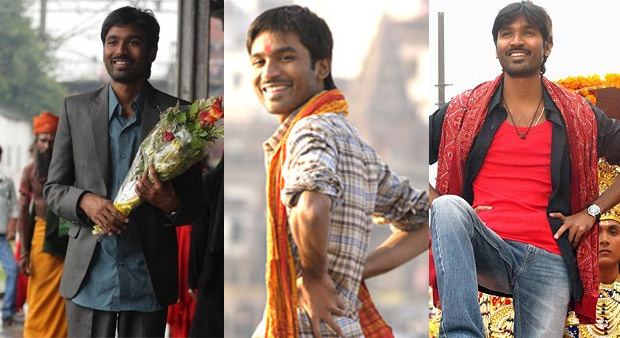 National award winner, Dhanush, made a stellar Bollywood debut in Raanjhanaa and was the saving grace of the otherwise unimpressionable movie. His slim physique, dark skin and ordinary clothes portray the simplicity and truth behind his character. We are not distracted by pretentious styling or suspiciously large muscles, but drawn to the emotion and passion that Dhanush creates with his performance. Credits go to the casting and stylists of the film.
5. Ranveer Singh – Lootera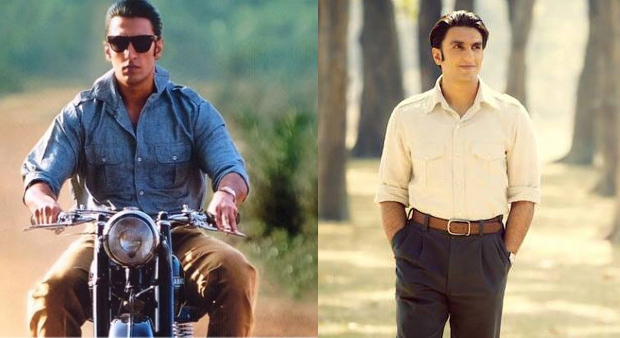 Ranveer's look in Lootera is inspired by the likes of Dev Anand and James Dean. He is sporting a clean-cut 1950s look with sleek hair, smart clothing and the occasional addition of a chimney-sweep hat. This period look is a welcome change to Ranveer's fans and he charms us with his suave look.
4. Kangna Ranaut – Krishh 3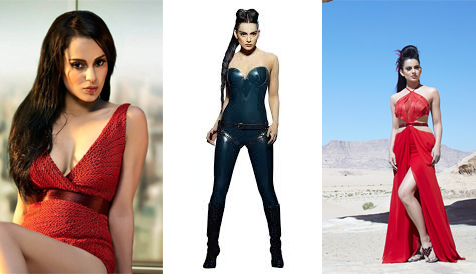 Mutant Kangna in Krishh 3 is sexy and strong. She resembles a cross between Lara Croft and Lady Gaga with her weird and wacky outfits and hairstyles. A minimum of 3.5 hours a day was required to get Kangna ready and special powder and lacquered oil was used to help her slip into costume and to protect it from dust. Metallics, spikes and studs all emphasise her tough character and even her outfits in the romantic sequence are given a slight edge to avoid losing her personality. Kangna makes a fantastic mutant villain and the styling certainly helps!
3. Deepika Padukone – Ram Leela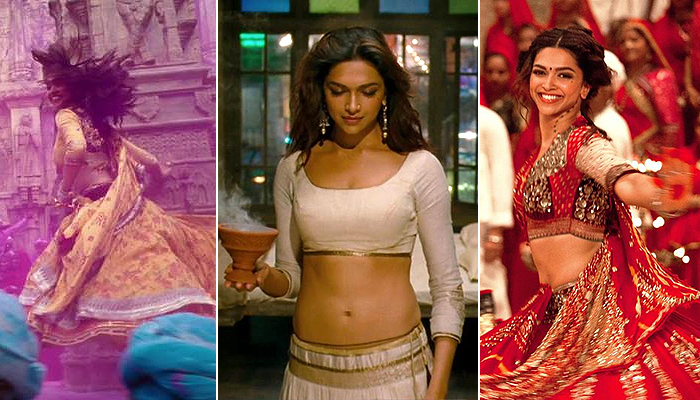 Deepika makes the list yet again with her traditional-cum-sexy look in Ram leela. As is expected of a Sanjay Leela Bhansali film, the costumes are given great attention to detail and Anju Modi, fashion designer, has done a tremendous job with her first Bollywood project. Deepika is robed in rich, colourful Gujurati ghagra-cholis teamed with heavy traditional jewellery. The backless cholis, cheeky neck tattoos and ankle length ghagras bring out the rebellious and sensuous nature of her character. We also see Deepika with thick eyebrows and loosely pinned hair which perfect her natural, carefree look. Her look in Ram Leela is nothing short of stunning and the incredible amount of work that has gone into perfecting each and every statement outfit deserves a Bollyspice star.
2. Ranveer Singh – Ram Leela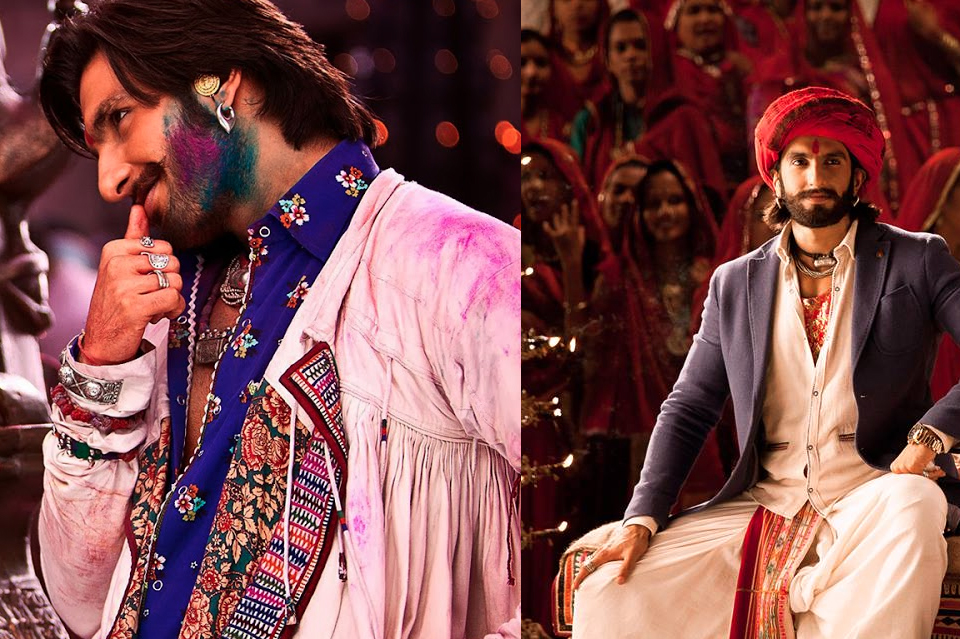 Undoubtedly the most memorable performance of his short-spanned career, Ranveer as Ram is a visual treat. Apart from his heavily oiled and toned body for which he was on a strict protein diet for 6 weeks and eating every two hours, his clothing when worn is also noteworthy. The open shirts, and bright colours complement his cheeky, light humoured and energetic role. It is of course the magnificent moustache that really makes Ram one of the best looks of the year. Even Ranveer was sad to let the whiskers go.
1. Farhan Akhtar – Bhaag Milkha Bhaag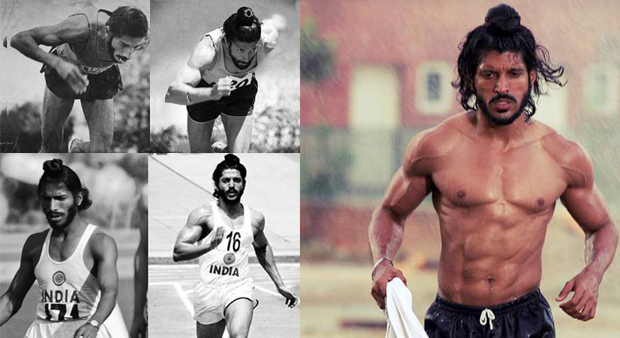 Farhan bags the number one slot for best look on screen this year. He had all the girls drooling over his perfect physique in his total transformation into the legend, Milkha Singh, with a super toned, athletic body and long hair and facial hair to complete the look.
Athletic training, functional training and weight training all formed part of his fitness regime to get the two looks required by the character – the bulky soldier and the lean runner. To bulk up, he had to gain an additional eight kilos and later had to lose ten kilos for the lean look.
Milkha Singh himself had nothing but praise for the actor; "He (Farhan Akhtar) is exactly how I wanted to see myself on screen…He has replicated me on screen. He even resembles me".
What more proof do we need that Farhan and his team have done complete justice to the role? Bravo, Farhan!