Every year Bollywood says, Aaja nachle! And we do! How many of you are doing the signature Batameez Dil or Raghupati Raghav step when the song comes on the radio? It's moments like that that remind you of the power of our choreographers. We now stop to glorify these brilliant creative minds who made our stars dance to perfection. They not only delivered a brilliantly choreographed number but it was one that had great entertainment value. Those that excel to the top of our list are the few special numbers that were more than just mere songs. Read on to find out which songs we thought excelled in choreography in the year 2013!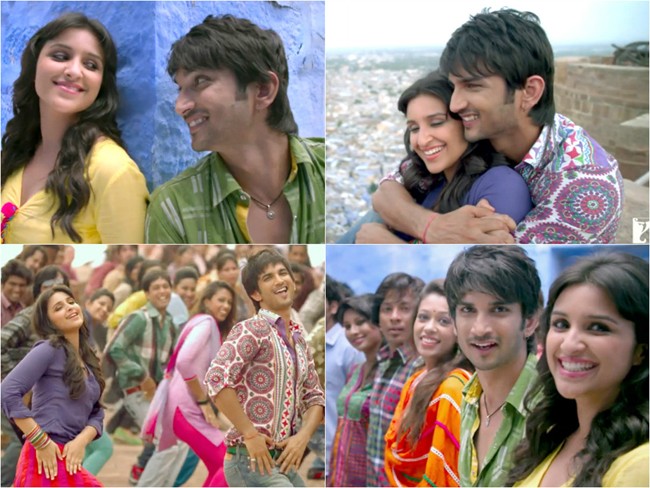 10. 'Shuddh Desi Romance' – Shuddh Desi Romance
The movie may be forgettable, however this celebratory number in the final credits stays with you. Acharya brought in a whole lot of fun yet kept the dancing in tact. Sushant and Parineeti were plenty expressive yet making sure they didn't miss a step. The energy of the huge extras in the crew in real life authentic desi locations was a highlight. By the time the title line comes in the song you are fully prepared to get up and join the party! If a choreographer is able to incite that sort of an emotion, they've done their job right. This number was truly full of entertainment, which has to be credited a lot to the two performers as well as the master choreographer.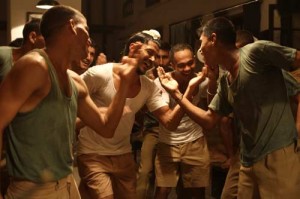 9. 'Havan Karenge' – Bhaag Milkha Bhaag
Perhaps the most unique song of the year has to be 'Havan Karenga' from Farhan Akhtar starrer Bhaag Milkha Bhaag. One distinctly remembers being mesmerised by the atmosphere the song carried with it. Ganesh Acharya created a very relatable mood with his down to earth bhangra which was only enhanced further by drawing on suggestions that javaans offered. Farhan performed like a true young javaan getting each subtle nuance right. The dormitory was used so effectively and whilst the atmosphere and characters were of utmost importance, it cannot be denied that the song had ample dancing! Future of Bollywood is likely to be one that does away with forcefully placed songs and instead opting for purposeful interludes in the screenplay. What Acharya portrays through his work in 'Havan Karenge' is that such a future will bring great challenges for choreographers but that doesn't mean it will not bring to light some great dance numbers to remember just has 'Havan Karenga' is!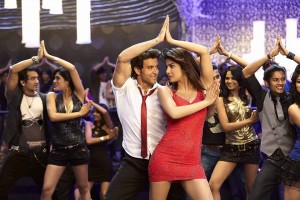 8. 'Raghupati Raghav' – Krrish 3
This list is more of a Remo D'Souza list than anything…or so we find as we compile the best choreographer of the year. Love for this Krrish 3 song may be debatable but there's no denying we were all glued to the screen when Hrithik glided back into a dancing avatar. Remo gave him enough material so that we the audience got what we were waiting for, Hrithik doing what he does best, but also capturing the celebratory party atmosphere brilliantly. Arguably a song with lyrics such as this one had couldn't have been easy to choreograph (you can't disagree that the words make little sense!) yet Remo pulls it off with a killer signature step.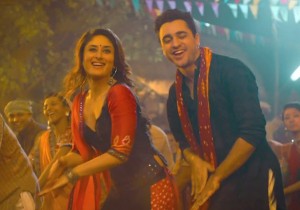 7. 'Chingam Chabake' – Gori Tere Pyaar Mein
Who doesn't love a good ol' Bollywood dance number with hundred of extras, colourful ghangras and men in dhotis?! 'Chingam Chabake' brought all this and more to the screen. The choreography wasn't overly complicated yet caught every word in the song. It was full on desi and full on fun! Remo D'Souza proved that he can make two of the most mediocre dancers (and that is putting it lightly) in the industry dance to perfection on his beats. 'Chingam Chabake' was not only the most entertaining number of the film but gave a true blue Dharma song without any western influence.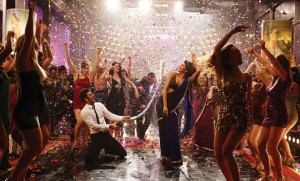 6. 'Batameez Dil' – Yeh Jawaani Hai Deewani
Remo D'Souza has a way of delivering crowd pleaser moves. When we heard 'Batameez Dil' we really didn't know how this would translate on screen. To imagine its energy level would be matched by the choreographer was not plausible as the song functions at an unnatural pace, yet Remo choreographed the number leaving no beat unmissed. However, more than the sheer plain choreographer it was the synchronisation of character movements, prop use and shooting techniques which made 'Batameez Dil' a visual treat with technical brilliance.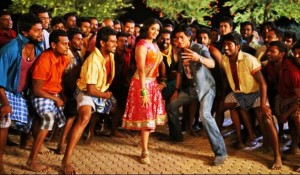 5. 'One Two Three Four' – Chennai Express
Rohit Shetty brought in the real pros of the South Indian dance form for his item song in Chennai Express to ensure we truly go that Tamilian flavour from the visual. Raju Sundaram delivered, as expected, with Priyamani matching his concept brilliantly with her inherent talent. Although Shahrukh isn't the best of dancers, there was little opportunity to look at him with Priyamani in the picture. 'One Two Three Four' plants itself firmly on this list for its ability to bring us an unadulterated South Indian dance number.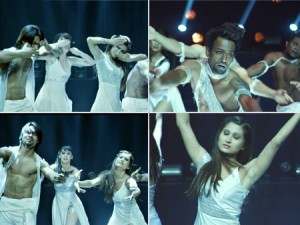 4. 'Duhaai' – ABCD
It is only appropriate that the dance movie of the year feature on this list twice and whilst some may think it's a perception thing, it truly is because it deserves to be here on this #4 spot. 'Duhaai' was a visual treat as it gave us a stage number with grand lighting, intricate dancer compositions and yet it kept true to a very delicate part of the script. The performers had to think beyond their complicated steps that had to be delivered to a professional level as they were also actors delivering a scene, essaying a situation and express intense emotions. Remo D'Souza take a bow for making first time actors do all that and more!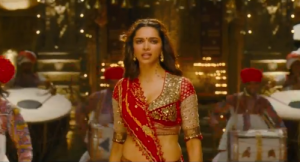 3. 'Nagada Sang Dhol' – Ram-Leela
No one imagined that one could get so creative with garba. Samir and Arsh Tanna followed Bhansali's instructions to the T and brought in their folk madness to the track. The song had to go through a few challenges as a classic garba number had already featured in a SLB film, Hum Dil De Chuke Sanam, therefore to entice audiences to fall in love with a new one was a task. Secondly the track itself was so exuberant and full of life that to match that energy with choreography and still adhere to pure garba was no easy feat. A remarkable achievement and especially impressive to see Indian folk return to the big screen in such a grand way!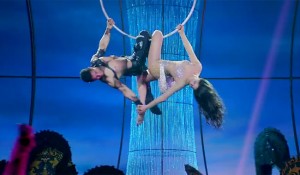 2. 'Malang' – Dhoom 3
Vaibhavi Merchant continues to deliver her best work with YRF with Dhoom 3. It was quite a challenge to deliver a song and excel the expectation we all had from it as this was one number we'd been hearing a lot about. However the aerial phenomena was wonderfully choreographed to perfection. The choreographer made sure the performers were more than prepared and therefore their performance came across looking professional. As the characters were circus artists it became even more crucial that the number look effortless, which it did.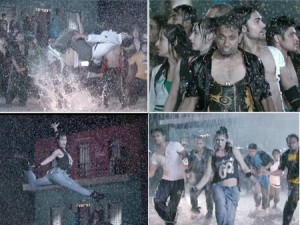 1. 'Bezubaan' – ABCD
It is only appropriate that the dance movie of the year feature on this list twice. Remo D'Souza's love for dance, hardships he's faced and those that he's seen his protégés face translated beautifully onscreen with 'Bezubaan' from ABCD. The choreography makes it to the #1 position for its technical brilliance, presentation, cinematography and most importantly, for its importance in the film's screenplay. It was an emotionally moving point of the film that connected with you through dance which is why it has to be the choreography that stands out best in 2013.
We cannot end this discussion without giving a special mention to the amazing versatility of Remo D'Souza's talent. From desi thumkas to videsi pirouettes, he's done it all this year!
2014 is another year in what we consider to be a new golden age of cinema with a new way of making films. It'll be interesting to see how our songs and their presentation evolve with time and how our choreographers meet these new challenges of a new age in Indian cinema!