2013 saw legends, established celebrities, and newcomers alike try their hands (and hips!) at item numbers. As usual, the BollySpice team enjoyed watching all our favorite actors and actresses shake a leg on the big screen but a select few stood out the most.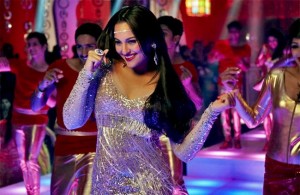 5. Sonakshi Sinha – "Thank God It's Friday" (Himmatwala), "Party All Night" (Boss)
Sure, "Thank God It's Friday" was probably one of the most annoying songs of the year, but we have to hand it to Sonakshi for finally making an effort to shed that Desi damsel image with some impressive club hits this year. Sonakshi handled "Thank God It's Friday" all on her own and her appearance in "Party All Night" (a true club-dance number featuring Honey Singh) was a treat. Here's to seeing more sides of Sonakshi in 2014!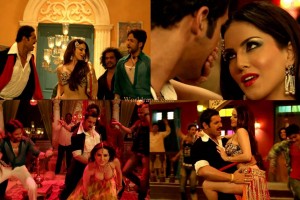 4. John Abraham – "Laila" (Shootout at Wadala)
Yes, we realize that Sunny Leone was technically the featured item girl in this song but John Abraham really stole the show in the sexy "Laila." John displayed much more character than Sunny (sorry, Sunny, but simply swaying around in the background just isn't going to cut it) and he made this song the fun dance number that it has become. After the successful "Rum Whiskey" (Vicky Donor) in 2012, it looks like item hunk John is here to stay—and we're not complaining.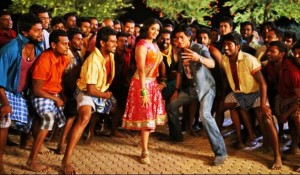 3. Priyamani – "1 2 3 4 Get on the Dance Floor" (Chennai Express)
Southie film actress Priyamani is now in Bollywood's item girl hall of fame after her appearance in the smash hit song "1 2 3 4" from Chennai Express. Going toe-to-toe with the iconic Shahrukh Khan, the gorgeous Priyamani held her own with some complex choreography and her high energy level. We especially loved the bubbly Southie vibe Priyamani brought to the track and, of course, all forms of the "booty shake."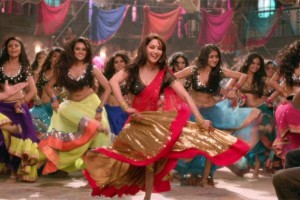 2. Madhuri Dixit – "Ghagra" (Yeh Jawaani Hai Deewani)
We're all surprised to see the legendary Madhuri Dixit on our item stars list nearly 30 years after she made her acting debut, but she essentially killed it alongside Ranbir Kapoor in "Ghagra." The 46 year old dance icon looked breathtaking in this high-voltage number and, unsurprisingly, her choreography is on point, almost putting today's generation of item stars to shame. This Desi-flavored track is one of our favorite item songs of the year, thanks to Madhuri's legendary skills.
1. Priyanka Chopra – "Babli Badmaash" (Shootout at Wadala), "Ram Chahe Leela" (Ram-Leela), "Pinky" (Zanjeer)
2013 was a big year for Piggy Chops. Even through the international fame of her Interscope record deal and projects alongside huge artists like will.i.am and Pitbull, the "Exotic" beauty still managed to churn out three full-on item songs. From retro siren in "Babli Badmaash" (undeniably her most popular item song this year) to village vamp in "Pinky," Priyanka showed her versatility in this realm and deservedly snatched the number one spot on this year's item stars list.