A big BollySpice Good Morning, Good Afternoon and Good Evening to all you my lovelies in which ever part of the world you may be reading this. 2013. What a year it has been! And why not!?! 2013 marked the centenary of the Indian Film Industry. There have been celebrations throughout the world marking this landmark, and the Indian film industry celebrated in the only way it knows best by giving us some of the biggest releases in the film industry as well as many sequels, some of which were appreciated and some which left us desiring more.
I am here to show you which films you helped put into this list by making time in your busy schedules and parting with your hard earned cash.
Ladies and gentlemen in reverse order I give you the top money spinners of 2013.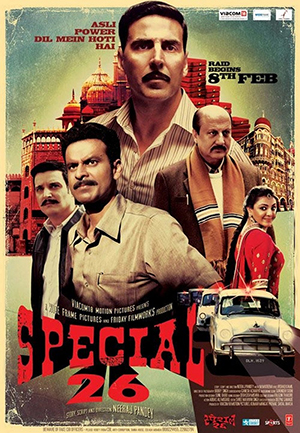 10. Special 26
Starring  – Akshay Kumar, Kajal Aggarwal, Jimmy Shergill, Manoj Bajpai, Anupam Kher, Divya Dutta
Directed by – Neeraj Pandey
Producer – Shital Bhatia, Kumar Mangat
Release Date – 8th February
Gross Profit – 103 Crore
Releasing on 1575 screens in India, Special Chabbis is based on the jewellery store robbery in Opera House, Mumbai on 19 March 1987, when 26 people posed as income tax officials and raided a jewellery store.  Initial rumours pegged Ajay Devgan and Abhisheikh Bachchan but Pandey went with first choice Akshay Kumar who slashed his fees by half for the director.
Kumar's decision paid dividends with critics widely appreciating the film and Kumar's contribution.  Taran Adarsh of Bollywood Hungama gave the film a score of 4 out of 5, and said, "Special Chabbis is an intelligently woven, slick and smart period thriller with its subject matter as its USP. It's sure to get listed as one of the most gripping heist dramas based on real life occurrences." Shalu Dhyani reviewed for BollySpice and gave it 2.5 out of 5 whilst advising the audience to keep expectations low, she mentioned that had Pandey "done away with the songs and love track, and kept the film one hour shorter with tighter writing, this could have been a worthy follow-up to A Wednesday."
Now to talk figures. Special 26 opened to 30% occupancy in the morning of the release and picked up through word of mouth to achieve a 60% occupancy by the evening. The film netted 57.5 million on its first day with collections reaching 230.7 million in its first weekend. The film eventually netted around 656.5 million with a distributor share of 317.5 million in the domestic market. The worldwide gross of Special 26 stands at 103 crore taking this  Neeraj Pandey and Akshay Kumar release to number 10.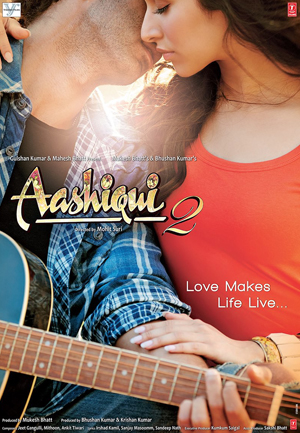 9. Aashiqui 2
Starring  –  Aditya Roy Kapoor, Shraddha Kapoor, Shaad Randhawa
Directed by –  Mohit Suri
Producer – Bhushan Kumar, Mukesh Bhatt, Krishan Kumar
Release Date – 26th April
Gross Profit – 1.09 billion
What is the best way to succinctly describe Aashiqui 2? Inspired by Frank Pierson's 1976 drama A Star Is Born, Aashiqui 2 is about two singers in love. with an abhimaan angle thrown in.  With initial announcements made in September 2011 about a possible sequel, filming eventually began a year later in October 2012 following a search for a director and a fruitless nationwide hunt for the lead actors.
Originally scheduled for a Valentine's Day release due to the romantic nature of the film, the film released with less than three weeks of promotion on 26th April, two weeks earlier than the planned date of 10th May.
On its opening day, Aashiqui 2 collected about 52.5 million and collected 179.2 million during its first weekend. The film collected 346.5 million in its first week and in its second week it collected 173.5 crore, despite new releases. Internationally, the film had a limited release meant the film was only released in UAE and Pakistan. The film collected 1 billion worldwide in its fourth week. During the entire theatrical run, the film earned 1.09 billion worldwide.
The film received mixed reviews from the critics. Anupama Chopra writing for the Hindustan Times rated the film 2.5 out of 5 and believed that the film didn't fulfill its potential, but said, "It's an interesting scenario and Suri and his actors set it up well. Subhash K Jha gave the film 3.5out of 5 stating "Aashiqui 2 makes us grateful for the movement of the love story away from the standard Romeo & Juliet format into the dark destructive domain of A Star Is Born."
As a result of the billion it made, Aashiqui 2 is this year's number 9.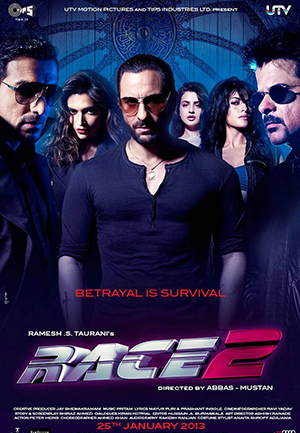 8. Race 2
Starring  –  Anil Kapoor, Saif Ali Khan, Deepika Padukone, John Abraham, Jacqueline Fernandez, Ameesha Patel
Directed by – Abbas-Mustan
Producer – Ramesh S. Taurani, Ronnie Screwvala, Siddharth Roy Kapur
Release Date – 26th January
Gross Profit – 162 Crore
Race 2 is the first of the films this year to enter the 100 crore club. It was released in 3200 screens in India, making it the third biggest release for a Hindi film after Ek Tha Tiger (3300 screens) and Dabangg 2 (3700 screens).
After initial announcements in 2009 about the title Race 2 being registered and the signing of Anil Kapoor and Saif Ali Khan, the film did not commence its first schedule until two years later in 2011 after numerous issues with casting.
Once the film released 2 years later, it did so to mediocre reviews. Saibal Chatterjee of NDTV gave it a score of 1.5 out of 5 and said, "This is a wreck of a movie strictly for action junkies who might be looking for a feverish two-and-a-half-hour ride that is far more giddy than heady'. Bodrul  Chaudhury reviewed for BollySpice opined 'Race 2 is not a film that is worth watching in the cinemas. Therefore, if you are someone who has patience, wait until it releases on DVD or is broadcast on television. This 'race' is essentially a messy one!'
Box office wise, Race 2 opened to 60% – 70% occupancy netting 142.5 million with its second day collections averaging at approximately 185.0 million. Race 2 performed well on its first weekend by collecting around 48.50 crore. Collections dropped thereafter though final figures in India reached 930 million.
Overseas Race 2 had a good opening with approximately $3.25 million the opening weekend  reaching $6 million in 17 days overseas. The film recorded the highest ever collection in Pakistan for any Bollywood film with an amount of $775,000 beating Don 2 which netted $675,000.
As a result of those figures Race 2 races to number 8 in this race.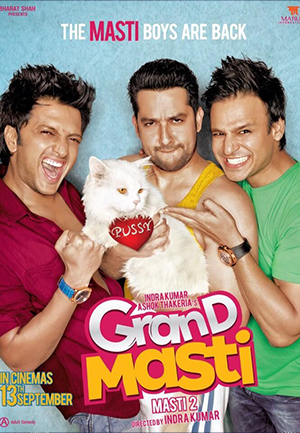 7. Grand Masti
Starring  –  Vivek Oberoi, Ritesh Deshmukh, Aftab Shivdasani
Directed by – Indra Kumar
Producer – Ashok Thakeria, Indra Kumar
Release Date – 13th September
Gross Profit – 1.31billion
Grand Masti. The adult only comedy with the not so grand reviews.
The film received mostly negative responses from critics and a polarized welcome from the general public, with the audience mostly made of youngsters and families keeping away. Abhishek Mande reviewed the film on behalf of Rediff and  gave the film 0/5 and remarked, "There is no way you can enjoy this movie and still claim you respect women." Anjum Shabbir gave the film 1 out of 5 and said it was a film BollySpice readers could actually afford to miss.
Now do the figures reflect the reviews? In a word – no. The September sequel to the 2004 hit film Masti managed to not only land a super hit tag, but also gain an entry in the 100 crore club.
Grand Masti earned the biggest opening at morning shows in 2013 on its first day grossing around 12 crore, the highest opening day of 2013 after Chennai Express, Yeh Jawaani Hai Deewani and Race 2. The film collected around 13 crore on its second day, with its five-day total amounting 54.50 crore net. Grand Masti had a first-week gross of around 63.66 crore net. According to Box Office India, the film's final domestic net was 92 crore. Overseas the film collected $1,250,000 internationally over its first weekend. The film had collections of around $1 million in ten days.
With Masti 3 going to floor next year, we keep our fingers crossed for a better offering as this offering sits pretty at number 7.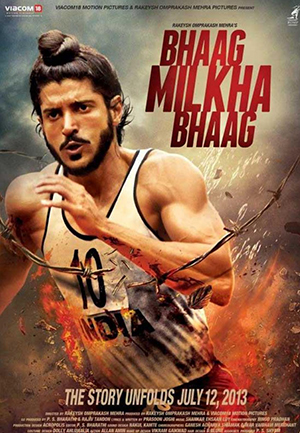 6. Bhaag Milkha Bhaag
Starring  –  Farhan Akhtar, Sonam Kapoor, Divya Dutta, Pawan Malhotra, Yograj Singh, Prakash Raj
Directed by – Rakeysh Omprakash Mehra
Producer –  Viacom 18, Rakeysh Omprakash Mehra
Release Date – 12th July
Gross Profit – 1.64billion
Bhaag Milkha Bhaag, a film based on the life of the Flying Sikh Milkha Singh, the famous Indian athlete who infamously lost the penultimate race of his life. Mehra's film attempts to understand the loss that was deemed a certain victory and explores the disgrace that followed; Milkha's redemption and catharsis that results from Singh's confrontation of his past.
Released in mid-2013, the film gathered a highly positive response from critics, and performed exceptionally well at the box office, eventually being declared a super hit domestically and hit overseas.  Subhash K Jha of IANS gave the film 5 out of 5 stars and stated, "The movie seems like a near-flawless homage to the flying spirit of India's greatest runner, it is partly because the story, so nimbly woven into a pastiche of drama, emotion, humor and pathos by Prasoon Joshi and Farhan who occupies Milkha's mind, body and soul." Aashi Gahlot reviewed the film for BollySpice and awarded the film 4.5 out of 5 stating the film was successful in presenting Milkha Singh as human. His mistakes, his rise and his fall are what make him human- yet an inspiring and extraordinary human.
At the box office the film performed well in Punjab and Delhi. It earned approximately 8.50 crore on its first day. The film showed a 21-percent growth and earned 10.52 crore on the second day of its box office run. Bhaag Milkha Bhaag ended its first week with a total collection of approximately 53.49 crore net. The film grossed around 27.98 crore net in its second week taking its total collections to 81 crore. The film added 15 crore net approx in its third week to take its net gross to 96.35 crore. The worldwide gross stands at 164 crore.
Bhaag Milkha Bhaag ladies and gents races into number 6.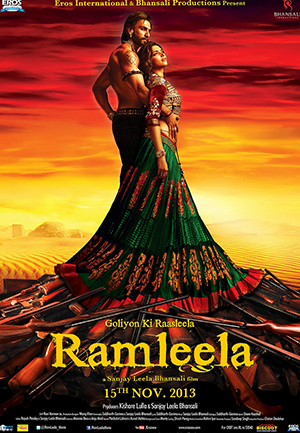 5. Goliyon Ki Raasleela Ram-Leela
Starring  – Ranveer Singh, Deepika Padukone
Directed by – Sanjay Leela Bhansali
Producer –   Sanjay Leela Bhansali, Chetan Deolekar, Kishore Lulla, Sandeep Singh
Release Date – 15 November 2013
Gross Profit – 202 Crore
Inspired by Shakespeare's Romeo and Juliet and set against a violent backdrop, Sanjay Leela Bhansali's latest offering was not without its fair share of controversy.
From  religious groups opposing the title with the claim that the former title Ram Leela was misleading because the movie had nothing to do with the Ram Leela the traditional enactment of the life and story of Hindu deity, Lord Rama.  To the Kshatriya community opposed usage of community names in the movie, so Jadeja and Rabari community titles were changed to Saneda and Rajari.  Even the original designer Sabyasachi Mukherjee, who previously worked with Bhansali on Black, was hired initially for the costumes of the leading lady, but was later replaced by Anju Modi due to creative differences.
Releasing on November 14, 2013, the film was released on 2000+ screens in the domestic market and 550 screens in overseas market with a U/A certificate to widely positive critical response. Meena Iyer of The Times of India gave the movie 4 out of 5 stars, saying, "For the most part, Ram-Leela, SLB's most commercial work till date, has nice doses of raunch and ras (juice)." Pooja Rao reviewed for BollySpice and said the film was consuming, thoroughly entertaining, with little unexpected surprises and twists that keep you engaged for most part of it, Ram-Leela is well worth a watch and awarded the film 3.5 out of 5.
Goliyon Ki Raasleela Ram-Leela had a strong first day with collections of over 15.50 crore net despite limited release due to its many controversies. The film grossed 16.50 crore net on Saturday and 18 crore net on Sunday to take its first weekend domestic total to 50 crore, the third highest weekend of the year. The film dropped on Monday and netted 7.75 crore. The first week collections were about 74 crore net. The film remained steady during its second weekend with collections of 15 crore, and grossed  97 crore net in two weeks. The film ended with lifetime collections of 113 crore
This year's Shakespearean – Bhansali love story is 2013's number 5.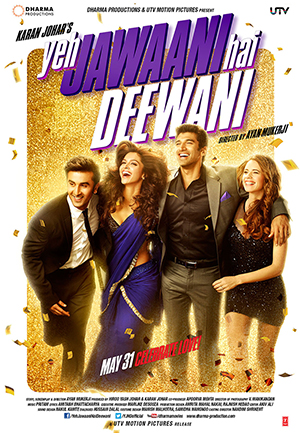 4. Yeh Jawaani Hai Deewani
Starring  – Ranbir Kapoor, Deepika Padukone, Aditya Roy Kapur, Kalki Koechlin, Kunaal Roy Kapur
Directed by – Ayan Mukerji
Producer –   Karan Johar
Release Date – 31st May 2013
Gross Profit – 3.02 Billion
Yeh Jawaani Hai Deewani is a film which attempts to show that life is a spirited cocktail of dreams, ambition, hope, disappointments, options, eagerness, fear, travel, the first day at work, sleepless nights, family, laughter, music, dance, friendship and love.
Made on a budget of 500 million and based on a story by Ayan Mukherjee, the Ranbir and Ayan jodi returned for a second time following the success of Wake Up Sid!
The film received positive to mixed reviews from critics. Giving the film 4 out of 5 stars, Taran Adarsh of Bollywood Hungama noted that the film "is a revitalizing take on romance and relationships. A wonderful cinematic experience, this one should strike a chord with not just the youth, but cineastes of all age-groups." Bodrul Chaudry reviewed for BollySpice and awarded the film 3.5 out of 5 saying, "Overall, Yeh Jawaani Hai Deewani lives up to its title and will offer all you Bollywood lovers with the cinematic entertainment that you are craving for."
Yeh Jawaani Hai Deewani opened strongly with  100% occupancy at multiplexes and60-70% at single screens where it set the biggest opening for a Ranbir Kapoor film. It collected 198.1 million on its first day and went on to break the 3-day weekend box office record previously held by Dabangg 2. The film went on to gross 1.06 billion in its first week, becoming the second fastest Bollywood film to cross 1 billion behind Ek Tha Tiger. The film made 282.5 million in its second weekend and went on in its lifetime run to make 1.79 billion
Ladies and gents I have your number 4.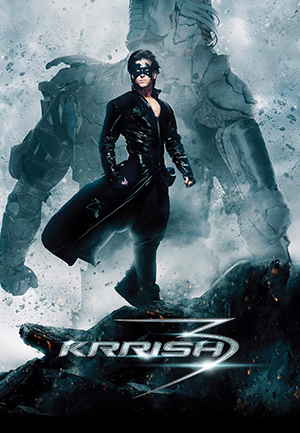 3. Krrish 3
Starring  – Hrithik Roshan, Vivek Oberoi,  Priyanka Chopra, Kangna Ranaut
Directed by – Rakesh Roshan
Producer –   Rakesh Roshan
Release Date – November 1, 2013
Gross Profit – 300 Crore
This is the third film in the Krrish series following Koi… Mil Gaya (2003) and Krrish (2006). The story follows the life of Rohit Mehra, a scientist, and Krishna "Krrish" Mehra, his superhero son, who face an elaborate conspiracy orchestrated by the evil genius Kaal and his female henchman Kaya. In the process, Krishna's pregnant wife Priya is kidnapped by Kaal and the form-changing Kaya takes her place at the Mehra home and eventually falls in love with Krishna.
Reportedly produced on a budget of 1.15 billion, principal photography began on 1st December 2011 without Hrithik Roshan's participation due to a back injury. The shooting was completed by June 2013 where the VFX took one and half years to complete with the last of them coming on 22 October 2013, just 10 days before the release of the film with each and every VFX action sequence undergoing a revision of 40 to 50 times before inclusion.
The film garnered positive to mixed reviews on its release. Rajeev Masand of CNN-IBN gave it 3 out of 5 and stated, "I'm going with two-and-a-half stars for the film, and an additional half star just for Hrithik Roshan, which makes it three out of five for Krrish 3. The film is ambitious but flawed. It is, however, consistently watchable for its terrific lead star who you can't take your eyes off, even for a moment'. Shalu Dhyani reviewed for BollySpice and awarded the film 3 out of 5 stars and mentioned, 'This is not the path-breaking film it could have been but worth a watch for its technical finesse. If nothing else, you will surely come back mesmerized by Ms. Ranaut's shimmering charms."
Krrish 3 opened to more than 80 percent occupancy as well as around 90-100 percent attendees at single screens with rough estimates at 1.3025 billion for the first week. The fourth week collections were 25.4 million taking the Hindi version's total to around 1.76 billion. In accordance to Box Office India, the Hindi version of Krrish 3 grossed 177.74 crore with Telugu and Tamil versions of grossing 10 crore making the all language total to 187.74 crore in its complete theatrical run in India.
As a result this superhero story is sitting pretty at number 3.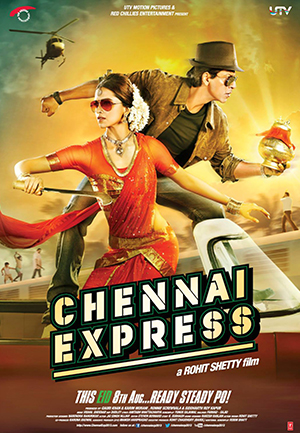 2. Chennai Express
Starring –  Shah Rukh Khan, Deepika Padukone
Directed by – Rohit Shetty
Producer – Gauri Khan, Ronnie Screwvala, Siddharth Roy Kapur
Release Date – 1st August, 2013
Gross Profit – 3.95 Billion
This Rohit Shetty romantic action comedy film saw  Deepika Padukone and Shah Rukh Khan return to the silver screen for the second time after the 2007 release Om Shanti Om.  Filming for Chennai Express began at Mehboob Studio in Mumbai on 5 October 2012.
The film was released in 2550 cinemas in 3,550 screens in India, and 700 screens internationally with an increase of 40% on ticket prices across some screens.
Chennai Express received mixed reviews from critics in India and abroad Rachel Saltz of The New York Times wrote, "Chennai Express feels like a sumptuous meal with carefully chosen wine and tasty appetizers but a botched main course. Money and visual care have been lavished on this Bollywood action-comedy-romance and glossy stars engaged (Shah Rukh Khan and Deepika Padukone). But the movie chugs along for most of its 2 hours and 20 minutes searching for comedy and characters in a frantically over plotted story." BollySpice's Bodrul Chaudhury opined "With Chennai Express, you will see the King of Bollywood back at his best and proving that he still has the talent and determination needed to keep audiences entertained. Thus, make the time to get on this train and witness a delightful story unfolds before your eyes!"
The film collected 292.50 million on its opening day, making it the second highest opening day collection behind Ek Tha Tiger. The film broke the second day and third day box office records as well collecting 264.30 million and 292.10 million respectively. It had a worldwide gross of 2.5 billion in the first seven days. The film collected 225.50 million on its second weekend, taking the total domestic net to 1.68 billion and also became the second highest grossing Bollywood film in ten days with a worldwide gross of 3.14 billion.
The film earned 1.85 in two weeks and amounted to 1.94 billion after its third weekend in the domestic market. The film grossed 160 million in its third week, bringing up its total to 2.00.75 billion. Chennai Express broke the domestic net record set by 3 Idiots in its fourth weekend and added around 57.40 million in week four to take the total to 2.06 billion. After its fifth week, the film ended its run for a final total of 2.08 billion and with those figures I give you the second top grossing film of 2013.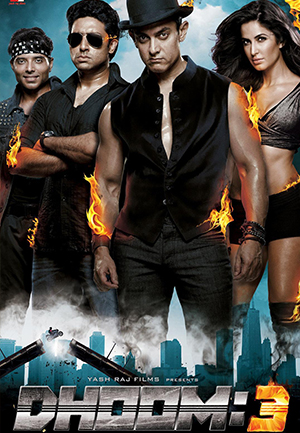 1. Dhoom 3
Starring  –  Aamir Khan, Abhishek Bachchan, Katrina Kaif, Uday Chopra, Jackie Shroff
Directed by – Vijay Krishna Acharya
Producer –   Aditya Chopra
Release Date – 20 December 2013
Gross Profit – 500 Crore
The latest installment to the Dhoom franchise was finally released after an initial confirmation of the series continuation was announced back in 2011. The producers and the lead actor Khan initially wanted to release the film on Christmas 2012.Filming was scheduled to commence from November 2011, with scenes involving Abhishek Bachchan and Uday Chopra being shot first, but the former was off on a paternity leave and thus, shooting was postponed to January 2012.
In January 2012, the schedule was pushed to June 2012 because of lead actor Aamir's prior commitments with his TV show Satyamev Jayate; in June, the filming schedule was further postponed for a month because Khan wanted to prepare himself for his role of a gymnast. He learnt ballet, aerobatics and the French technique of parkour, a method of movement focused on negotiating obstacles with speed and efficiency.
Khan also wanted to concentrate on marketing and promotions of his 2012 film Talaash. Filming eventually commenced with Jackie Shroff and Siddharth Nigam, the child actor playing the role of childhood Aamir Khan, on 8 June 2012 at Yash Raj Studios, Mumbai. Aamir Khan joined the crew in July 2012, filming for five days at Yash Raj Studios and further continued to shoot in Chicago and other parts of the United States. Later, Khan, Abhishek Bachchan and Uday Chopra flew to the U.S. on 4 August 2012 to complete a three month schedule. On arrival to India in December 2012, Bachchan stated that fifty percent of filming was complete and would again resume in Mumbai. In the second week of March 2013, it was reported that the crew departed to Zurich and Ticino, Switzerland to film the climax. The shooting of the film finally wrapped up on 14 September 2013 at a suburban studio in Mumbai.
Dhoom 3 received mixed reviews from critics upon release. Rajeev Masand of CNN-IBN gave the film 2.5 out of 5 stars and stated, "Dhoom 3 is let down by a convenient script and its inability to deliver solid entertainment." Shalu Dhyani gave a similar opinion on behalf of BollySpice stating, 'The earlier Dhoom films may have put style over substance but they were still a lot of fun. This one has neither style nor substance, and is too tedious to be any fun. At a runtime of almost three hours, it is two hours too long."
Dhoom 3 has however had a good run at the box office breaking several records on its opening day. The film opened to 75% occupancy in multiplexes and 90-100% occupancy in single screens. The opening day collection stood at 30.9 crore from the Hindi version, while the dubbed Telugu and Tamil versions together earned 2.8 crore. The total opening day collection of the film broke the records of highest non-holiday opening and highest single day previously held by Yeh Jawaani Hai Deewani and Krrish 3 respectively. The First weeks totals went on to reach 174 crore.
Dhoom 3 collected 10 crore on the second Friday , 11.50 crore on second Saturday and 17 crore on the second Sunday to take its Hindi-version total to 211 crore in just ten days.
With figures like these it just goes to prove that the audience doesn't always listen to the critics. With a run that is still continuing at the box office – Dhoom 3 has blasted itself into the prime spot at number 1 as 2013's biggest grosser.
And with this I bid you all adieu, wishing all the BollySpice readers a Happy and Prosperous new year.