The celebrated filmmaker and cartoonist Walt Disney once said, "Of all of our inventions for mass communication, pictures still speak the most universally understood language." Whatever background or class you belong to, we all love to relish in a Bollywood film now and again. It transports us in to a world we wish we were a part of, as well as exposing us to characters who we can relate to. So has 2014 been a good year for Bollywood? Well let's just say there were a minority of good films that form part of a pile of disappointments. It's not been an amazing year for the Hindi film industry, yet we feel that the films which have lived up to our expectations deserve its due recognition. So without further ado, here are the films that have made the final cut!
DRAMA
5. Mardaani – Director: Pradeep Sarkar. Producer: Aditya Chopra
Mardaani was not an amazing watch. Yet praise is due to the cast and crew of this film for raising awareness of such an important issue like child trafficking and abuse. Rani Mukerji delivers a power packed performance as a police officer trying to locate the kidnapper of a teenage orphan who she has taken care of for a long time. This is a story which needed to be told and Pradeep Sarkar does a respectable job in illustrating the seriousness of child trafficking in India.
4. PK – Director: Rajkumar Hirani. Producer: Vidhu Vinod Chopra, Rajkumar Hirani and Siddharth Roy Kapur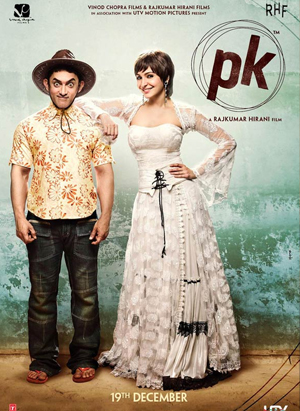 It is now officially the highest grossing Bollywood film EVER, having surpassed the record set by Hirani's last hit comedy 3 Idiots (2009). PK is a wonderfully told story about an alien who visits earth and sees the contradictory stances of religious priests and figures. With superb performances by Aamir Khan and Anushka Sharma, PK is something which we have rarely seen in Bollywood before. It is a film which has a meaningful message and emphasises the importance of listening to God's words only and no one else's. If you have yet to see it, do not miss out on the film which had a massive impact on Bollywood towards the end of 2014!
3. Ugly – Director: Anurag Kashyap. Producers: Arun Rangachari, Vivek Rangachari, Madhu Mantena, Vikas Bahl and Vikramaditya Motwane
Just a few days before 2014 came to a close, we were exposed to Anurag Kashyap's thriller Ugly. This is a very moving film about a woman, her husband, her ex-husband and daughter which leads to a major tragedy. Ugly is a film which has a lot of highpoints and definitely has a lot of offer which won't disappoint you.
2. Highway – Director: Imtiaz Ali. Producer: Sajid Nadiadwala and Imtiaz Ali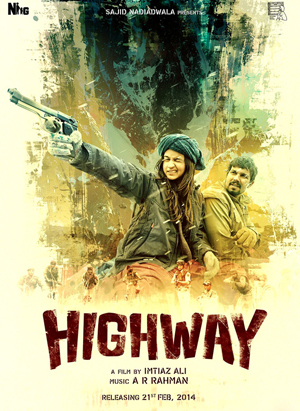 In a year where we have had films which were more about hype than substance, Highway is one of few films surrounded by ver little hype, yet has a very gripping story that makes it an interesting watch. Starring Alia Bhatt and Randeep Hooda in the leading roles, the film narrates the story about a girl who gets abducted by a gang the day before her wedding and goes on a journey which eventually feels like freedom to her. Highway is a complex drama which has been made well by Imitaz Ali and therefore makes it on to our list in second positon!
And the winner is…
1. Haider – Director: Vishal Bhardwaj. Producer: Vishal Bhardwaj and Siddharth Roy Kapur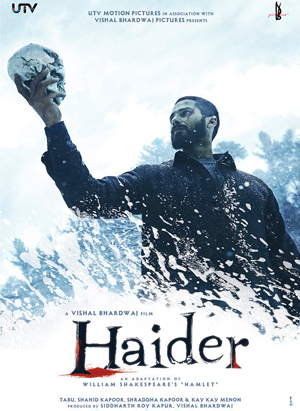 The third film in Vishal Bhardwaj's Shakespeare trilogy, Haider was one of the most powerful dramas to have released in 2014, which is why it has secured the number one position in our list of Best Film (Drama). Starring Shahid Kapoor, Shraddha Kapoor, Tabu, Narendra Jha and Irrfan Khan in pivotal roles, Haider is bold, unconventional and a brilliant Indian adaptation of a Shakespearean classic. With standout performances, especially by Shahid and Tabu, this was by far one of the most talked about films of the year. Vishal Bhardwaj has certainly outdone himself and we strongly recommend that you see Haider if you have not done so yet.
ROMANCE
5. Ek Villain – Director: Mohit Suri. Producer: Ekta Kapoor & Shobha Kapoor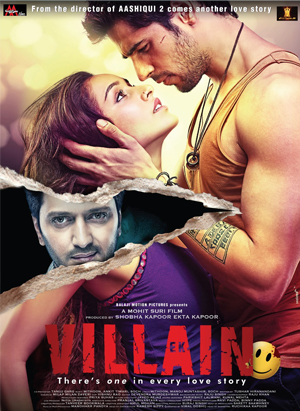 Following the success of romantic drama Aashiqui 2, director Mohit Suri returned with the revenge saga Ek Villain. Starring Sidharth Malhotra and Shraddha Kapoor in the leading roles, the film revolves around a man named Guru (Malhotra) who sets out to get revenge on the mentally deranged Rakesh (Riteish Deshmukh) for killing his wife Aisha (Shraddha Kapoor). Ek Villain was not only a commercial success at the box office upon release, but it was also poignant emotional tale about two lovers who come together and also drift apart in the most unusual circumstances. In particular, the chemistry between Sidharth and Shraddha was very strong and it was great to a see a fresh pairing for a change. Though Ek Villain was not as romantically intense as Suri's last hit Aashiqui 2, the film still triumphs in many places. We recommend that you give it a chance if you have yet to see it.
4. Humpty Sharma Ki Dulhania – Director: Shashank Khaitan. Producer: Karan Johar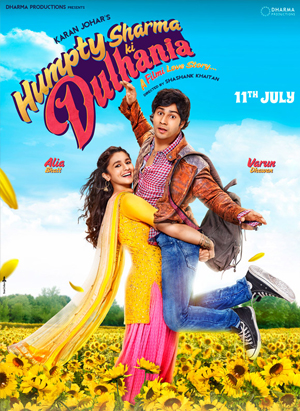 Following their successful debuts in Karan Johar's Student of the Year, Alia Bhatt and Varun Dhawan reunited for the romantic comedy Humpty Sharma Ki Dulhania. A story revolving around a woman who meets and falls for a guy whilst on the hunt for an expensive wedding dress, the film is considered a tribute to the classic Dilwale Dulhania Le Jayenge (1995). Reportedly made on a budget of 20 Crores, Humpty Sharma Ki Dulhania succeeded at the box office and has been praised for the chemistry delivered between Alia and Varun. The soundtrack was also another highlights with songs like 'Saturday Saturday' and 'Samjhawan' becoming huge hits and have been picturized well in the film itself.
3. Khoobsurat – Director: Shashanka Ghosh. Producer: Rhea Kapoor, Anil Kapoor and Siddharth Roy Kapoor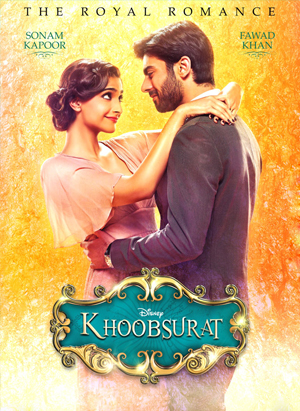 Director Shashanka Ghosh reinvents the classic 1980s Khoobsurat in to a modern day Disney comedy. Starring Sonam Kapoor and Pakistani actor Fawad Khan, the film did good business and was praised unanimously by critics for being a fun-filled romantic comedy that lives up to the Disney brand. The pairing of Sonam and Fawad was also praised and the latter has now become somewhat of a ladies man following the release of Khoobsurat. All in all, do check out this romantic caper if you're in the mood for something fun
2. Hasee Toh Phasee – Director: Vinil Mathew. Producer: Karan Johar, Vikas Bahl, Vikramaditya Motwane and Anurag Kashyap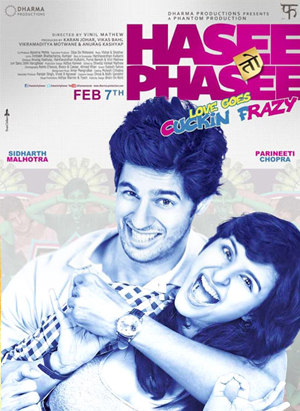 This film is essentially like Marmite. You will either love it or hate it. Hasee Toh Phasee is not your typical form of Bollywood romance, yet perhaps this is why certain sections of the audience appreciated it. The film is based on an engaged businessman who falls for his finance's pill-popping geeky sister. Starring Sidharth Malhotra and Parineeti Chopra in the leading roles, Hasee Toh Phasee makes it on to our list for offering a different form of romance which set it apart from other Bollywood love stories. It's not a film for everyone, but you never know, you may end up liking it!
And the winner is….
1. 2 States – Director: Abhishek Varman. Producers: Karan Johar and Sajid Nadiadwala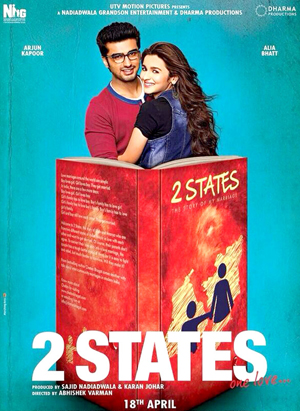 The winner of this category had to be Chetan Bhagat's romantic comedy/drama 2 States. Based on the famous author's real life love story, 2 States revolves around a North Indian boy named Krish (Arjun Kapoor) falling in love with a South Indian girl named Ananya (Alia Bhatt). 2 States is a film which any couple who are from different backgrounds can relate to. It shows that you both do not need to share the same culture or language to love each other or to understand each other. Love itself will do all the work and this is the essential message of 2 States. The film has great visuals, music and wonderful performances by Arjun and Alia, who also share electrifying on-screen together. This is a film which was definitely a huge highlight of 2014, which is why we have crowned it as our winner for Best Film (Romance).
COMEDY
5. Happy Ending – Director: Raj Nidimoru & Krishna D.K. Producer: Saif Ali Khan, Dinesh Vijan and Sunil Lulla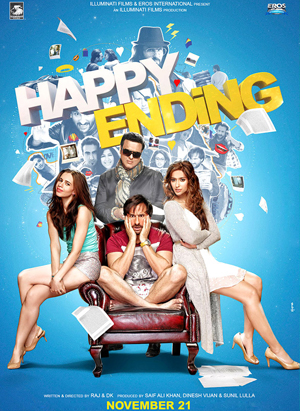 Happy Ending was not an outstanding film, yet it had some humorous moments which makes it worthy enough to feature on our list in fifth position. Starring Saif Ali Khan in a double role, the film is based on a writer who suddenly runs out of money and ends up working for a Bollywood actor. Also starring Ileana D'Cruz, Kalki Koechlin and Govinda, Happy Ending is certainly worth that one watch, especially if you wish to see Saif make you laugh as Yudi and Yogi!
4. Main Tera Hero – Director: David Dhawan. Producer: Ekta Kapoor and Shobha Kapoor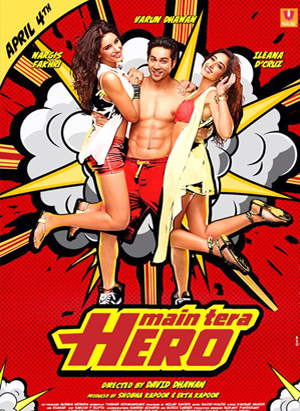 A David Dhawan comedy is not for everyone. Yet if you are one of those filmi lovers who enjoy a laugh out loud comedy without all the artsy fartsy stuff, then Main Tera Hero may well be a film which you will appreciate. Starring Varun Dhawan, Ileana D'Cruz and Nargis Fakhri in key roles, Main Tera Hero will take you back to the way Bollywood comedies were done back in the 1990s. Surprisingly, David Dhawan does manage to make you laugh in some places hence, we think that it is certainly worth your time.
3. Bobby Jasoos – Director: Samar Shaikh. Producer: Dia Mirza & Sahil Sangha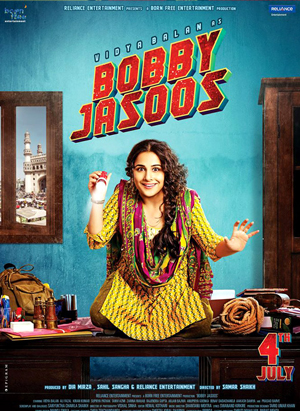 Bobby Jasoos proves that Vidya Balan can do almost anything to keep us all entertained. Here she plays a wannabe spy who is given the task of finding two missing girls. It's not your typical Bollywood comedy, yet the unconventional style of Bobby Jasoos and its number of funny moments makes it a good watch. Even more so than some films which have released this year and have surprisingly made over 100 crores!
2. Finding Fanny – Director: Homi Adajania. Producer: Dinesh Vijan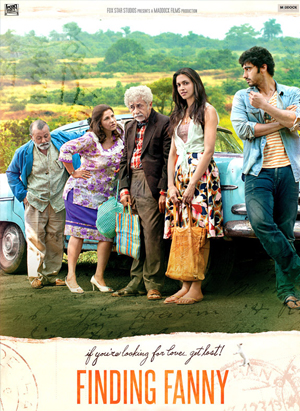 Having given Deepika Padukone her breakthrough role in Cocktail (2012), director Homi Adajania casted the beautiful star again in the comedy/drama Finding Fanny. Also starring Arjun Kapoor, Dimple Kapadia, Naseeruddin Shah and Pankaj Kapoor, Finding Fanny is one of the most critically acclaimed films to have released this year. Made on a small budget of 15 crores, the film has certainly paid off as it became a sensation at the box office and has been praised by critics and fans alike for the script, comedic moments and performances from the leading cast. Finding Fanny is a delightful journey about five odd balls which will undoubtedly keep you entertained!
And the winner is…
1. Queen – Director: Vikas Bahl. Producer: Anurag Kashyap & Vikramaditya Motwane.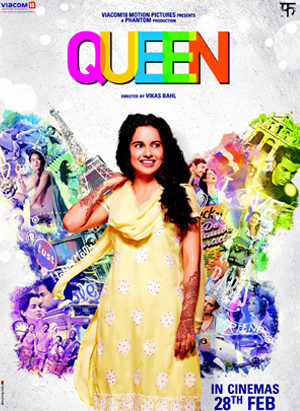 It can be said with confidence that BollySpice will probably be booed by everyone if we did not crown Vikas Bahl's female oriented comedy/drama Queen as number one in our list of Best Film (Comedy). Starring Kangana Ranaut as the innocent and quirky Rani, the film is based on the story of a woman who has her wedding broken off by her smug finance a day before. She then decides to go on her planned honeymoon to Europe alone, where she discovers herself and the freedom she now has. Queen was unanimously praised and it is highly regarded as one of the best women-centric films to have ever been made in Bollywood. A special mention should be given to Kangana Ranaut's performance, who manages to play the character of Rani with a lot of conviction. Queen also stands out for the fact that it was a man (Vikas Bahl) who was behind the director's chair of a well-crafted film based on a woman's journey. This makes Queen all the more special!