By Sheetal Tiwari and Stacey Yount
Though the ladies of Hindi film music-dom impressed this year, it most definitely was a year for the men! With a mix of strong, powerful vocals, energetic beats that made you want to move and the heartfelt renditions that made you cry and fall in love without even seeing the movie, let's hear it for the boys! Check out the 10 we thought particularly hit all the right notes!
10. Shekhar Ravjiani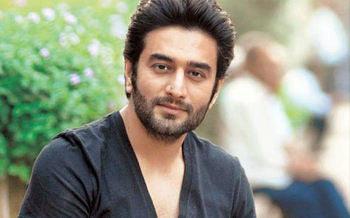 Part of the killer and hit music director duo Vishal-Shekhar that have given us many a favorite song, Shekhar Ravjiani also is a fabulous singer. We heard him along with Chinmayi Sripada on the classic and oh so good love song 'Zehnaseeb' from Hasee Toh Phasee. Then there was one of our absolute favorite songs of the year 'Meherbaan' (unplugged) from Bang Bang. It really does not get much better than Shekhar and just a guitar singing his heart out. There is such honesty and feeling in every note he sings. He also released a very special solo single this year with his soulful rendition of the Hanuman Chalisa, which was applauded by fans, by stars and well… everyone!
9. Sanam Puri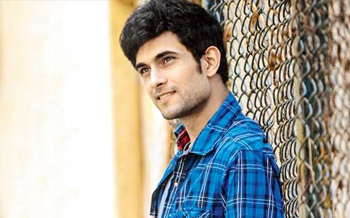 What a way to change gears after 'Dhat Teri Ki' (Gori Tere Pyaar Mein)! Sanam Puri certainly showed us a new side to his powerful vocals with 'Ishq Bulaava' in Hasee Toh Phasee. "It's the heart and not the ears that hear when love beckons" and Sanam sang to our hearts and we heard him perfectly. With the band SANAM, the singer is also a rising star on the non-film music scene. Along with Sanam, the band brings together Samar Puri – lead guitar, Venky S – bass and Keshav Dhanraj – drums. Be sure to check out their rocking 'Main Hoon' video and many other killer tracks on YouTube.
8. K Mohan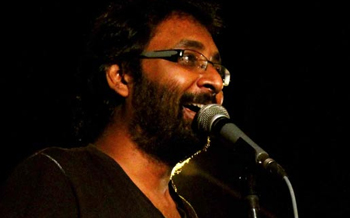 Lead singer of the rock band Agnee, the brilliant vocals of K Mohan were also heard on several tracks in Hindi films including 'Kinare' from Queen and the fabulous 'Chaandaniya' from 2 States. With that rough edge to his voice, he adds a unique sound to every track that sings. The band also composed the music for Yeh Hai Bakrapur and you must check out 'Pair Anaadi', which also features Indian Ocean and Raghu Ram, as well as 'Pyaar Mein Bakra'. We want more!
7. Mohd. Irfan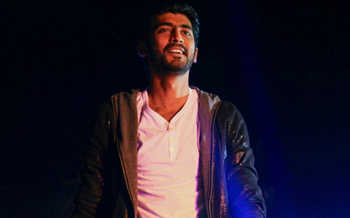 An up and coming singer, with his amazing tone and feeling he puts into his songs, we loved his tracks in 2014. From 'Muskurane' (2nd version) – Citylights, to the great 'Tu Hi Tu' and 'Hai Yehi Zindagi' – Kick, the fabulous 'Baarish' – Yaariyaan and 'Banjara' – Ek Villain, he gave us many songs for our playlists. We can't wait to hear what he has in store for us in 2015, and we are sure he will be making an appearance on this list for years to come!
6. Sonu Nigam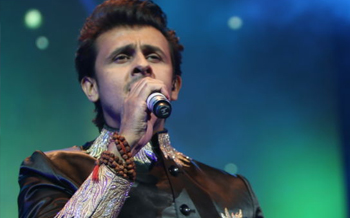 When you think of Hindi film music, Sonu Nigam's name definitely comes to mind! In 2014, we were treated to the some great songs featuring Sonu's incredible voice including 'Tu Sab Kuch Re' – Kaanchi, 'Kill Dil – Title Track', 'Mannat' – Dawaat-e-Ishq, and 'Love is a Waste of Time' – PK. Our absolute favorite though was his brilliant 'Bhagwan Hai Kahan Re Tu' in PK. We wrote in our review, "Sonu Nigam is at his Sonu Nigam best singing with feeling in every note that honestly made me tear up." A highlight of the album, of the movie and of the year!
5. Papon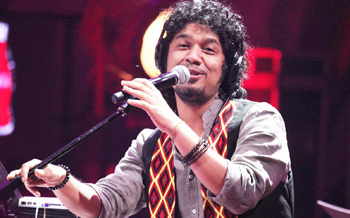 We always love to hear Papon sing and 2014 had us smiling again! He was great in the more modern avatar in 'Khamma Ghani' from Happy Ending. However, it was his pitch perfect inflection in the classicly flavored 'Tu' from Bobby Jasoos that was one of the highlights of the music of 2014. We also have to mention 'Sun Zara' from Bhopal – Prayer for Rain. Papon composed and sang the tragedy infused track. Another brilliant performance.
4. Sukhwinder Singh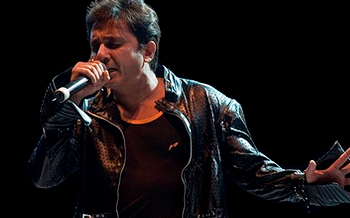 Hitting number 2 on our "Songs of the Year" list, 'Bismil' actually was very, very close to being named number 1. Featuring incredible music by Vishal Bhardwaj, the song is made epic by Sukhwinder Singh. With the undefinable spark to his voice and the theatrical flare that is a hallmark of Sukhwinder Singh's vocals, we can think of no one else who could have sung 'Bismil' and made it work so well. Calling it a highlight of the album, our reviewer wrote, "Where does one start when praising the brilliance that is 'Bismil'? There's Sukhwinder Singh doing what he does best, blowing our minds by exploring depths of his voice that we thought we knew but clearly did not." The excellence of this song and his rendition is showcased even more when you see the scene that it accompanies. If you have not, you must check it out.
3. Shaan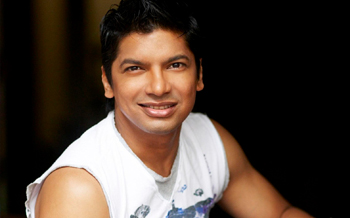 We heard the great Shaan on 'Tere Nain Maar Hi Daalenge' from Kick in the middle of the year. But it was the ending of the year that made Shaan number 3 on our list. From the first notes of 'Chaar Kadam', Hindi film music fans sighed with happiness. As our review said, "Chaar Kadam begins simply with the just perfect emotional filled voice of Shaan and an acoustic guitar and I am in heaven." And Chaar Kadam gets even better as the song goes on. Please sing more for the movies Shaan…please sing more! Shaan also has been working on another cool music project. He, along with music director and guitarist Gourov Dasgupta and Roshan Balu formed the band Superbia. Their first album, Satrangi, dropped in 2014. With an unique flavor that features cutting edge electro rock music, they plan to rock your musical world in 2015 and beyond!
2. Ankit Tiwari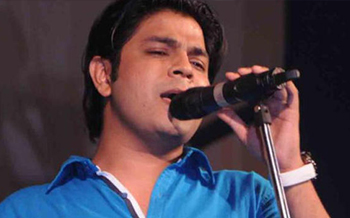 Composer and singer Ankit Tiwari hits number 2 on our list for his superb tracks both in music and vocals! On 'Dil Darbadar' from PK, he has such a haunting emotion-filled feel to his vocals. Then, of course, is our number one song of the year 'Galliyan' from Ek Villain. With the brooding tone of his voice, Tiwari infuses a lot of angst in his songs and that is especially felt and heard in all the musical flavors from classic Indian, to rock, to the melodious ballad of 'Galliyan'. He basically floored the audience with just a single number. We have already added his first song of 2015, 'Tu Hai Ki Nahi' from Roy, to our favorites list and we can't wait to see what the rest of the year brings from this talented composer and singer!
1. Arijit Singh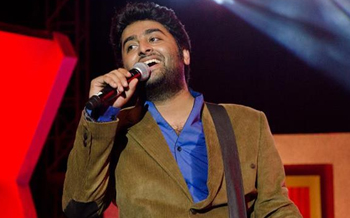 He really was the voice of Bollywood in 2014! His always great vocals were heard on 30 movie soundtracks and in over 50 songs. What is even more impressive is his versatility and the range of genres, syncopations, emotions, and keys that Arjit Singh sang and sang magnificently! From the dance/party numbers like 'Desi Romance' – Shaadi Ke Side Effects and 'Raat Bhar' – Heropanti, to the dramatic and very impressive 'Khul Kabhi Toh' & 'Gulon Mein Rang Bhare' – Haider, 'Samjhawan' – Humpty Sharma Ki Dulhania and 'Ashq Na Ho' – Holiday. Of course, we have to mention one of the styles he does best, the pyaar song, be it in duets or solos, some of Singh's best were 'Sajde' – Kill Dil, 'Jiya' – Gunday, 'Humdard' – Ek Villain, 'Muskurane' – Citylights, 'Suno Na Sangemarmar' – Youngistan, 'Mast Magan' – 2 States, 'Saanson Ko' & 'Mareez-E-Ishq' – Zid and 'Love Me Thoda Aur' – Yaariyan. We do love to hear Arijit Singh sing! In fact, he was featured the most on our Best songs of 2014 list. Here's to 2015 and even more Arijit Singh!
Of course, being the filmi music fans we are, we really couldn't keep it to 10 so here are a few special mentions:
For Vishal Dadlani we have to praise his killer rendition of 'Aao Na' – Haider. As well as 'Tu Meri' – Bang Bang, 'Drama Queen' – Hasee Toh Phasee, 'D Se Dance' – HSKD and 'Dance Basanti' – Ungli. Though he hits on the dance numbers, we do humbly request more rock, more edge, more 'Aao Na', more 'Jee Le Zaara' – Talaash, more 'Adat Hai Who' – Patiala House in 2015.
Benny Dayal, similarly, we would love to hear more of 'Tu Meri Dost Hai' – Yuvraaj and 'Kaise Mujhe Tu Mil Gayee' – Ghajini instead of one party number after another. He was great on the 'Bang Bang – title track', 'Tu Hi To Hai' – Holiday, 'Gulcharrey' – Bewakoofiyan, and 'Shake It Like Shammi' – Hasee Toh Phasee, but we want more.
Also making it on our special mention list is Shafqat Amanat Ali for 'Manchala' from Hasee Toh Phasee and Adnan Dhool for 'Awari' – Ek Villain.
See what we mean? It was year full of outstanding tracks from the male singers! We certainly were in musical heaven listening to these fabulous singers once again as we put together this list. Did we hit your favorite singer? Let us know who you love to listen to!