2014 has been a hit year for some actors and directors, but not so much for others. So here are some New Year's resolutions we'd like to see a few certain actors and directors make.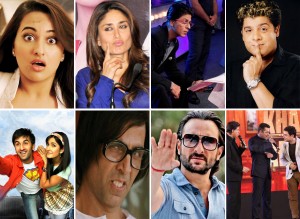 Sonakshi Sinha – I will do films that give me at least 20 minutes in screen space and more lines than dance numbers.
Kareena Kapoor – I will stop saying no to all good films.
Shahrukh Khan – I will start reading scripts and doing films that respect my experience and talent.
Sajid Khan – I will stop torturing audiences.
Ranbir Kapoor and Katrina Kaif – We will do more to ensure we're in the news for our work and not our personal lives
Akshay Kumar – I will stop patronizing the audience with idiotic films that pretend to be but really aren't funny.
Saif Ali Khan – I will stop playing the same lame role.
Priyanka Chopra – In my bid to take over the world with pop music and American TV, I won't spread myself to thin and will remember to still make great performances in Bollywood.
Ajay Devgn – I will not try to dance again, even if Prabhudeva asks.
The Khans (Salman, Shahrukh, Aamir) – We will continue being on good terms and trying to break the Internet with all of our combined awesomeness in photos.