Namaste, Sat Sri Akaal, Assalamualaikum and welcome to My Christmas/New Year's present to all you Bollywood fanatics. The 2015 countdown of the Top Grossing Films.
Now for the countdown. Bear in mind that this countdown is based on pure fact and figures. This is a countdown based on what you the viewer have voted for with your feet, as you the viewer have taken the time out from your lives to see these films in your droves. You may agree with some of them you may not agree with some of them – but come what may, these are your top ten grossers for 2015.
10. Gabbar is Back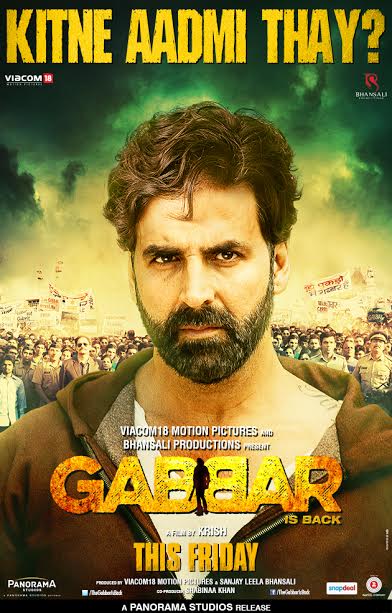 Starring – Akshay Kumar, Shruti Hassan, Suman Talwar, Jaideep Ahlawat, Sunil Grover
Director – Krish
Producer – Sanjay Leela Bhansali, Viacom 18 Motion Pictures, Shabina Khan
Music – Chirantan Bhatt, Yo Yo Honey Singh, Manj Musik
Release Date – May 1st
Okay I will be honest. I was surprised to see this film in the list. This 2015 May release was director Krish's first Hindi film offering to the Bollywood audience. A remake of Telugu film Ramanaa, Gabbar Is Back is a vigilante-action-drama film and is one of the lowest earners of the year so far taking in just over ₹85 Crores. That figure is way off the top spot. Having said that Gabbar is Back this is one of the first of three appearances that Akshay Kumar makes in the countdown.
Written over a decade ago by AR Murugadoss and reportedly fulfilling Shruti Hassan's dream of working with Akshay Kumar the film opened to a mix bag of reviews.
Faiza S. Khan reviewed the film for the Guardian and gave this Kumar offering for 2015 a one out of five, "Billed as an 'entertainer', Gabbar is Back is a dismal affair, and about as entertaining as a concussion. Despite the title, it isn't actually a sequel. It's called Gabbar is Back just because. And, indeed, why should logic apply to the title when there's no logic to other aspect of the film?"
Subhash K Jha on the other hand gave the same film four out of five stars, "Gabbar Is Back knocks the bottom off the action genre with a breathless ode to Swach Bharat. The film may appear louder-than-life to the dainty-hearted. But the tone is unapologetic massy. You can't change the disintegrating social order by being subtle."
And with that I give you your number 10…Gabbar is Back.
9. Singh Is Bliing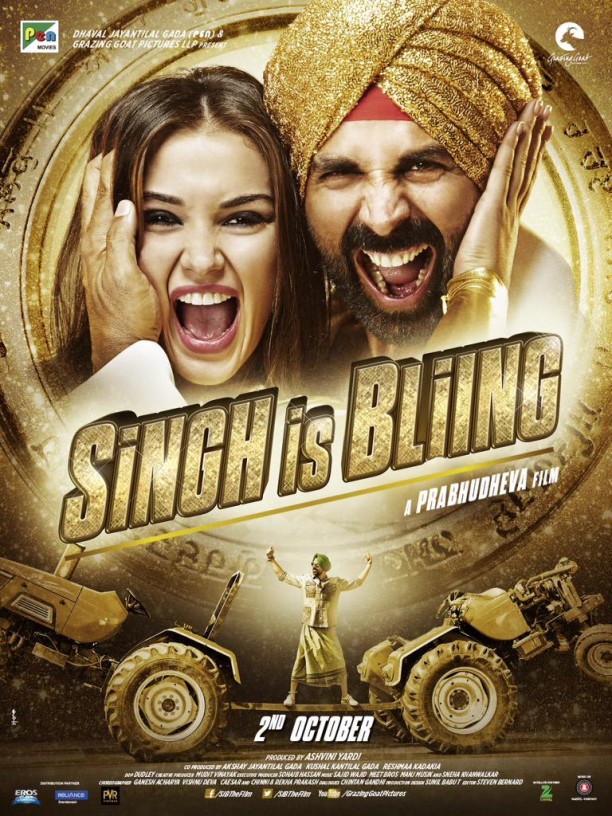 Starring – Akshay Kumar, Amy Jackson, Lara Dutta, Kay Kay Menon
Director – Prabhudeva
Producer – Akshay Kumar, Ashwini Yardi, Jayantilal Gada
Music – Songs – Meet Bros Anjjan, Manj Musik, Sajid Wajid
Release Date – October 2nd
Singh Is Bliing was director Prabhudeva's directorial offering for 2015. A film where Kriti Sanon was the original signing for the role eventually essayed by Amy Jackson, Singh is Bling is the second Kumar appearance on our countdown. A title that was apparently derived from a comment where director Karan Johar commented 'so Singh is Bliing today' on an outfit that Kumar was wearing at a party were both were attending as guests Singh is Bliing sees the adorable Raftaar Singh (Kumar) as a no do – gooder in the eyes of his disciplined father. Sent to Goa from Punjab hoping that he will learn to fend for himself Raftaar bumps into Sara (Jackson). The remainder of the film sees whether Sara and Raftaar live happily ever after.
Times of India gave Singh is Bliing three out of five saying, "This Singh is silly but cute and endearing. …Akshay Kumar, you are the dude."
Subhash K Jha gave the film three and a half stars out of five saying, "For that infectious grin that lights up the screen every time Akshay's Raftaar is happy – and he is happy most of the time — Singh Is Bliing is worth a dekko. Rowdier than Rathod, Akshay's Raftaar Singh is gloriously goofy and a great deal of fun to watch. Never mind the logistics. The fun never wanes."
And it seems as thou a lot of you agreed that Akshay was the dude. With a great box office opening the film recorded the second highest box office opening up until that point of the year with opening day takings being ₹18.25 crores. However this was not sustained and on the 8th day takings took a dip with a ₹25 Lakh net collection in east Punjab
Nevertheless with a gross taking of ₹90.25 crores this Singh is defiantly Bling.
8. Welcome Back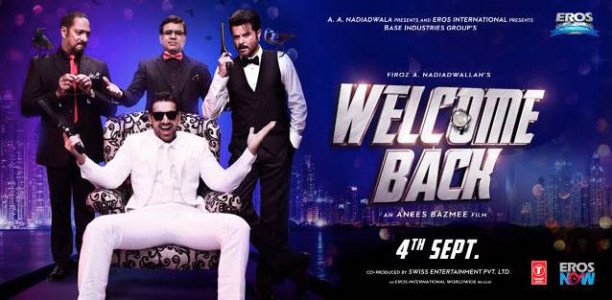 Starring – Anil Kapoor, Nana Patekar, John Abraham, Shruti Hassan, Shiney Ahuja, Paresh Rawal, Naseeruddin Shah
Director – Anees Bazmee
Producer – Firoz Nadiadwala
Music – Meet Bros Anjjan, Anu Malik, Abhishek Ray
Release Date – September 4th
Welcome Back…the sequel to Welcome sees Kapoor, Patekar and Rawal reprise their roles from the 2007 film with Abraham and Hassan being the new additions to the lead cast. Made on a budget of US$16 million, the film was largely shot in and around Dubai, United Arab Emirates.
Welcome Back in short sees the return of Uday and Majnu, but this time they want to get their sister married, who falls for a 'Bhai'.
Raja Sen, reviewed for Rediff giving the film 2 stars out of 5, wrote, "Welcome Back is dumb yet entertaining, utterly silly but made with a kind of absurd, warm energy
Subhask K Jha reviewed the film and was not impressed, "If you like ridiculous humour in cinema laced with lots of flamboyant locations songs and action then Welcome Back is your poison. But if stupidity dressed up in laughter offends you, this one may drive you to commit a crime worse than making a film whose comic plot no one follows."
Now the figures. Well you all helped the film make an estimated ₹133.26 crore in 17 days. On its first day, the film grossed ₹14.35 crore while collecting ₹17.05 crore on its second day and ₹19.60 crore on its third day. Thus, its first weekend's domestic gross stands at ₹51 crore. The film collected ₹73.75 crore in its first week After this collections dropped and with competition from Baby and Bajrangi Bhaijaan this film out stayed its welcome but lands itself at number 8.
7. Baby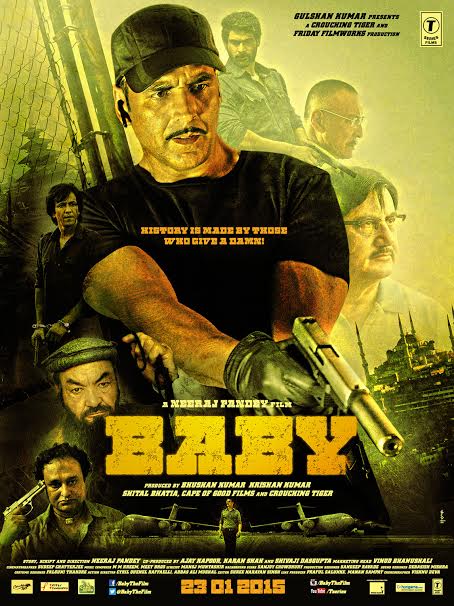 Starring – Akshay Kumar, Danny Denzongpa, Rana Daggubati, Anupam Kher, Kay Kay Menon, Sushant Singh
Director – Neeraj Pandey
Producer –Busan Kumar, Krishan Kumar, Sheetal Sharrma
Music – Meet Bros Anjjan, M.M. Keeravani
Release Date –January 23rd
Baby is a top secret counter espionage team that is born out of the 26/11 atrocities. Its officers led by Ajay Singh (Kumar), have no official records or responsibilities except to prevent terror attacks. If caught, the government maintains 'plausibility deniability'. The rest of the film centers on fighting attacks from multiple global locations.
Made on a budget of ₹58.97 crore Baby sees Neeraj Pandey team with Kumar for the second time following Special 26.
Receiving generally positive reviews from critics, who particularly praised the direction and Kumar's performance, Subhash K. Jha gave the film 4.5 stars out of 5 and stated, "Baby is one helluva roller-coaster ride. Miss it at your own risk'
Githa Vanan reviewed for Bollyspice and gave the film one out of five saying, "Baby is not path breaking, nor is it a commercially spellbinding film. The heroism is evident and yet, the music is lacking in feel. So is it's lackluster affair, in Bold and Capital."
Now for the maths bit. The worldwide box office gross of Baby is ₹125 crore. The film started off slowly with 20–25% seating and picked up only in metro areas to about 50%. Bollywood Hungama estimated the opening day at ₹9.3 crore. International Business Times said the film had "tremendous growth" over the weekend and that its first weekend total was ₹36.07 crore.
With a sequel being planned this Neeraj Pandey Baby is sitting pretty at number 7.
6. ABCD 2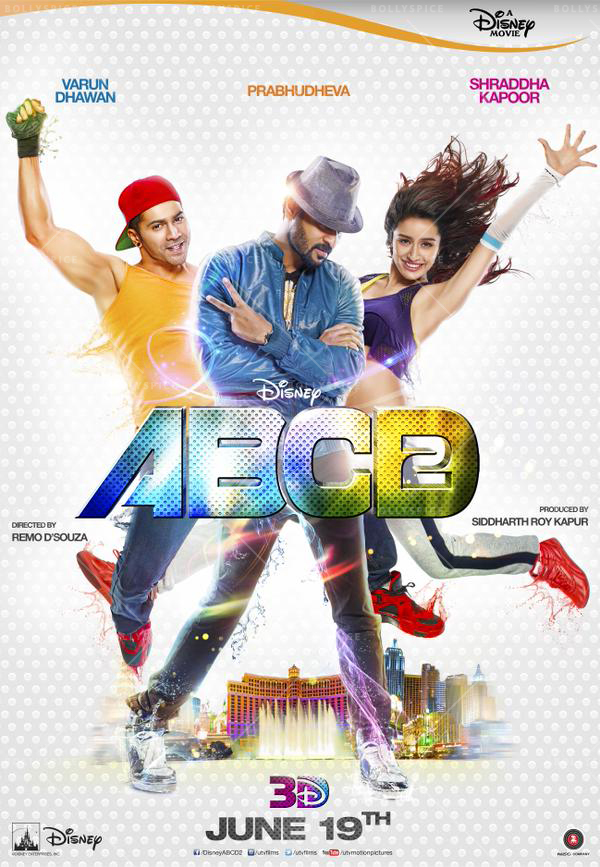 Starring – Prabhu Deva, Varun Dhawan, Shraddha Kapoor
Director – Remo D'Souza
Producer – Siddharth Roy Kapur
Music – Sachin – Jigar
Release Date – June 19th
ABCD 2 is about a group of dancers from Mumbai who try to find their rightful place in the world of hip hop
The sequel to the 2013 film the film sees the start of their journey with a local competition where Suresh (Dhawan) and Vinnie (Kapoor) are booed of stage with their friends due to plagiarisation.
Sukanya Verma of Rediff liked the choreography but thought that, "because of its poorly paced beginning, ABCD 2 feels a bit of stretch at 154 minutes." She gave the film 2.5 out of 5 stars.
Githa Vanan reviewed for Bollyspice and gave the film one out of five saying in her review, "By the time you learn the moves, figure out the story and follow the story, you have no interest invested in any aspect. A shame since the reality shows on the idiot box gives us a taste of the talent so we don't have anything to prove. Yet when it comes to penning a story revolving dance and dancers, the solid script just eludes the audience every time By the time you learn the moves, figure out the story and follow the story, you have no interest invested in any aspect. A shame since the reality shows on the idiot box gives us a taste of the talent so we don't have anything to prove. Yet when it comes to penning a story revolving dance and dancers, the solid script just eludes the audience every time."
And now for the figures. ABCD 2 opened on day one a taking of ₹14.25 crore with opening weekend takings reaching a total of 46 crore. By the first week takings were up to ₹71.75 Crore with the eventual total reaching ₹104 crore placing this film not only in the 100 crore club but at number 6 on our countdown.
5. Dilwale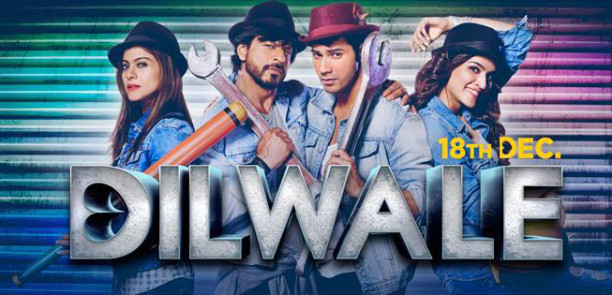 Starring – Shah Rukh Khan, Kajol, Varun Dhawan, Kriti Sanon
Director – Rohit Shetty
Producer –Gauri Khan, Rohit Shetty
Music – Pritam
Release Date –December 18th
Clash of the Titans. This Rohit Shetty offering released at the same time as Bajirao Mastani. The second time a Shah Rukh Khan film has clashed with a Sanjay Leela Bhansali release (Saawariya and Om Shanti Om), and though Ajay Devgan and Rohit Shetty have teamed up many times, t is the first time that Shetty teamed up with Devgan's wife Kajol.
Inspired by Kasme Vaade, Dilwale is Shah Rukh Khan's and Kajol's most recent pairing following My Name is Khan and was one of the most eagerly awaited films of 2015.
Releasing in the run up to the Christmas season under heavy promotion this film opened to a mixed bag of reviews. Taran Adarsh from Bollywood Hungama gave the film 4/5 stars, saying, "On the whole, Dilwale is akin to a mouthwatering meal that satiates the craving of those who relish masalathons, besides being an absolute treat for SRK-Kajol fans. An unadulterated crowd-pleaser, Dilwale delivers what you expect from a Rohit Shetty film: King-sized entertainment. Go for it!"
Caitlin E O'Conner reviewed for Bollyspice, "Dilwale is not all bad — it has its moments when it tugs at the heartstrings or tickles the funnybone, but those shining moments are mostly buried under mundane bakwas, and I'm not entirely sure it's worth wading through it to get to the good." Giving the film 2 out of 5.
Dilwale made around ₹150 crore worldwide in its opening weekend, the third highest of the year. The film had reportedly grossed over ₹284 crore worldwide after twelve days of its release. Having grossed $3.75 million Dilwale has also become the highest earning Shah Rukh Khan film.
And with that the Dilwale Team land themselves at number 5.
4. Tanu weds Manu Returns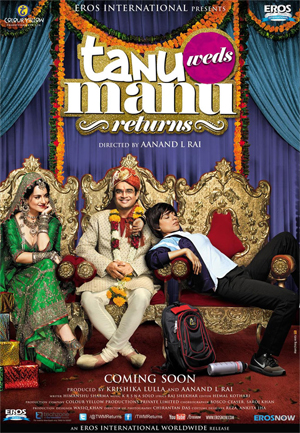 Starring – R Madhavan, Kangana Ranaut, Jimmy Shergill, Swara Bhaskar, Deepak Dobriyal
Director – Anand L Rai
Producer –Krishika Lulla, Anand L Ra
Music – Krsna Solo, Tanishk – Vayu
Release Date –May 22nd
Following the post release reaction to Tanu Weds Manu in 2011 Anand L Rai started to think of a possible sequel with both lead actors Madhavan and Ranat confirming there interest to be a part of the project should the director want to go ahead, however the project was put on the back burner to allow Rai to proceed with 2013 release Raanjhanaa. Following the release of the Kapoor and Dhanush starrer Rai confirmed that there would be a Tanu Weds Manu sequel and that it would feature the original cast.
Tanu Weds Manu Returns opened to positive reviews with special praise for Ranaut and her double act.
In a 4.5 out of 5 star review, Srijan Mitra Das of The Times Of India said, "Tanu Weds Manu Returns boasts one of the finest double roles ever in Hindi cinema. Alongside, Madhavan does a fine job as quiet, often morose, sometimes hopeful Manu." He also added, "Aanand L. Rai merits applause for his masterful direction of Himanshu Sharma's rich, riotous story. Evoking a new-age Hrishikesh Mukherjee, Rai keeps things tight, light, yet layered."
Prathna Tiwari reviewed for Bollyspice and gave this sequel a commendable four out of five saying, "You may not have called it that when you saw it coming but fact is, Tanu Weds Manu Returns is a landmark movie. It questions the very foundation of love stories we've been digesting all these years. The movie dares to go beyond the honeymoon period and it is about time someone did! At the same time it does all this in a highly entertaining packaging. If there is one not-to-be-missed movie of 2015, it surely is this."
Tanu Weds Manu Returns earned ₹380 million in its opening weekend in India, with a worldwide gross taking of ₹650 million. Analysts reported that the film took in the biggest opening weekend collections for a Bollywood film that year up until that point. It also managed to recover its production budget within the first three days of its release. According to Box Office India projections, Tanu Weds Manu Returns earned ₹243 crore worldwide at the end of its theatrical run, to become one of the highest-grossing Bollywood films and 2015's number 4.
3. Bajirao Mastani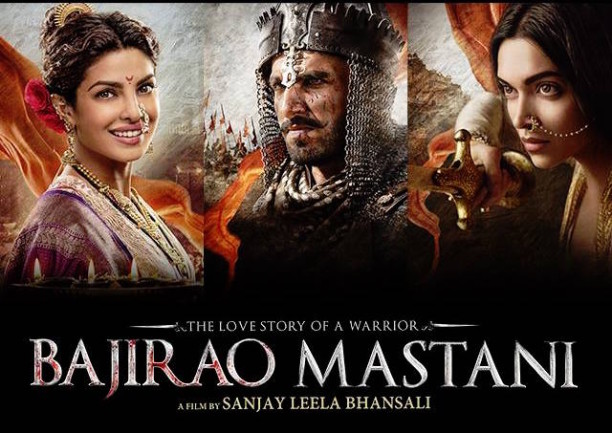 Starring – Ranveer Singh, Deepika Padukone, Priyanka Chopra,
Director – Sanjay Leela Bhansali
Producer – Sanjay Leela Bhansali, Kishore Lulla
Music – Sanjay Leela Bhansali
Release Date – December 18th
A film that has spent 12 years in "development hell" as said by most people. It was being made …then it wasn't…then it was…then it wasn't….
Sanjay Leela Bhansali originally wanted to make Bajirao Mastani, after the release of Devdas in 2002 starring his Hum Dil De Chuke Sanam pair Salman Khan and Aishwarya Rai in the lead roles but couldn't after their highly publicised break up.
In 2003 Bhansali managed to cast Khan and Kareena Kapoor for the film with Rani Mukerji to reportedly play the role of Kashi Bai, but again this could not work out as both Khan and Kapoor signed other films together and Bhansali wanted to be the first director to showcase their pairing so the film once again got shelved and Bhansali went on to direct Black with Mukerji.
In the ten years that this film has been reported to be made/not made there were numerous actors linked to the lead roles…Salman Khan, Shah Rukh Khan, Ajay Devgan, Katrina Kaif to name a few… however as the saying goes…there is light at the end of the tunnel and in July 2014, it was confirmed that Bhansali had revived the project with Ranveer Singh and Deepika Padukone (the lead pair of Bhansali's Goliyon Ki Raasleela Ram-Leela) playing the titular roles and Priyanka Chopra playing Bajirao's first wife, Kashibai.
The film opened to largely positive reviews. Taran Adarsh from Bollywood Hungama gave four stars out of five, describing it as "a cinematic gem" and wrote that "fascinating characters and inspirational sub-plots [in the film] advances into a stunning culmination." He praised the performances writing, "Ranveer Singh is stupendous and clearly in top form. The effortlessness with which he gets into the skin of the character is noteworthy. Deepika is enchanting as Mastani and displays the strength as an actor in several pertinent episodes. Priyanka Chopra's portrayal of Kashibai deserves brownie points."
Githa Vanan reviewed for BollySpice giving the film 3 out of 5 stars.
So how does the latest magnum opus from the SLB camp fair up? Well, short (or long if you look at the duration) from the mark and off from the historical accuracy. But just like 'Deewani Mastani' is a bow of respect to Mughal-E-Azam's 'Pyaar Kiya Toh Darna Kya,' you can appreciate without getting too obsessed.
This film is living proof of the saying that good things come to those who wait. Having taking award season by storm the film collected ₹12.80 crore on its opening day which is tenth highest of the year.
On its second day the film saw growth in its collection as it collected ₹15.52 crore. The film show further growth on its third day as it collected ₹18.45 crore to take its first weekend total to ₹46.77 crore. The film collected ₹39.88 crore in its first week to take its first week total to ₹86.15 crore making it the fourth highest of the year.
Bajirao saw a growth of nearly 20% in its collection on its second Friday as it collected ₹12.50 crore. With this the film made total of ₹98.40 crore and becomes sixth highest grosser of the year. The domestic total of the film was around ₹123 crore in eleven days.
After twelve days, the film grossed ₹250 crore worldwide placing this SLB offering high above its Dilwale competition in third place.
2. Prem Ratan Dhan Payo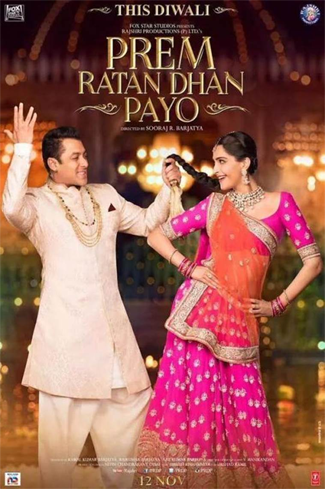 Starring – Salman Khan, Sonam Kapoor, Neil Nitin Mukesh, Swara BHaskar
Director – Sooraj Barjatya
Producer – Ajit Kumar Barjatya, Kamal Kumar Barjatya, Rajkumar Barjatya
Music – Himesh Reshammiya
Release Date – November 12th
No countdown is complete without a Salman Khan release and 2015 has been a spectacular year for this Khan. Prem Ratan Dhan Payo is the fourth collaboration between Barjatya and Khan after their previous films Maine Pyar Kiya, Hum Aapke Hain Kaun..!, and Hum Saath Saath Hain. And Hum Saath Saath Hain released 16 years ago. It saw Barjatya return to the silver screen after a 9 year break following the release of Vivaah with Salman Khan named Prem for the 14th time.
A typical Rajshri family drama opened to mixed reviews. Rajeev Masand of CNN-IBN gave the film a rating of 3/5 stars saying that the director employed the same successful formula he had tried in his previous films, but now "the tropes have gotten rusty, the emotions seldom feel genuine, and the writing is strictly surface level." He concluded that the film's only saving grace is the presence of Salman Khan who is in good form. Caitlin E. O'Conner reviewed the film for Bollyspice and gave the film three out of five saying Prem Ratan Dhan Payo feels like the Rajshri that brought Maine Pyar Kiya and Hum Aapke Hain Koun in some ways good (family relationships, songs feel timeless) and bad (several very retro elements, themes feel unoriginal), but there's an important difference: It doesn't feel nearly as relatable.
And now the money talk. Prem Ratan Dhan Payo collected ₹40.35 crore on its opening day and becomes highest opener of this year by beating the previous record of Bajrangi Bhaijaan.It is also the second film in Hindi cinema to gross over ₹40 crore in a single day after Farah Khan's release Happy New Year. However all was not well with a 25% drop in its business on the second day. Nonetheless, Prem Ratan Dhan Payo has become the fourth Hindi film to gross more than ₹100 crore in flat three days.
On its sixth day the film six-day total was ₹155.43 crore and becomes second highest grosser of the year by beating the lifetime collection of Tanu Weds Manu Returns. The film collected ₹10.02 crore on its seventh day to take its first week total to ₹165.45 crore thus breaking the first week records of Kick and Chennai Express.
By the second Wednesday of it's run Prem Ratan became the second movie of the year to collect over ₹200 crore giving this film a 100% profit for the producers. The film collected ₹3.10 crore in its third weekend to take its total to ₹206.63 crore.
The film grossed ₹10.62 crores on its opening day at overseas and ₹59 crores in its first four days from International Markets. Its second weekend saw the film gross ₹86.57 crores internationally breaking the international business record of Baahubali: The Beginning in 11 days.
And with those figures this Barjatya – Khan Jodi sit pretty at number two.
1. Bajrangi Bhaijaan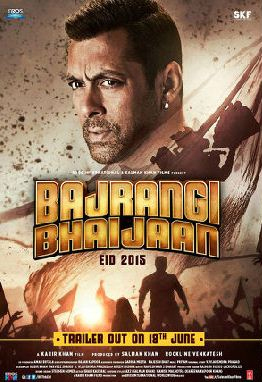 Starring – Salman Khan, Kareena Kapoor, Nawazuddin Siddiqui, Harshaali Malhotra
Director – Kabir Khan
Producer – Salman Khan, Rockline Venkatesh
Music – Pritam
Release Date – July 17th
What can I say about Khan's 6th eid release that has not already been said. Everyone who knows me knows that I am a huge Salman Khan fan. This film though was something else and exceeded everyone's expectations and the reviews and gross takings reflect that.
Bollywood Hungama reviewed the film and gave the film 4.5 stars out of 5, "On the whole, BAJRANGI BHAIJAAN is a not to be missed 'Eid' treat from Salman Khan and Kabir Khan. The film is a surefire hit and has got 'B-L-O-C-K-B-U-S-T-E-R' written all over it. This film easily qualifies to be Salman Khan's BEST movie till date, featuring his career's best performance. The film wins you over completely. Do not skip."
BollySpice reviewer Bodrul gave the film 4 out of 5 saying, "Overall, if you scrutinise the film as a whole, Bajrangi Bhaijaan is a 3 and a half star film respectively. However, I am giving an extra half a star specifically to Salman Khan. He has surprisingly exceeded expectations with this film and has thereby both produced and starred in a film with a soul and an emotionally charged message for the citizens of two nations who have fought bitterly for so long."
So bearing that in mind I will get down to the nitty gritty.
Bajrangi Bhaijaan grossed ₹333 crore worldwide in its first week, beating the previous record of ₹332 crore worldwide by PK hands down. The film went on to net ₹3.15 billion and ₹4.26 billion gross in India and grossed ₹1.792 billion overseas for a worldwide gross of ₹6.03 billion in 31 days.
It currently holds the record of only Bollywood movie to cross ₹ 1 billion from single screens alone beating the collections of Dhoom 3.
In short everyone loved this Bhaijaan offering.
And with that I give you a record breaking number 1.
Parting thoughts this year….I have done this countdown innumerable time's and year after year I see the usual suspects take the prime spots with films being released at certain times, competition being avoided. I am seeing progress and changes in content in the Hindi film industry, changes in taste are good…the industry is growing…topical issues are being covered. It may however surprise you that this year despite Bajrangi Bhaijaan being such a big hit the Hindi film industry actually recorded a fall in overall ticket sales.
Maybe the audiences are now trying to send a direct message to our film makers with this and that the film makers need to wake up and take note, that yes we will spend our hard earned money on your productions but only if we deem them worthy of our hard earned money. Times are changing…the industry needs to change with the times too, and with that I will take you leave for another year and see you with another countdown. Wishing you all a Bollytastic New Year.