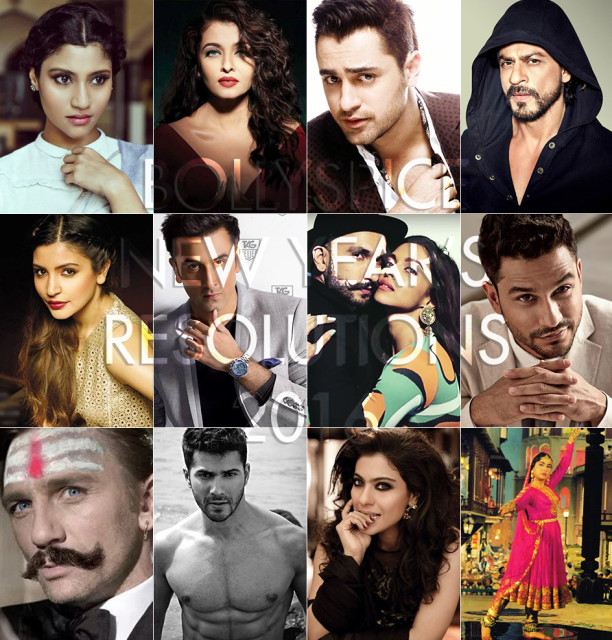 It is already that time to say goodbye to the year that has passed and to look forward to the year ahead.
And oh are we glad!
Let's face it, 2015 has been a poor year for Bollywood.
A really poor year.
For instance Shamitabh, Bombay Velvet and Katti Batti had the audiences hoping for a great show.
We held our breaths and were rather… disappointed.
And Dilwale?! Where is our SRK who has the God given gift to make the audience reel with tears, or with laughter?
Well, we won't be despondent as with a New Year arrives new hope.
The BollySpice team have put their Bollytastic heads together to provide essential Bollywood New Year resolutions to ensure 2015 is not played on loop!
Bollywood,  you can do it!
Konkona Sen –  I shall do more films
Aishwarya, SRK, Imran, Salman – We will pick better scripts
Anushka Sharma – I will keep shining! No way will I stop shining! My NH-10 performance was a new record. But I won't smoke in my films.
Ranbir Kapoor – I will carry on being charming. And oh so talented.
Deepika and Ranveer – We will keep on being cute. Our chemistry rocks!
Kunal Khemu – I have great potential and will get signed to more films
Tanu Weds Manu Team – We will return in 2016 because frankly we were awesome and the reason why many still held faith in Bollywood (Possibly Tanu and Manu will have kids)
Varun Dhawan – I will only say yes to a film that has a storyline. Dilwale was an "experience". My Badlapur performance was amazing so only scripts that justify my acting skills from now on.
Kajol Devgn – I am coming back to do more films! I am gorgeous and so have not put on weight, as joked about in Dilwale.
SRK – I will never ever ever never do a Rohit Shetty film ever again. But I would like to keep the beard.
Censor board – If we are cutting a kiss from the James bond movie then we might want to consider cutting movies like Kya Kool Hain Hum 3 and Mastizaade next year from the theatre all together. We might as well show porn in theatres.
Bollywood –  I will go back to classic both in film AND music. I remember the days of Mughal-e-Azam! Oh and Pakeezah, Umrao Jaan, Guide, Dilwale Dulhania Le Jayenge!
Bollywood – I will write better scripts! I remember the days of Maine Pyar Kiya!
Bollywood – I shall return to music that makes the world want to sing. I remember the days of Bobby and Taal and DDLJ!
So there we have it, keep believing in Bollywood people!
Very soon we shall see the return of films such as this…