Controversies and Bollywood have a symbiotic relationship so it comes as no surprise that 2012 has been yet another eventful year and how! Some of the biggest names of the industry seemed to have found themselves under the wrong limelight this year. Bollyspice brings to you the five controversies from 2012, which are most likely to go down in history.
5. Barfi's selection for the Oscars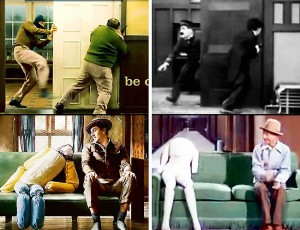 This was one more debate that gained a lot of attention as the year ends. Upon announcement of Anurag Basu's Barfi! as India's official entry at the Oscars the general public questioned whether the film, which has various sources of inspiration, ought to be selected over and above the many impressive original scripts we saw this year. Critics argued that Barfi! was not the best that India had and that the regional cinema was being neglected. However, the other side claimed that there was no such plagiarism since Ranbir Kapoor had throughout mentioned how he was channelling Chaplin or Raj Kapoor. Sadly for Ranbir viewers have found similarities between the film and other sources and this extends above and beyond Chaplin and Raj Kapoor.
4. Shanghai and the 'Bharat Mata Ki Jai' trouble: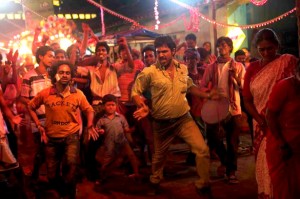 Shanghai was much appreciated as a movie but its song 'Bharat Mata Ki Jai' was under the scanner as a PIL in the Delhi High Court had been filed asking for an interim stay on the release of the film till the song is deleted. It was believed that the lyrics of the song are projecting India in a bad light to which Vishal Dadlani, the composer of the song, stated on Twitter, "A Nation born from non-violence is being run by a bunch of violent thugs. And we, the people, keep meekly accepting it. #BharatMataKiJai". In retrospect the controversy ensured that Vishal D and team definitely got their point across about a two sided India.
3. Saif Ali Khan's physical fight at Taj: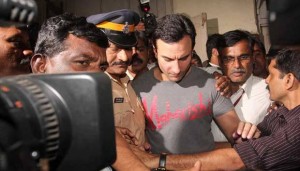 Another Khan who stole the show in the controversy category was the Nawab of Pataudi, Saif Ali Khan. At Wasabi restaurant at Taj in Mumbai he was dining with now wife, Kareena Kapoor and Bebo's best friend, Amrita Arora. He interfered and punched an NRI because he complained about the celebs making too much noise to which Amrita Arora's husband Shakeel got into an argument with him. Legal action was taken against him. There are reports declaring it as a publicity stunt, since it happened a few days before the release of his film his home producion, Agent Vinod.
2. Ajay Devgan Films-Yash Raj Films: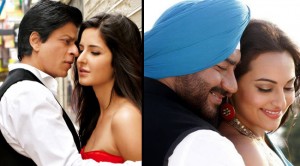 Ajay Devgn, who is usually one to be quite silent offscreen came into the spotlight when he dared to speak against one of the biggest production houses of the country, Yash Raj Films. His company, ADF, took legal action against YRF claiming that a producers/distributor/exhibitor cannot be allowed to enter into a tie-in arrangement which adversely affects competition. As you may guess, this was in light of Diwali releases Jab Tak Hai Jaan (Yash Raj Films) and Son of Sardaar (Ajay Devgn Films). SRK very clearly stated that it is not about him and Ajay, but this is the production and distribution's matter involving the two companies. Yash Raj issued various statements defending their position claiming no such influence by them was exercised on distributors and theatre owners. Commerce issues aside wife Kajol seemed to have been dragged into the whole ordeal because of her past ties with Yash Raj Films. A big tribute was give to all the YRF heroines at the Jab Tak Hai Jaan premiere however there was no mention of Kajol nor did she attend the grand premiere.
1. SRK and Melodrama: Wankhede stadium, Piggy Chops and Sound slaps.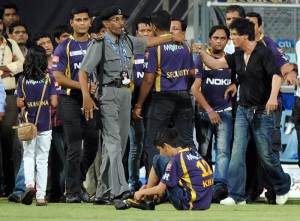 King Khan tops the list of controversies this year and has been in the news for quite some time for various reasons. To begin with there's the showdown with the officials at Wankhede stadium during the IPL . This one in particular got a whole lot of press. He was drunk and was photographed arguing with the officials. He claims that they misbehaved with the children he'd taken to the game. Following this incident the Mumbai Cricket Association (MIC) banned him from entering the stadium for 5 years.  Another major SRK found himself in the centre of was one concerning his wife Gauri Khan and best friend Karan Johar. Reportedly they were miffed with SRK's off screen chemistry with Priyanka Chopra, which was confirmed with KJo's angry tweets as Gauri's loyal friend and this led to the news being flashed all over. This was followed by a supposed cat fight between KJo and Dostana actress Priyanka, to which SRK was a silent witness.
Lastly there's the infamous incident of Shah Rukh slapping his good friend Farah Khan's husband Shirish Kunder at Sanjay Dutt's party celebrating Agneepath's success. Social networks and comic writers loved this one as jokes and cartoons about the incident circulated the cyber space for quite some time. Word is that Khan slapped him because of his remarks about his film, while the other side of the story says that Shirish was drunk and kept pestering Khan. Some claimed that Shirish was misbehaving at the party with others also. Farah's brother, Sajid Khan, decided to step in and made various press statements clarrifying the unbreakable bond his sister and family have with Shah Rukh. Farah Khan is said to have sorted things between the two later, but Shirish doesn't seem to have let go. So yes all in all a busy year for Mr. Khan!
So this is how the end of the year looks like. Let us see what 2013 brings to Bollywood, of controversies and much more! Happy New Year!