Item numbers continued their reign in 2012 as a flurry of fast-beat, sexy dance songs hit the Bollywood music scene this past year. The styles ranged from traditional village songs and mujras to modern club hits and Punjabi beats. The sheer volume of item songs in 2012 was almost astounding, and the BollySpice team had a difficult time choosing just five. Therefore one thing is clear: item numbers are most definitely back and here to stay. As we look forward to more item number masala in 2013, let's recap the fab five of 2012.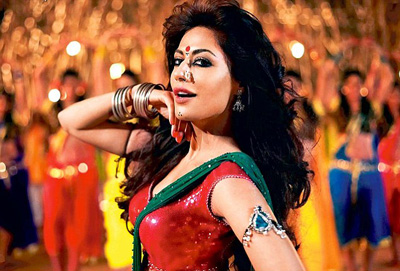 5. 'Kaafirana a.k.a I Want Just You' (Joker)

It's hard to appreciate anything from the flop film Joker starring Akshay Kumar and Sonakshi Sinha. If there was one highlight of the movie, it was Chitrangadha Singh's item number 'Kaafirana'. The song was initially surrounded by controversy when the original version, titled 'I Want Fakht You' was leaked online. Thankfully, the lyrics were changed to the more family friendly 'I Want Just You' for the film's official release. Controversy aside, the song itself is super catchy and entertaining, and Chitrangadha does a great job with the choreography.
*Choreographer: Farah Khan
---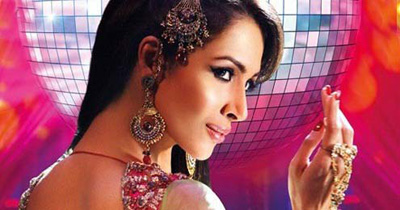 4. 'Anarkali Disco Chali' (Housefull 2)

What's a year of item numbers without the queen Malaika Arora Khan? Anarkali may not have been as sizzling as the legendary Munni, but the song still managed to make quite a splash in early 2012 with its clever lyrics, fun choreography and colorful costumes. Malaika is the heart of this song and, because of her charm, 'Anarkali Disco Chali' wins a spot on our list of top item numbers.
*Choreographer: Farah Khan
---
3. Aa Re Pritam Pyare (Rowdy Rathore)
This bold song from Rowdy Rahore boasts not one, but three seasoned lead dancers: Maryam Zakaria, Shatki Mohan and Mumaith Khan. Aside from the impeccable choreography, the best part of this item number was the chemistry between the three ladies. Their facial expressions and synchronized movements gave the already catchy song some added soul. They reminded audiences of the true intention of an item number—to have fun!
*Choreographer: Prabhu Deva
---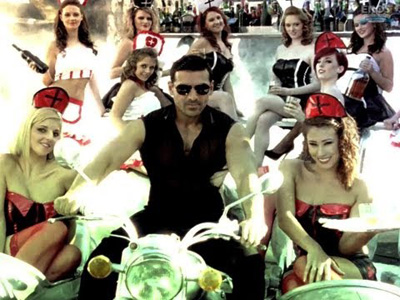 2. 'Rum Whisky' (Vicky Donor)
Compared to previous years, 2012 was a bit sparse when it came to male-centric item numbers. But the one male item song that did release was a huge hit. A hidden gem in the charming Vicky Donor, 'Rum Whisky' starred actor/producer John Abraham alongside the film's star Ayushmann Khurrana on a set clad with motorcycles and background dancers. With a vibe full of masti and a captivating beat you can't help but want to get up and dance to 'Rum Whisky'. John and Ayushmann mesh well together on screen, providing us with a boisterous and entertaining hit with a Punjabi flare.
*Choreographer: Bosco-Caesar
---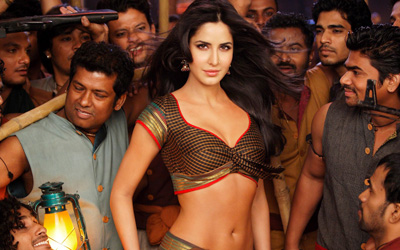 1. 'Chikni Chameli' (Agneepath)
Releasing in January, 'Chikni Chameli' featuring Katrina Kaif started the year off with a huge bang. Almost a full year later, the song is still ingrained in our memories as one of the most popular of 2012 and for good reason.  Katrina clearly stepped out of her comfort zone in this Marathi Mulgi-inspired number. The choreography was extremely fast paced but Katrina managed to master the moves in her own style as she began to redefine her item girl identity with a more Desi-flavored image. 'Chikni Chameli' was and continues to be a chartbuster due to the beat, lyrics, picturization and, of course, the song's leading lady.
*Choreographer: Ganesh Acharya
---
HONORABLE MENTIONS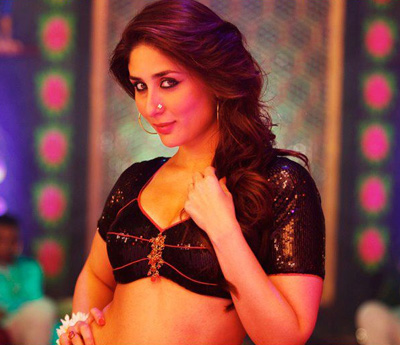 Fevicol Se (Dabangg 2)
The jury is still out on this one, but so far 'Fevicol Se' has failed to make as big of a splash as its predecessor item song, 'Munni Badnaam Hui' from Dabangg. Even so, the number deserves its fair share of credit for lively performances by Kareena Kapoor and Salman Khan and the innovative and quirky lyrics. It remains to be seen whether 'Fevicol Se' will become a super hit, but it certainly has the potential to be.
*Choreographer: Farah Khan
---
Halkat Jawani (Heroine)
In true Heroine fashion, Kareena Kapoor performed this spicy item number set at an awards show in Madhur Bhandarkar's latest where Kareena shows off her svelte bod in revealing yet colorful Desi-inspired outfits. The catchy song received positive response from viewers and Kareena quickly jumped into the item star hall of fame. The actress worked through slightly disappointing core choreography to carry the song almost solely through her infectious facial expressions and made 'Halkat Jawani' one of the most memorable songs of the year.
*Choreographer: Ganesh Acharya