2012 has been an astoundingly brilliant year for Bollywood's male singers. Needless to say the following 5 gentlemen soared above their talented colleagues and made an unmistakable mark upon the face of Indian music.
5. Ayushman Khurana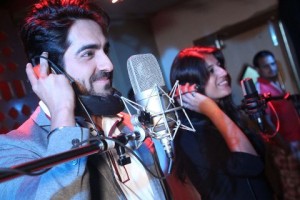 One film and one song old, yet Ayushman cannot be more of a rockstar. Sure the man can act and hold a film on his shoulders, but who knew he could sing as well. Paani Da Rang, a sweet and simple Punjabi track took the audiences by storm with only one complaint, we were left hankering for more. Here's hoping 2013 changes that.
4. Amit Trivedi & Vishal Dadlani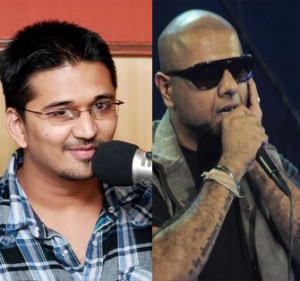 Both Mr. Trivedi and Mr. Dadlani are jacks-of-all-trades in that they successfully score chartbusting albums and have the pipes to match. Mr. Trevedi's genius refusal to stick to the norm gives us inconceivable fusions but it's his earthy vocals that surprise you more. Be it 'Wakda' (Aiyaa), 'Dhak Dhuk' (English Vinglish), English Vinglish (title song) or 'Kikli Kalerdi' (Luv Shuv Te Chicken Khurana), he continues to impress in more ways than one. Similarly, Vishal Dadlani is a force to reckon with when paired with partner in rhythm Shekhar Ravjini, but he can definitely break some hearts on his own. This year we fell in love with his renditions of 'Mar Jaiyaan' (Vicky Donor) and 'Jee Le Zaara' (Talaash) and happily danced the nights away with 'Vele' and 'Ratta Ma' (Student of the Year).
3. Mohit Chauhan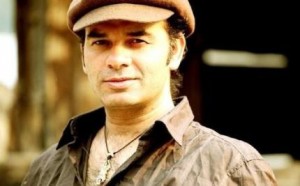 After a rocking year with Rockstar, Mr Chauhan was found just a shot out of the limelight in 2012. Even then he delivered some unforgettable tracks in Barfi (title track), 'Saans' (Jab Tak Hai Jaan), 'Shukrana' (Jannat 2), 'Dil Yeh Bekaraar Kyun Hai' (Players) and 'Saiyaara' (Ek Tha Tiger). We sincerely hope he reprises his reign over music in 2013.
2. Rahet Fateh Ali Khan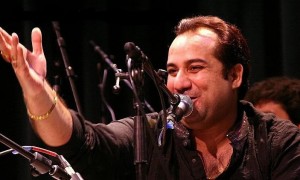 A year in music is more or less incomplete but for a few choice numbers from Mr. Khan. His velvety vocals are Christmas and Diwali rolled into one and then some. This year he serenaded us with 'Tera Deedar Hua' (Jannat 2), 'Saiyaan' (Heroine),  'Allah Jaane' (Tere Meri Kahani), 'Bichdan' (Son of Sardaar), 'Yeh Jo Halki Halki Khumariyan' (Son of Sardaar) and 'Siske Siske' (Ishq in Paris). As if that was not enough, he gifted us 'Dagabaaz Re' (Dabangg 2) as the year concluded. Here's to more from the maestro in 2013.
1. Arijit Singh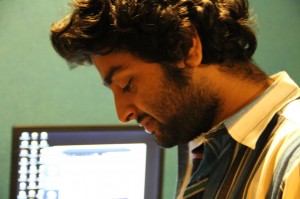 Arijit Singh can be crudely classified as a newcomer, but his immaculate renditions of 'Jhoom' (Players), 'Raabta' (Agent Vinod), 'Phir Laya Dil' (Barfi) and 'Dua' (Shanghai) are equivalent if not above that of a skilled of a veteran.  The aforementioned tracks could not be more different from each other. Arijit has a classical zeal to his vocals apparent in 'Phir Le Aaya Dil' and 'Dua' with charm wrapped up in a rockstar quality as witnessed in 'Jhoom' and 'Raabta'. To say he is a promising debutant is a gross understatement as he has fulfilled his promise to the audiences before we initiated it. We eagerly await more from Arijit in 2013.
Special Mentions
Benny Dayal: We had an entertaining year thanks for Benny with the 'Disco Song' (Student of the Year), Ek Main Aurr Ek Tu (Title Track), 'Daaru Desi' (Cocktail) and 'Tujhpe Fida' (Heroine). However, we wonder when we will see the return of the Benny that took our breaths away with 'Meri Dost Hai' (Yuvraaj) and 'Kaise Mujhe Tum Mil Gayee' (Ghajini) because these cute party tracks are getting old.
Javed Ali: It is a real shame that Mr. Ali is not utilised as much as he deserves. This year he beautifully introduced the Ishaqzaade to us with the film's title track followed by a short yet strong rendition of 'Jab Tak Hai Jaan' toward the end of year. Needless to say we are begging for more.
Shekhar Ravjiani and Salim Merchant also gave commendable performances this year by breaking away from their roles as music directors. Ravjiani delivered a power packed rendition of 'Khudaya' (Shanghai) while giving some invaluable supporting vocals for several numbers in Student of the Year and Shanghai. The other half of the brothers Merchant, Salim stirred the gen-y hormones with swoon-worthy 'Ishqwala Love' (Student of the Year) and singles anthem 'Kunwara' (Jodi Breakers).