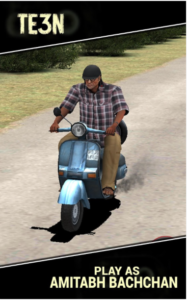 Reliance Games, developer and publisher of mobile games, has launched the official game for the upcoming thriller, TE3N. The game features Amitabh Bachchan as the lead protagonist, playing the gamified 'infinite runner' from the movie. Gaming enthusiasts will get an opportunity to jump into the screen veteran's avatar, bringing alive the chase to unravel clues related to the story.
Mr. Bachchan himself led the digital campaign by inviting fans to share their suggestions to create posters, vote for their favourite songs and list their game preferences. The contest welcomed over 45,000 participants, visiting the official website Te3nitaround.in to log their preferences.
The contest invited visitors to vote for their favorite category of game across three genres: hidden object game; infinite runner game; and side scrolling platform game, with the 'infinite runner' game garnering 61% of the votes.
Amit Khanduja, CEO Reliance Entertainment Digital said, "We are thrilled to associate with an ambitious movie like TE3N. The collaboration with TE3N deepens our association with Bollywood to develop movie based thematic games, which gives Bollywood lovers an opportunity to combine their love for movies and games. We are confident gamers will enjoy the experience and the adrenaline rush it offers."
According the game description: "You are Amitabh Bachchan (John Biswas) investigating a mysterious case in the vibrant streets of Kolkata. Drive, dodge obstacles and hunt for the kidnapper using your skill in the biggest mystery scooter-race of your life.
As the déjà vu plot unfolds, collect every important clue which lies between a catastrophic past and the present. Use crucial power-ups to solve the mystery. Help your favorite star Amitabh Bachchan catch the kidnapper and save the victim before it is too late.
Based on the upcoming Bollywood blockbuster movie 'TE3N' to be released worldwide starring Amitabh Bachchan and Vidya Balan. TE3N mobile game brings the endless runner genre to new social heights, putting the action from the movie into your hands. Accelerate and experience exciting driving sequences with Bollywood Legend Amitabh Bachchan in this thrilling game.
TE3N Game Features:
• DRIVE ENDLESS as Amitabh Bachchan (John Biswas) on his trusted scooter
• DODGE, JUMP AND SMASH through obstacles
• COLLECT CLUES to solve this gripping thriller
• EXPLORE the vibrant streets of Kolkata
• SCORE THE HIGHEST to be the best investigator"
Endemol Shine India, Reliance Entertainment and Blue Water Films, in association with Sujoy Ghosh present Te3n ('Three'),
A Cinemaa Pictures and Kross Pictures Production. Releasing worldwide on 10th June, distributed by Reliance Entertainment