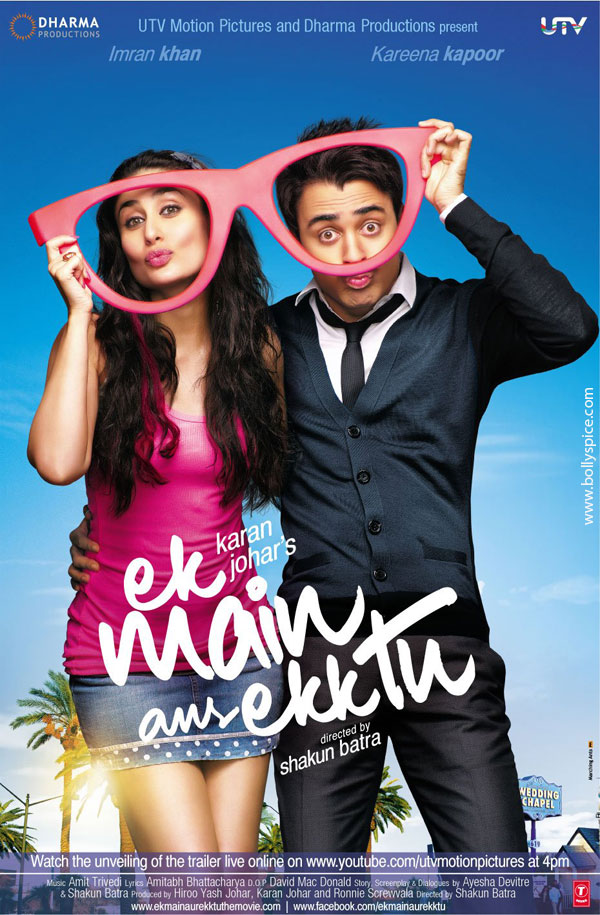 Reliance Home Video & Games has released Ek Main Aur Ekk Tu on Home Video. Viewers can now enjoy the film on Blu-ray, DVD and VCD.
Produced by UTV Motion Pictures and Dharma Productions Ek Main Aur Ekk Tu is a sweet coming of age film written and directed by debutant Shakun Batra and it stars Imran Kahan (Rahul Kapoor) and Kareena Kapoor (Riana Braganza) in lead roles.
The movie is about the growing friendship between Riana and Rahul. She teaches him to be wild, he teaches her the value of friendship.
Rahul Kapoor, 26, is on his way to become a carbon copy of his parents when he suddenly loses his job as an architect in Vegas. Afraid that he has let his parents down, Rahul decides to hide the truth and find another job. When by a twist of fate, he meets Riana Braganza, a quick-witted hairstylist, who is everything he isn't.
A series of events lead them to meet on Christmas eve over a few drinks… but like always, it's never a 'few'. Following this night of debauchery, they wake up to discover that they've gotten married. Now, Rahul has more than just his job loss to hide from his parents.
They both decide to get it annulled as soon as possible and get an appointment from the court in ten days. Over the next ten days they have their share of arguments, moments and laughs that results in an unlikely friendship.
Will this friendship turn to love? Will her warmth and fearlessness give Rahul the courage to face a long-simmering confrontation with his parents? Will a marriage that started as a drunken mistake help two people find themselves?
The movie met with positive critical reception. Professional critics have given the film good ratings.
Avijit Ghosh of The Times of India gave the film 4 out of 5 stars and said that, Ek Main Aur Ekk Tu is the sweetest heartbreak that Bollywood has conjured in a long, long time."
Taran Adarsh of Bollywood Hungama said, "This take on love is refined, smart, lively and thoroughly pleasing thanks to its characters, conversations and the inherent humor".
DNA India highly recommended the film and too gave 4 stars out of 5 concluding, "All in all, Ek Main Aur Ekk Tu is a delightful film that keeps getting better along the way, and ends fabulously. Clocking under two hours, the film is a breezy watch that will leave you with a smile."
The DVD offering also contains bonus material which provides the viewer with insight into making of the film. Bonus features also have some deleted scenes which were not included in the original film.
Ek Main Aur Ekk Tu is available on Blu-ray (Rs.799), DVD (Rs.299) and VCD (Rs.125)
Ek Main Aur Ekk Tu Blu-ray, DVD & VCDs are available across all leading home entertainment stores.