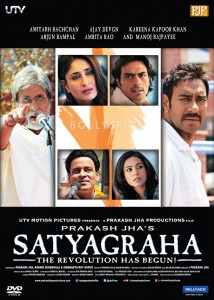 Reliance Home Video & Games releases the critically acclaimed film Satyagraha: The Revolution Has Begun! on Home Video.
Produced by UTV Motion Pictures and Prakash Jha Productions, the film has been directed by Prakash Jha, and stars Amitabh Bachchan, Ajay Devgn, Kareena Kapoor Khan, Arjun Rampal, Amrita Rao & Manoj Bajpai.
The movie will be available in a variety of formats to suit your home-viewing pleasure & will be made available pan India across all leading Home Entertainment chains and also on key online portals. Add the movie to your collection today. Available on Blu-ray (MRP: Rs.799), DVD (MRP: Rs.299) & VCD (MRP. Rs.125)
Blu-ray & DVD includes exclusive special features in the form of making of the film.
Synopsis
Satyagraha is a story of a son who yearns for a father. Of a father, who grieves for his lost son. Of a young woman who fights so hard with life that she has forgotten to love. Of an ambitious rabble-rouser, for whom action is the knee-jerk mantra. Of a wife who lost everything but gave her all for what she believed in.
It is the story of how these five come together to launch a massive rebellion, raising hell against corruption and injustice. And, invite the wrath of an influential power-hungry despot who will not stop at nothing to destroy them.
Will their tsunami-like revolt unseat the system? Or, will it instead end up destroying them and what they stand for? Join the fight to find out!
Critics Comments & Ratings
· Srijana Mitra Das – The Times of India (4.5 stars): "Satyagraha deserves an extra half-star for capturing corruption from root to branch."
· Subhash K Jha (4 stars): "The film deserves a standing ovation."
· Taran Adarsh – Bollywood Hungama, (4 stars): "the film is an all-engrossing, compelling drama that mirrors the reality around us."
· India Today (4 stars) "a timely wakeup call for a wounded nation"