Reliance Home Video & Games, in association with MSM Motion Pictures, Saraswati Entertainment and Rising Sun Films released one of 2015's biggest hits, Shoojit Sircar's family comedy drama, Piku: Motion Se Hi Emotion on the Home Video format.
The well-attended launch function was held at Crossword located in the suburb of Juhu, Mumbai.
Vivek Krishnani, Senior Vice President, Revenue & Marketing, MSM Motion Pictures kick started the event welcoming everyone. As a Studio that backed Shoojit Sircar's heartwarming tale, he said, "Piku is a really special film for us and this DVD release will give people an opportunity to bring 'PIKU' in to their lives once again and relieve this journey many times over"
Sweta Agnihotri, COO, Reliance Home Video & Games, said "Reliance Home Video and Games are pleased to bring the much celebrated 'PIKU' to Indian audiences. Shoojit's insightful view of a modern day Indian family is brought to life by power house performances by Amitabh Bachchan, Deepika Padukone, Irrfan Khan, Moushumi Chatterjee and Jishu Sengupta. This is a must have DVD to any collection & the additional bonus content is worth a watch for every avid fan, industry watchers & people associated with film making."
Commenting on the launch, filmmaker Shoojit Sircar added, "We are excited to bring to the audience the home video of 'PIKU'. We hope it gives a sneak peek into all that went into Piku, Baba and Rana's journey of a lifetime."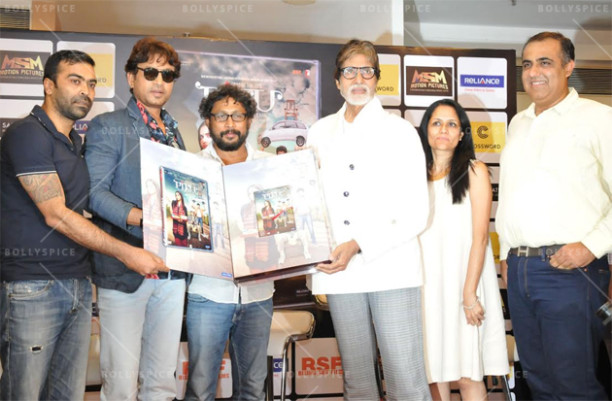 Irrfan Khan expressed that he was happy to be a part of the film. Speaking about the DVD launch he said "…in these times when the life of any movie is getting shorter and shorter, I think it's a great privilege for us to bring it again on to DVD"
The audience and the media had a great opportunity to interact with Amitabh Bachchan who gave interesting anecdotes about the life on the sets of 'PIKU'. He particularly appreciated the script & screenplay of Juhi Chaturvedi and also the work of the other co-actors in the film. Mr. Bachchan mentioned that "he was happy on the Home Video release of the film as DVD is a medium which allows audiences to take the film home and watch it whenever they want to".
Sneha Rajani, Dy. President and Head, MSM Motion Pictures, sent out a special message for the launch event to say that,"'PIKU' will always be a very special film for us at MSM Motion Pictures. The sheer love showered by the audience worldwide has been overwhelming and now with the launch of Piku's home video they can relive this unforgettable journey over and over again."
Audiences across the country can now watch the movie in the comfort of their homes as Piku: Motion Se Hi Emotion will be available on Blu-Ray, DVD & VCD formats. The DVD comes with a bonus disc of about one hour of additional material and behind the scene videos as part of the making of the movie. The Blu-ray provides the true film connoisseur the opportunity to own the film in a High Definition format.
Piku: Motion Se Hi Emotion Home video will be available across leading retail stores and ecommerce sites.