The influence of South Indian cinema on Hindi over the years had gradually increased to a whole new level today. In the 90s you simply got accustomed to faces like Nagarjuna and Rajnikanth whose films without fail got dubbed in Hindi. However, come the millennium and the selling of your remake rights and the subsequent acquiring of it by a maker in Hindi cinema has become one of the most prominent business transactions in Indian cinema. We are no longer satisfied with dubbed versions of their films nor are many of the SI makers looking to release such versions of their films.
The idea of remakes allows for the story to be adapted into a new setting to be marketed to a new audience after being customised for their needs. Why risk an original script that may not work when you've got a blockbuster script at your disposal that has a higher chance of striking a chord with the audience. And if the recent past has been witness to anything than it is that the success rates of South remakes is definitely a high one when compared to the very few which didn't work at the box office.  Here's a trip down memory lane recalling the remakes that won our hearts since the dawn of the millennium.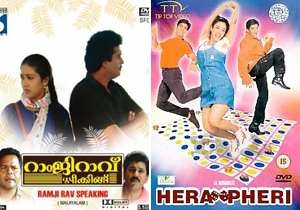 Hera Pheri (2000)
Virasat, Saath Rang Ke Sapne and Doli Saja Ke Rakhna were all Priyandarshan's films that were in fact remakes of South Indian films however the box office success of a remake didn't eventuate until 2000 when he took up the story of Malayalam film Ramji Rao Speaking and remade it into Hera Pheri. The film faired quite well at the box office however beyond that it acquired a cult status amongst fans. Dialogues of the film till date are quoted by movie lovers and Paresh Rawal's new found status as an ace comedian was acquired with this movie.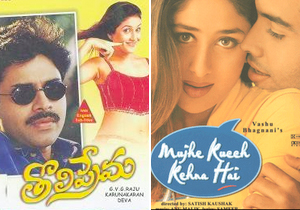 Mujhe Kuch Kehna Hai (2001)
You may laugh at the idea of a solo Tusshar Kapoor film on this list however it is no hidden truth that MKKH was the surprise hit of 2001 and was in fact a remake of a Telugu blockbuster Tholi Prema which had starred Pawan Kalyan and Keerthi Reddy.  The movie was one of the top 10 hits of the year and surpassed the figures of Hrithik's Yaaden, Shahrukh's Asoka and One Two Ka Four.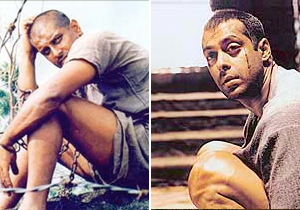 Tere Naam (2003)
Satish Kaushik again tested the waters with a South remake and got an overwhelming response with the Salman – Bhumika starrer, Tere Naam. Along with attaining a bumper opening at the box office, Salman's performance when onto to be marked as one of his best till date. Tere Naam was the remake of Tamil film Sethu that had originally starred Vikram (Raavan).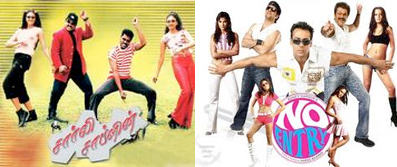 No Entry (2005)
No Entry was one of 2005's biggest blockbuster and in fact an adaptation of Tamil film Charlie Chaplin starring Prabhu Ganesan and Prabhu Deva. The Anees Bazmee multi-starrer was compared Indra Kumar's Masti simply because of the subject matter however later explicitly stated by the producer and director was the fact that it was indeed a remake of Tamil Charlie Chaplin.


Bhool Bhulaiya (2007)
It would have been quite the task to remake a film of this caliber. Bhool Bhulaiya was based on the script that had belonged originally to a Malayalam film and ater remade in Kannada in 2004. It gained a cult status when remade into Tamil as the movie starred the one and only, Rajnikanth. It even saw a Bengali remake before the Hindi remake hit screens in 2007. The fact that various audiences had already been presented the story in their native language didn't take away from the success of the Hindi remake as it was one of the top 10 blockbusters of 2007. Not only did it boast of a chartbuster soundtrack but it brought back Vidya Balan into the limelight being her most appreciated performance after Parineeta and remained to be so until Paa.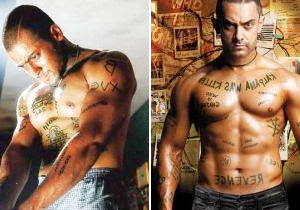 Ghajini (2008)
Aamir Khan's much talked about home production directed by A R Murgadoss lived up to every expectation and soared much beyond it all. Remake of Murgadoss's Tamil blockbuster of the same title, Ghajini was the first member of the 100cr club and set a killer of an opening record.  The industry took a step back and had to reconsider their game plan post the release of Ghajini with unprecedented figures that no one had ever witnessed. (That being said, one cannot deny that Murgadoss's original inspiration was infact Nolan's Momento.)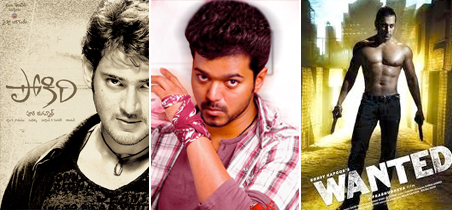 Wanted (2009)
Salman started his comeback as the action hero with Wanted. Remake of Puri Jaganath's Telugu blockbuster Pokiri starring Mahesh Babu and Illeana. The film brought success for the second time for Prabhu Deva who had already remade the Telugu film in Tamil with actors  Vijay and Asin. It proved to be as a big hit in Tamil as it had been in Telugu and therefore a Hindi remake was on the cards almost instantly with Boney Kapoor having acquired the rights. Although the filming of the movie was quite problematic and full of delays, the hype of the film didn't die out and the figures on release day prove just that. It marked a comeback of sorts for Salman and brought back into fashion Desi masala entertainers!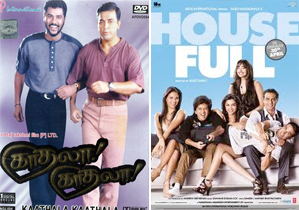 Housefull (2010)
Although never officially acknowledged it's a widely known fact now that Sajid Khan's Housefull was heavily inspired from Kamal Hassan's Kaathala Kaathala. The film came close to joining the 100cr club however didn't quite make it in.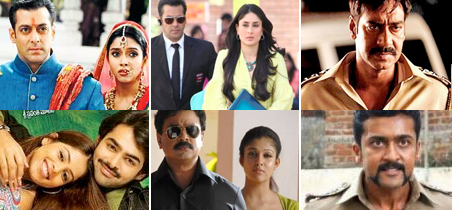 Then came 2011 which witnessed three of its biggest blockbusters, all incidentally South remakes of films of the same title, Ready, Bodyguard and Singham. Each rocking the box office more than the last and each entering the very exclusive 100 crore club. Force also released in 2011 and although not a 100 cr club member was one of the more successful films of the year. The Nishikanth Kamath directorial was yet another remake, that of Gautham Menon's (Ek Deewana Tha) original Tamil film Kaaka Kaaka which originally starred now husband and wife, Surya and Jyothika.
The trend continues to be followed diligently in 2012 with Housefull 2 and Rowdy Rathore, the former being a remake of Tamil film Banda Paramasivam and the later a remake of Telugu film Vikramarkudu.
There is also string of remakes in the pipelines that are about to flood the market. There's Ajay Devgn's Son of Sardaar, which is the remake of ace Telugu director SS.Rajamouli's Maryada Ramana. Rajamouli's Telugu blockbuster Magadheera is also set for a remake to be produced by Anurag Kashyap however both director and cast are yet to be announced with many names being thrown around in the rumour mill. Tamil director Lingusamy is bringing his own film Vettai to the Hindi audiences with a rumoured star cast of Shahid Kapoor and Ali Zafar. Of course we cannot forget Salman starrer Kick, remake of a Telugu film by the same name to be directed by Shirish Khuder.  Then there's always the forever delayed remake of Bommarillu titled Its my Life which Anees Bazmee just does not seem to want to release!
So the secret to success, rakes, may just have been completely adopted however like any trend even this too cannot be blindly followed. Gautham Menon's Ek The Deewana met a disastrous end although it was a remake of his very own bilingual film that met with great appreciation and box office success down South.
Now along with star wars to get into the 100cr club or the war to garner appreciation of audiences and critics alike there's another war to be fought, to successfully bid for the 'it' script from down South. May the best producer win!