Ten years ago to this very day, the hilarious, heartfelt and hopeful film Kal Ho Naa Ho released. This film soon became a fast favourite of mine and to this day it is still my number 1 Bollywood movie. With the amazing chemistry between the principal cast (Shahrukh Khan, Preity Zinta and Saif Ali Khan) to the witty one-liners to the soulful life philosophy underscoring the entire story, KHNH has everything one would want to see in a movie.
But for those Bollywood fans less KHNH-obsessed than I, it seems the 10th anniversary is the perfect time to look back and reflect on what exactly it was that made Kal Ho Naa Ho a standout film that – in my humble opinion – stands the test of time.
Most Comedic Scene
Kal Ho Naa Ho is filled to the brim with funny moments. The humour is sharp, slick and witty. With brilliant comedic actors Shahrukh Khan and Saif Ali Khan delivering most of the zingers, the audience is bound to be thoroughly entertained!
One of the highlights of the film is the "che din, ladki in" sequence. Here, Shahrukh's character Aman teaches Saif's character Rohit how to properly romance a girl – in this case Preity Zinta's Naina. The banter between SRK and Saif needs to be witnessed to be truly enjoyed, but the use of split screens, characters mouthing countdowns and other unique directorial choices is what makes the scene so memorable.
An honorable mention has to go to Kantabhen and the many misunderstandings she has about Aman and Rohit's relationship. That comedic thread was pure gold but it's too hard to choose just one best Kantabhen moment!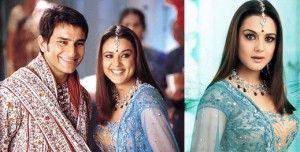 Best Outfit
Costume designer Manish Malhotra did a fantastic job dressing SRK, Preity and Saif to perfectly fit the New York City vibe. The three leads wore their Western clothes with aplomb. Saif Ali Khan in his various business suits deserves a special mention. But as with most Bollywood movies, it's the traditional Indian outfits that really capture attention. Preity Zinta's beige and blue lehenga in the song 'Maahi Ve' is simply beautiful, but is also somewhat offbeat compared to the typical filmi heroine dress.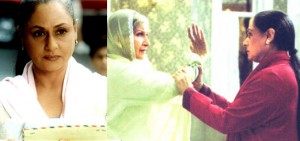 Best Supporting Character
Besides SRK, Preity and Saif, Kal Ho Naa Ho boasts of a remarkable supporting cast. Every single actor and actress plays their part effectively and lends either light-heartedness or gravitas to the film. Naina Caterine Kapur's entire family is fleshed out and well-developed. They seem as if they truly could be an everyday family living in the US with their own problems and internal struggles.
Leading the pack with an extremely strong performance in Jaya Bachchan as Preity's mother Jenny. The role required an actress who could play both strength and vulnerability realistically. Jaya Bachchan brings depth to every scene she is in and acts as an effective foil to her daughter. A special mention must be given to her scene with Shahrukh Khan that was deleted from the film. Even in the portions not seen by the audience, Jayaji hit it out of the park!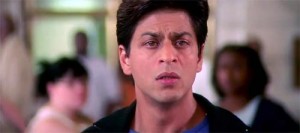 Most Romantic Scene
Shahrukh Khan is the undisputed King of Romance in Bollywood, but in Kal Ho Naa Ho he does not romance the heroine in his usual style. In fact, Aman's entire motivation is helping Rohit get the girl! But leave it to SRK to still inject some sweetness into a movie with very sombre themes.
Aman "reads" an entry from Rohit's diary to Naina, but in fact reveals his deepest feelings. It is one of very few times we hear Shahrukh's character speak the truth and open up about his love for Naina. It's hard not to be moved when we realize that Aman love is so great that he will do whatever it takes to see to it that Naina remains happy – even if that means he must help her fall for another.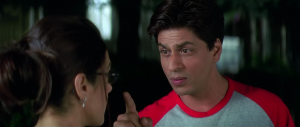 Best Dialogue
"Jiyo! Khush raho! Muskurao! Kya pata, kal ho naa ho." [Live! Be happy! Smile! Who knows if tomorrow will come.] With these words, Shahrukh Khan's character Aman advised Preity Zinta's Naina to appreciate the life she has and remain grateful for every day. This is the underlying philosophy of Kal Ho Naa Ho and a life lesson that is not always easily learned. Slowly yet surely Naina begins to understand the importance of this advice as the film carries on, but this dialogue here is the crux of the film.
Around the time of the film, the producer Karan Johar's father Yash Johar passed away. With its constant exploration of mortality and appreciation of our blessings, it is clear that real life circumstances played a big role in the making of KHNH. The themes resound with the audience because they come from a raw and honest place.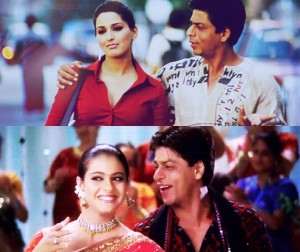 Best Guest Appearance
Kal Ho Naa Ho is littered with guest actors making delightful appearances throughout the film. From Sanjay Kapoor as Aman's friend to Uday Chopra mouthing one line and disappearing, KHNH keeps you on your toes looking out for celebs you probably never expected to see.
In the end I had to bring this down to a tie. Sonali Bendre plays Shahrukh Khan's good friend Priya and does an excellent job with the small role she is given. Her scene with SRK immediately following intermission is one to watch, but to give credit where it's due, Sonali truly elevates every scene she is in.
On the other hand, Kajol only appears for a few seconds in the song 'Maahi Ve' but still leaves a lasting impact. What lover of Bollywood isn't a fan of the SRK-Kajol jodi? They play off one another perfectly in this short-lived yet sensational cameo.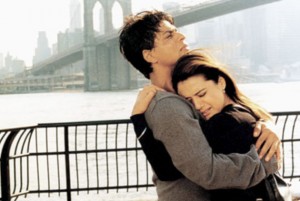 Most Heartbreaking Scene
There are a lot of scenes in KHNH that pull hard at the heart strings. But nothing compares to the scene where Naina finally finds out the truth about Aman and encounters him following the revelation. Naina is distraught while Aman tries his best to maintain the status quo. Shahrukh and Preity portray the conflicting emotions of their characters so effectively. The pain between the lovers-who-cannot-be is palpable, and the audience moved to tears.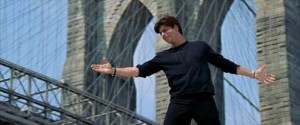 Best Song
The film's soundtrack, composed by Shankar-Ehsaan-Loy, is filled with hit after hit. Each song has its own strengths, its own flavour and its own place of importance within the film. But nothing compares to Sonu Nigam's rendition of the title track. The lyrics are meaningful and the melody is enchanting. Top it off with a great picturization on Shahrukh Khan and you have yourself a masterpiece. Even ten years later the title track continues to evoke strong emotions from new fans and old.
I was fifteen when I first watched Kal Ho Naa Ho in theatres and to say it made quite the impression on me would be an understatement. But now, ten years later, having re-watched the film countless times I realize that KHNH has the entire package: a great cast with amazing chemistry, hilarious comedic moments, compelling melodrama, addictive songs, memorable dialogues and cool costumes. Every time I watch the film I find something new to love about it. And now, ten years after its release, I feel is a perfect time to revisit the film. I will once again experience the singing, the dancing, the laughter and the tears. But most importantly I will remember how to appreciate every breath and live each day as if it were my last, because kya pata, kal ho naa ho.