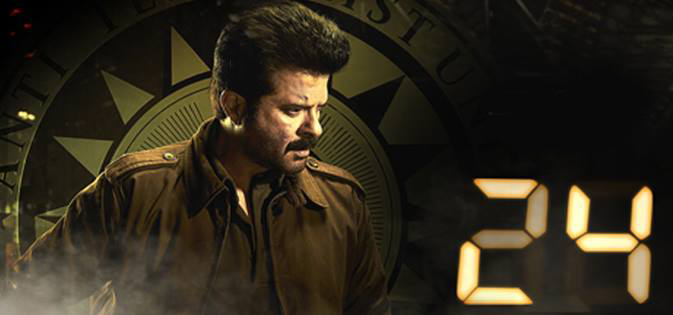 The Indian adaptation of 24 comes with a lot of expectations. It is Anil Kapoor's first foray into television, not as a reality show anchor or judge but as an actor. That he has produced the show too after buying its official rights adds to the expectations. The fiction part of Indian television is mostly dominated by family shows (disparagingly called saas-bahu shows) and 24 comes with the promise of breaking the clutter. So does 24 manage to live up to the promise?
The writer watched the first two episodes and the initial feeling is of disappointment. Yes, it is different in its setting from most Indian soaps but that is where the difference ends. Saas-bahu shows are usually full of plot clunks, predictable characters, poor screenplay and lots of hamming. Unfortunately, 24 seems to suffer from all these problems too. There is even a create-a-look-alike-through-plastic-surgery track!
The real issue here is the screenplay which is not good enough to hide the plot holes. A thriller spread over 24 hours/episodes should be fast-paced at the very least but the first two hours of 24 seemed to move at a snail's pace. Of course the initial episodes are all about setting the scene and character introduction, but they could do without being so tedious.
Speaking of characters, they are far from believable. Anil Kapoor's Rathod convinces as a worried family man but when it comes to his portrayal of an intelligence officer, he seems to be lacking in both energy and intellect. The 'injection' stunt he pulls on his senior comes across as childish and the fact that he tells Nikita (Mandira Bedi) about Wasim's (Anupam Kher) location despite being told not to trust anybody makes him look like a rookie, rather than the head of Anti Terrorism Unit (ATU). On top of that he refuses back-up even though he knows that the informer is dead and hence, there is no need for secrecy anymore! And when two intelligence veterans try to escape shooters by passing through a stage illuminated by a cinema screen behind it, one doesn't feel any surprise when one of them ends up getting shot.
The rest of the characters are just as clunky. Rathod's wife Trisha (Tisca Chopra) thinks nothing of  asking a complete stranger to pick her up in the middle of the night to go look for her daughter. She even talks to Rathod on the phone about the problems in their marriage with the stranger listening away. And then there is the big shot political family. No need to mention who they are supposed to remind the audience of. And that is where it all falls apart. The young, dynamic to-be-PM is beyond idealistic and when one compares him to his real life counterpart, the overwhelming feeling is of exasperation. His starched-cotton-sari wearing mother embodies the ultimate manipulative politician and there is also the self-sacrificing sister which a good-for-nothing husband to boot. Lots of nudge-nudge wink-wink eh? Only they don't look anything close to real politicians. Definitely not with their slick grooming and a mini-skirt wearing assistant hovering around.
There is some good too. The ATU headquarter looks sleek, the introduction of the contract killer was spine-chiling, the mid-air bombing was pretty well done too. However, some good moments can't make up for the boredom caused by a dull narrative. If only the acting was of an excellent level, it could have helped keeping one engaged but even that is quite erratic. The younger cast is especially incompetent. The dialogues too are nothing to write home about (sandwich? really?).
This is just the beginning and here's hoping that the show gets better from here on. It has to, the audience expectations are huge. Saas-bahu shows are like homemade food for the audience – something they have daily and don't really expect much innovation from. 24, on the other hand, is a delicacy which has to live up to its reputation if it is to survive.