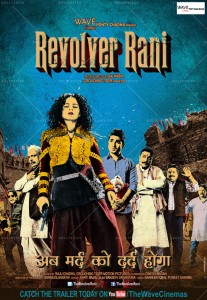 One of the most anticipated films of 2014, Revolver Rani which released on 25th April has received a thumps up from both, critics and the audiences!
The film received explicit critical acclaim which drew the audiences to the theatres. Revolver Rani opened on Friday to thunderous critical acclaim, across the board in a wide range of highly respected publications and news platforms as also in audience critiques on social media. While this was always what the makers were quietly confident about, the box office results so far have been a pleasant surprise.
The film has garnered a decent weekend of 6.5 Cr in its first weekend, and the figures for Monday, Tuesday read 1.1cr and 1.05 cr respectively. The film has been able to sustain its impact on a weekday too, with showing steady rise in the percentage of occupancy in theaters. The occupancy rate has been 60% on weekdays, showing potential of a marathon box office reign for the weeks to follow.
Though faced with many naysayers during the conceptualization and production of such a non conventional project that doesn't fit into any specific genre, Revolver Rani's success proves that faith of the makers in the script and the perseverance of the team.
Directed by Sai Kabir, A Wave Cinemas Ponty Chadha presentation in association with Moving Pictures and Tigmanshu Dhulia, Revolver Rani is a Crouching Tiger Productions.