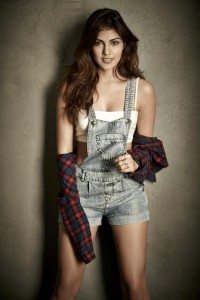 It's been barely 20 days since the gorgeous Rhea Chakraborty was signed on by India's leading fashion commerce portal, YepMe.com, and they've already seen a huge increase in their sales, site visits and more. They launched an exciting marketing campaign that took a lighthearted look at shopaholics, fashion designers, cricketers and more during the ICC World Cup 2015.
From the amount of likes, shares, and social media noise the ads have been generating, they're being loved by all. They've got a 90% like ratio – which is among the highest on digital. And moreover, overall sales for the portal have gone up over 30%. Coming specifically to the women's category – which is what they were hoping to open up by bringing in a young, fresh face like Rhea – that has more than doubled! A specific line featuring clothes worn by Rhea in the ads is apparently flying off the shelves. In fact, YepMe is so happy with the way the campaign has been received that they are planning their next campaign with Rhea.
Says Rhea, "I'm thrilled to be associated with an exciting, young & stylish brand like Yepme. And given that the fun campaign we had has actually had such a positive impact with the audience makes me even more happy!"
Rhea made her feature film debut with the sleeper hit 'Mere Dad Ki Maruti' produced by YRF's Youth Films Division, Y-Films and stars in Y-Films' bank heist comedy 'Bankchor' with Riteish Deshmukh and Vivek Oberoi next.
The campaign is live across platforms and taps into the popular internet format of memes,*Stuff my dad says* and has already opened to great feedback. Check it out!