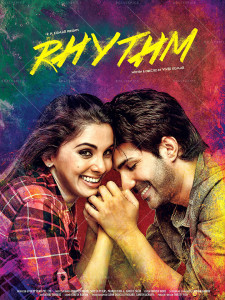 After enticing the audiences with their vibrant posters, the makers of upcoming film Rhythm have unveiled the trailer of their movie and like the poster, the trailer too has managed to pique the audience's interest.
The film revolves around Rohan who gets smitten by his college's most popular girl Avantika however, he finds it difficult to express his feelings to her. Avantika gets inspiration from him to write the lyrics of her song for the intercollege music and dance fest. However, when Rohan finally gets the courage to speak his heart out, she insults him and rejects his proposal. Why Avantika shuns him and what happens after she rejects Rohan's proposal forms the rest of the plot.
The film marks the Bollywood debuts of Rinil Routh and Adeel Choudhry. While Canada-based Pakistani artiste Adeel is a popular singer both, in India and across the border, Rinil, who hails from New York, is a trained dancer. Vivek Kumar has written, produced and directed the film. Rhythm has been majorly shot in Poland and every scene of the movie is spectacular. From its music to its choreography and from the actor's performances to the scenic locales, everything spells perfection.
A Vicky Films Pvt Ltd production, presented by R.N. Kumar, written, produced and directed by Vivek Kumar, starring Adeel Chaudhry and Rinil Routh in lead roles, along with Salman Ahmad (of Junoon Band) in a special appearance who has also composed a few songs, Rhythm is all set to release on 19th February, 2016.
Check out the trailer right here!