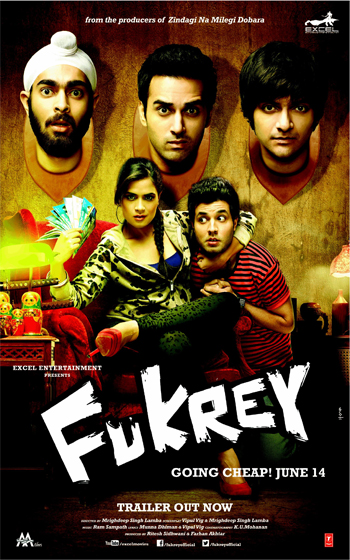 Richa Chadda certainly has made an impression in her relatively new career in Hindi films. The young actress first came on the scene as Dolly in Dibakar Banerjee's Oye Lucky Lucky Oye, but it was her second film that made everyone sit up and take notice. As Nagma Khatoon in Anurag Kashyap's Gangs of Wasseypur Parts 1 and 2, the actress received critical acclaim, raves and applause from audiences, and even took home the Filmfare Critics Award for Best Actress with her outstanding performance. For her next role, Richa is taking on something new in Hindi cinema, that of a female Don in Mrighdeep Singh Lamba's comedy Fukrey. We got the great chance to chat with Richa, who says she always, 100% wanted to be an actress! It was a fabulous conversation about acting, Fukrey and what's coming next.
Talking about Gangs of Wasseypur, the actress says it was an amazing experience to work with Anurag Kashyap and the incredibly talented cast. "I feel really grateful about it. It is a big deal to get a film like that and then to perform in it with other really good professional actors. Then to be acknowledged for it and appreciated it for it. I even won an award for it. I feel very happy."
In fact, she says she feels really lucky about the opportunities and roles she had done so far in Hindi films. "I have been really fortunate to work with some of the best people already at this stage of my career, in the beginning. I feel really lucky because most people slog and work so hard and then they get to this level. I just really feel blessed that I have worked with Dibakar and Mr. Bhansali and Anurag Kashyap and Mira Nair. I feel really blessed also in the sense that they have chosen me. Of course, it is any actors dream to work with them but the fact that they also chose me feels really good."
Coming to Fukrey, in the film Richa plays the female don Bholi Panjaban, "The character is that of a Delhi petty criminal, she is involved in a lot of different kinds of crimes. She is involved in a little bit of extortion, embezzlement, all kind of things like that, betting, etc. She is just evil. She loans people money on interest and with these 4 guys she loans them money and they work for her for a little while." What happens next well… she says you will see when the film releases on June 14th.
The character is a very strong and they needed an actress of Richa's caliber to pull off the role. In fact, director Mrighdeep Singh Lamba told us, "Richa is a fabulous actor and we needed someone like that. She was fabulous in the role." Richa had nothing but praise for the director as well, "He is really young and ambitious. It was great fun working with him. He is very precise with what he does. He knows exactly what he wants but he gives you freedom within the structure so he really pushes it."
To prepare to play the brass female Don, Richa said the main preparation was to "work on being really tough. I had to work on removing all the kinds of external sophistication and language from me. And then not be inhibited about being loud, crass or be uncouth."
Adding it was tremendously fun to play her, "It is very rare that in Hindi movies that you get characters like this to play where there is so much to do! It is not a wall flat character and she is so integral to the script and the plot."
Of course, on set were the four Fukras, Pulkit Samrat, Varun Sharma, Ali Fazal and Manjot Singh who apparently spoiled the actress a bit. She revealed it was really fun to work with them, "Being the only girl on set I got a lot of attention from them. They really took care of me, like literally fed me a lot, played nice music, cracked jokes and took me around. I really had a fun time with them. They are all incredibly sweet in their own way. Pulkit is like the hero of the group. Ali is like the artist musician. Manjot is like the comic and Varun is sort of the pushover in the group who is a bit childish and pouts." (Laughs)
"Fukrey is a comedy with a great heart," Richa says. Expanding on that she adds, "It is a fun film and it has a lot of humor. It is something that everyone can relate too. The film has these moments and you know, there have been moments in everyone's life where they have been broke and criticised and they felt like everything is hopeless with them. That is these four boys. You know, how there are cool kids and there are not so cool kids – these are the not so cool kids in the class nobody really looks up to them. They have really held on to something that they really believed in whether they knew it would work or not but it all turns out well – that is the life of the four boys and the film is about that."
Adding, "It's unique because it is about real middle class, small town Delhi type of India. All in all you will see in the film a lot of family. Everyone will relate to it. You will laugh at it not because it is funny but because it probably is one of the silly and funny things you have done in your life."
Along with Fukrey, the talented actress has been busy shooting many films and in fact, she has a release about every 2 months after Fukrey! "Lots and lots is coming up. It is going to be a very busy year! In fact, I will be talking to you a lot! (Laughs) In August, there is going to be a film called Tamanchey. Then in October is Ishqeria and then in November there will be a film called RamLeela. It has been incredible."
Going back to her journey so far in Bollywood she says, "I really do think India is a land of opportunity in that sense right now. It is really where you want to be. There are a lot of creative things happening in art, in music, in films. There is a big change. There is a lot of experimentation. There is space for very new artists, people from outside the industry. I think it is a really good time to be here. I feel really fortunate to be in the right place at the right time."
Check out this sneak peek of Richa as Bholi!
Fukrey hits theaters on June 14th!