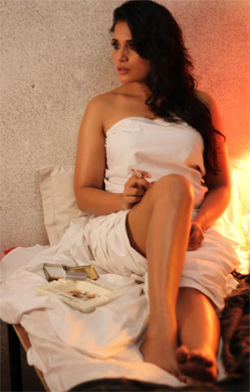 Richa Chadda, known for her versatile avatars for every film she does, will now been seen in a bolder yet very impressive look in Prawaal Raman's upcoming film Main Aur Charles.
In the film, Richa plays a character of a law student who gets charmed by the enigmatic Charles and the dream he sold. The volatile affair unfolds in the backdrop of the jail and the court. And the obsessive love does make her character naturally bold and non inhibited.
What we hear is that she will be seen in few intimate scenes, which can be termed as strikingly bold. Drapped in a bedsheet and indulging in a compromising position, Richa is all set to surprise everyone with alluring persona.
According to the source, "Yes, Richa had to be all prepared for her valiant avatar in the movie and that she is a very natural actor, she pulled it off very nicely."
Wave Cinemas Ponty Chadha presents, A Cynozure Networkz Production, Produced by Raju Chadha, Amit Kapoor and Vikram Khakhar, Written and Directed by Prawaal Raman, Main Aur Charles is all set to release on 30th October 2015!