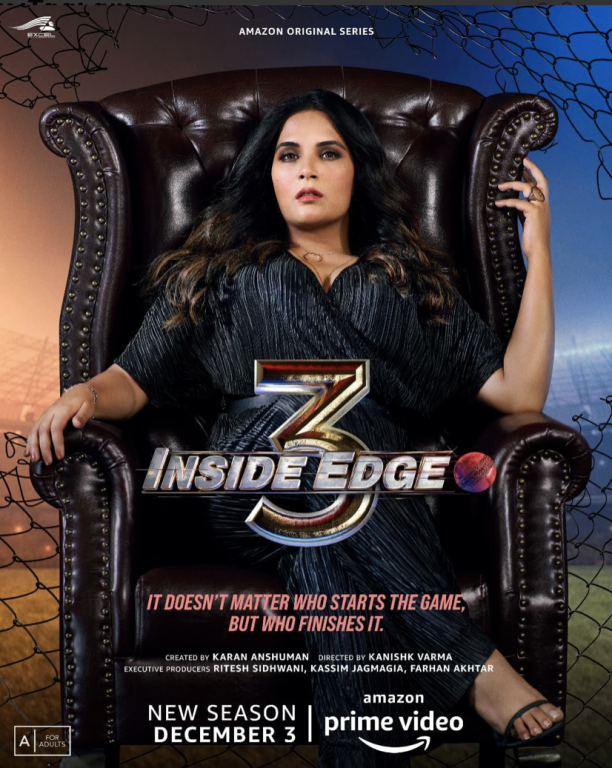 Richa Chadha has always taken on roles that challenge her and is again showcasing her talent in the sports drama series Inside Edge. The actress has been part of the series since season one in 2017, playing Zarina Malik, a Bollywood star and part-owner of a cricket team, who becomes entangled with cruel gangsters involved in complex and dangerous schemes in 'the game behind the game'.
After the first two seasons and the many twists and turns, horrible manipulations, and dangers she has had to endure, Zarina is ready to change her game to get what she wants. Does she join with Vikrant? What secrets will be exposed, and who will come out victorious? Created by Karan Anshuman and directed by Kanishk Varma, this season promises to be even bigger, with higher stakes than ever. Season 3 becomes more intriguing, and a personal vendetta takes center stage in this ultimate game of power.

Richa Chadha gives fabulous insight into being a part of the first Indian series on Amazon Prime in this special video interview. Plus, she reveals who she thinks Zarina is deep inside, and how she gets into the skin of this layered character. Richa also discusses what she really loves about playing challenging characters like this, and even hints about something that might occur this season!

Richa was so interesting and so much fun as she talked about Season 3 of Inside Edge in the Zoom interview. All I can say is start the video now; you don't want to miss this.



Inside Edge Season 3 is streaming now on Amazon Prime Video. 


Thank you so much Richa, it was such a pleasure to chat with you!