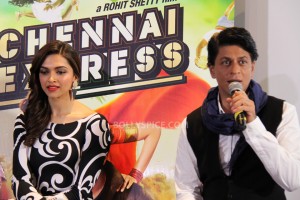 Shah Rukh Khan and Deepika were last seen together in 2007 superhit Om Shanti Om. Rohit Shetty delivered another superhit last year with Bol Bachchan. Put the three of them together and you have perhaps the biggest Bollywood film of the year. Add to that the largest cinema release of any Hindi film in the U.K ever and potentially you have the biggest box office film here yet. Oh and not to forget in Shah Rukh Khan's own words "My films belong here".
With all that in mind BollySpice was eager to hear from the stars themselves what they had to say about Chennai Express and report that straight back to you all…
Is Chennai Express aiming to capitalise on the growing influence of South Indian cinema and Bollywood remakes?
Shah Rukh: There is a whole culture of South Indian films – Tamil, Telugu and Malayalam films, which are brilliant. Some of the finest films in the country are made from there. This film is not a remake. Sometimes the people in the north do not understand the language of the south, as India is a vast country. The whole situational comedy and concept of this film is whether you understand the language and culture or not, love conquers all. That is how the country is united. So it is not something which has decidedly been made to attract an audience from down south.
What is the unique selling point of Chennai Express?
Shah Rukh: We have these holiday period films, where the idea is for the whole family to come down, from the ages of seven to seventy.  So this film is of that genre. I also think Rohit Shetty is one of the few directors in the country right now who has a genre of his own which we call the Rohit Shetty genre. Which really is a mass appeal, family appeal kind of film: clean, straight forward, honest, earnest. You have a good laugh…it's a family entertainer.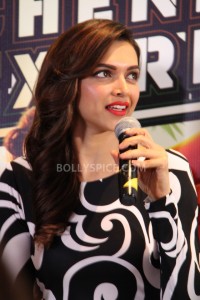 Was it a conscious decision to do a different film like Chennai Express?
Shah Rukh: I try and choose films depending on the state of mind that I am. I do a couple of films a year. Sometimes I am in a state of mind to do a particular kind of film, but that story is not offered to me, or that story does not come along. So I settle for the second best or just go back to the belief of the director – one I know, have worked with before, so I can I just have a good time. As it is very difficult in twenty two years (of acting) to wake up and go in with the same gusto as the first day that I started. It can only happen if I really want to being doing it. It has got nothing to do with money, fame, name or even the hit-ness of a film.
After having finished Jab Tak Hai Jaan – a true spirited love story, Ra.One – which was physically very challenging, Don 2 – was pretty intense, My name is Khan – very mentally challenging, I was really just wanting to do a comedy. Siddharth and Ronnie had Rohit working on a film for them, they said give it a hear and as I was really wanting to a funny film, so it just fell into my lap. Having said that I really haven't done a comedic love story in a long time, or maybe not at all, so it's really new and different for me.
Was it a conscious decision to have so many films releasing this year?
Deepika: I can't control these things and I don't decide. The only thing that I can do is go ahead and do a film that I think I will enjoy. The rest is always in the producer's hands. When they want to release and when they think is the best time to. Sometimes films get delayed, sometimes films get preponed. Even the types of films and the types of roles right from Cocktail to Yeh Jawaani Hai Deewani to Chennai Express, even to Ram Leela, there has been no conscious decisions.
What was it like putting on strong south Indian accents for the film?
Shah Rukh: When you make a film like Chennai Express, I'm sure the purists will have issues with it in terms of the accent, but you have to realise that it's a film which is garnered towards a more popular kind of cinema. I understand and have participated in both kinds of cinema, when you make a serious one, or you make a commercial one, which is also very serious work. There is a level of work where you decide if you are going to go a little over the top, or whether you are going to keep it realistic, or even internalize it.
Deepika: As far as the accent is concerned, I have had a tutor, I have a trainer, a diction coach and they are all from Tamil Nadu.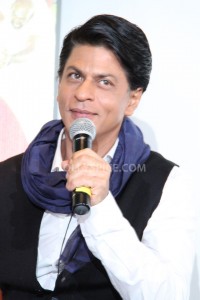 Shah Rukh: I think her accent is fantastic. Nobody says 'Bokwaas' as good as Deepika and if they don't say it like that in the south already, they will start doing so. It looks so sensual, its a big turn on!
Deepika: It obviously makes you smile, right?
What was it like shooting in South India?
Shah Rukh: It's a very long journey, it takes nearly twenty-four hours to reach there. You take a plane and then a drive, very long, especially when you take 100 crew members, but we did so. Especially as we wanted to have the iconic shot of what is the longest bridge in India, which is nearly at the tip of southern India. We shot around a day and half, a lot of wide shots, which were really beautiful and you will see it in the film.
Can you tell us a bit about the Rajnikanth tribute in the film?
Shah Rukh: We made a film called Chennai Express and it's about the culture in the south and there was a scene in the film which was a tribute to Rajni sir, but as the film went along we did not shoot it in the end. So once we finished the film, it just so happened that Honey Singh had this song, which wasn't part of the film. We are all big fans, so in just two days, working round the clock for twelve to fourteen hours, we finished the video.
One just felt that you make a film called Chennai Express, or Chennai anything and not have Rajni sir mentioned in it, then the film is kind of incomplete. So we thought of this tribute. I spoke to his daughter and she gave us this word which he's called in the south 'Thalaiva', which means the big boss, so everything fell into place.
What would you like to do after Chennai Express?
Shah Rukh: I want to a bad guy's role, I want to be really mean. But there are no films which are being offered to me like that right now, but I do really want to one. I don't mean a stylised role like Don, but a real mean guy. Then again a lot people tell me don't do it, family audiences and a lot of kids like you, so don't be mean.
I try to think that if I was to do a film which I am wanting to do as an actor, as a character, or even a story, I think that I will be able to convince a lot more people about the entertainment, the intensity, or just the story telling value of the film. I feel that if I just do it for a lark, or because somebody is making it, or because I need to have a job I think it will fall short. So I try to find a film which I really feel like doing.
Chennai Express arrives worldwide on Eid day – Thursday 9th August.