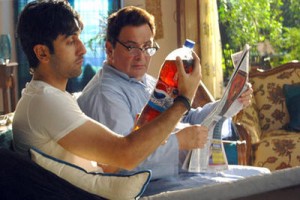 Reportedly father and son duo, Rishi and Ranbir Kapoor are going to perform together for the first time at this year's IIFAs in Singapore!
When reporters quizzed the Rockstar actor about the performances he and his dad are going to do, he evasively said "He (Rishi Kapoor) has been part of IIFA award ceremony. I will be performing …maybe looking at me…hope …I don't know. I would be performing on 'Sadda Haq' and 'Tai Tai Phish' and there is a surprise."  Both father and son have not appeared in any films together (apart from a commercial), but this is the first time that Ranbir has performed at the IIFAs and that too with his legendary filmi father who was once the heartthrob of Bollywood.
Why doesn't Ranbir perform? "It is not that I don't perform. I did not have the confidence to come on stage and perform. But this time around Prabhu Deva is choreographing…I love his choreography…so I thought why not do it," is the stars quick answer to that one.
What does the Wake Up Sid actor think about Prabhu Deva? "He is the dancing star not only of India but of the world. I think he is better than Michael Jackson." High praises indeed about the choreographer, actor and director, Deva indeed! Hopefully the Kapoor boys will surprise us with something fantastic, but we guess we'll have to wait and see for that!