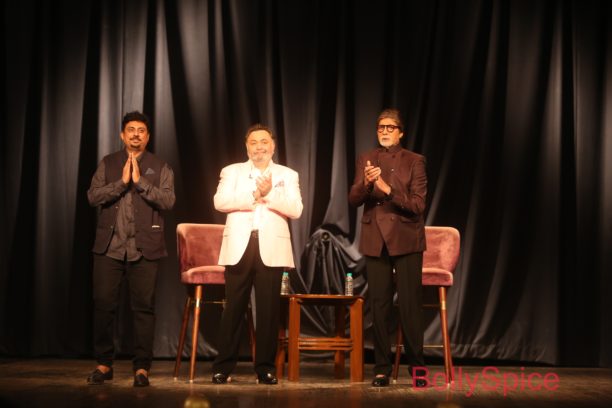 Bollywood icons Amitabh Bachchan and Rishi Kapoor took a trip down memory lane on Thursday evening as they took part in a very special event at Mumbai's Royal Opera House.
The stellar duo, who are the stars of Umesh Shukla's upcoming film, 102 Not Out spent the evening interacting with the media, reliving infamous moments from their earlier movies together such as the dazzling 1977 film Amar Akbar Anthony, which won Bachchan the award for Best Actor, and the hilarious 1981 action comedy Naseeb.
Those lucky enough to be in attendance at the glorious Opera House were not left disappointed, as the actors continued to show why they have been so loved and admired for many years, sharing many heart-warming anecdotes that brought smiles on everyone's faces.
102 Not Out will be the first film both legends have appeared in together for 27 years, and both actors were full of praise for one another with Bachchan describing working with Kapoor "a great honour".
On a night full of beautiful nostalgia, the actors talked about the magic they have created on-screen, with the two being quizzed about each other's acting skills with Kapoor saying that "has learnt a lot from [Amitabh] and his craft of acting" and he still continues to learn from him.
From sharing trivia about the film to bringing together the two actors, Umesh Shukla had great insights to share. The two legendary actors, who are sharing the screen after a span of 27 years gave out interesting anecdotes about their yesteryear movies and how they recreated all of it on the sets of 102 Not Out!
It is a known fact that both actors agreed to do the film in just 10 minutes of narration. Amitabh Bachchan was curious about his character, Dattacharya since he is 102 years old! Answering to his curiosity, Umesh said, "Zindagi toh zinda dili se jeeni chahiye, age is just a number!"
Sharing his views on cinema going digital, Mr Bachchan said, "Initially in the older times the movie was used to shot on a film reel and hence it was called the film industry. Today everything has turned digital and I wonder why do we still address it as film industry."
Rishi Kapoor spoke about his initial journey as a child artist from the film Shree 420. Elaborating on his experience of facing the camera, the actor said, "I had to give a shot and it was raining that day. It was difficult for crew to prepare for the shot. The director came up with the idea to offer me chocolates to get the shot completed."
102 Not Out does not feature any leading lady in the film and yet it has piqued everybody's interest owing to its unique storyline. Commenting on the same, Mr Bachchan said, "Kahani apne aap mein hi bahot sundar hain! I don't think that it will have any reflection on the Box Office. We also have Jimit who is an exceptional actor in Gujarati cinema."
We have the video of the amazing converstaion!
Plus check out these amazing photos

102 Not Out is an ageless comedy that brings together Indian Cinema's two biggest stalwarts – Amitabh Bachchan and Rishi Kapoor after 27 years, with the two legends playing father-son duo for the first time.
102 years young Dattatraya Vakharia (Amitabh Bachchan) lives life to the fullest and wants to break the record of oldest living man- that's held by a 118 years old Chinese. Dattatraya wants to live a stress free life in order to become the oldest living man. However, there is only one hinderance- his 75 year old son Babulal (Rishi Kapoor) who has resigned himself to a life of old age stuck in drudgery. Dattatraya now must find means and ways to change Babulal's sad and grumpy demeanour so that he doesn't become a deterrent in breaking the record. Little do they realise that this roller coaster ride filled with comedy, emotion and commotion, will change them and their relationship forever.
102 Not Out, A Sony Pictures Releasing International Presentation and worldwide distribution, is produced by SPE Films India, Treetop Entertainment and Benchmark Pictures. The film releases on May 4th.