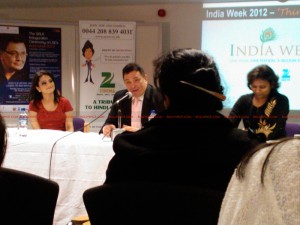 Legendry Bollywood actor Rishi Kapoor came to London, on Monday 20th February, to launch the LSE SU India Week. LSE SU India Week is a series of events that aim to celebrate the various successes of India and discuss areas for improvement by looking through the eyes of Indian students studying at LSE and other institutions around the world.
Dr Ruth Kattumuri, the Co-Director, India Observatory, LSE spoke to the media about the involvement of Bollywood at the event. She said, "Not only does Indian cinema contribute to the economy of the country but by creating stories and telling stories in a very interesting way it also contributes to the social development of the country. It is right that LSE should be hosting some of the Bollywood stars."
On talking about Bollywood's involvement with LSE Rishi Kapoor told the media how cinema 'brings the glamour' to the event. The Bollywood actor told the media it gives him 'great pleasure to be' at the event and 'spear head it'.
Rishi Kapoor explained how he was introduced to Sanam Arora, the CEO of LSE SU India Week. Rishi Kapoor told the media he met Sanam via social networking site Facebook. He said,  "I was invited via that. She could be talking to some false Rishi Kapoor and I could be talking to some false Sanam but it never happened that way but I am happy to be here. I will be happy to answer questions. "
Bollyspice.com attended the exclusive press event where Rishi Kapoor talked to the media about working with LSE, the Indian Film Industry and being apart of the Kapoor legacy.
When is the next RK film going on the floors?
We have nothing concrete as yet but shortly we will.
Why do you think India cinema continues to be so well received the world over?
I guess we are part of the entertainment. All Indians are very Indian in their own heart. They probably miss home and want to hear a story like when we where kids and we used to hear stories from Dadi's and Nani's, it's the same kind of thing. Our roots are attached to our own country so I guess somewhere there is a liking to it.
As an actor you are a culture ambassador but now you are taking it to a whole new level. Is this the first time you have given a talk, what will you talk about and how much are you involved in India Week?
Thank you first of all for calling us ambassadors. Yes we do spread smiles and create tears but all in the name of entertainment and in any small way that we can contribute to anything we are always able to do that. I have been invited here, I personally feel, to create awareness amongst all of us to this society for promoting Indian culture and ethos. So I hope we are successful in doing so.
How much are you involved and what will you talk about?
Rishi Kapoor – I have just accepted the invite about 10 days back so my involvement is just about 10 days. What I will be talking is something about what the audience will ask me.
Dr Ruth Kattumuri – I will answer this. The involvement Mr Kapoor has actually had in India week is 2 years in running. Last year, where India week was acting on a very small scale we did screen Patiala House, where we had Bauji.
Rishi Kapoor – Now you have Rauf Lala.
Dr Ruth Kattumuri – Its 2 years in running and we hope this legacy continues.
We are celebrating 100 years of Indian cinema next year, and your family and yourself have a vast contribution. How do you feel when you look back at that and what do you think is the future of Indian cinema?
How do I feel? Obviously the answer would be delighted. We have been part of the Indian cinema for just about 80 years now. My Grandfather started off in the silent era, went onto my father, my uncles, maternal and paternal, my brothers, myself and now my son. It is the fourth male generation who is serving the Indian film industry and I am very proud to the fact that in our own capacity we are able to keep the legacy going in whatever way. I cannot say the future of the film industry as I do not know that. But yes thank you very much for all your patronage, your love, your affection, and your blessings. We hope to continue and I am sure Ranbir would like his son to keep the tradition going.
You inspire a lot of people around the world. When you where growing up who did you look up to?
It is very difficult to answer that, you know I don't try and emulate anyone in my life because as an actor, the kind of profession I am in, if you ask me whom I probably looked up to I feel, now this is a very personal opinion of mine, you tend to copy the actor and somewhere psychologically it effects your psyche and you will probably be imitating that actor. So I never wanted to do it so I really cannot say I have any idols. I did follow and admire the works of my father. Apart from being a father he was a great filmmaker, a great actor, and he was my Guru. Whatever I know is all because of him. So I am ever grateful to him for having taught me the ropes, and I do not know if I have been any good but all the same I have been at it for the last 40 years now.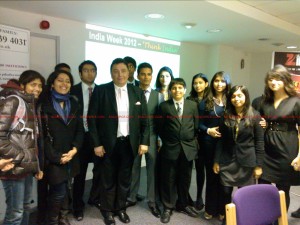 You mentioned your father; someone asked Michael Douglas what was it like growing up with Kirk Douglas as his father and he said it was very hard to break out of that mould. Can you share your experiences and if it was hard to break out?
You see Michael Douglas has one generation to answer I have got to answer three generations. He only has a father; I have a father, a grandfather and a son. Nowhere in the world has there been four generations of actors. I am very proud to say this that the Kapoor's are the only actors who have been working in films for four generations. That is because of the people the kind of love and admiration it is because of them.
You mentioned a little bit about Ranbir. In terms of as a father when you watch his performance, we have seen him grow in every film and he has become a new favourite. Do you not see him becoming one of the future stars we see around?
No I could not say that, I do not even falsely let him know that. I think he should be working hard. He is disciplined, he has the passion, and he has the vision to see what is happening so I leave it at that. I do not want things to go to his head wrongly.
What advice would you give to young people that want to become an actor, director or producer, based on your life experiences?
Advice, that is a very broad question. I am no one to advice anyone. Whatever work you do I feel you must have passion. There has to be a sense of sincerity, dedication some kind of love and passion for it. Then only you will achieve any goals you set off to. My kind of work is a very passionate kind of profession. You have to be very dedicated towards it. Success and failure is apart of this profession but you must be able to be absolutely involved in whatever creative field you have chosen.
Could you comment on the roles of the leading ladies in Indian films and how that has changed over time and you perceive it to be?
It is difficult you know. This question I have encountered for many years. We had a Mother India back in the 50's. After that what happened, we haven't yet seen such important films, unless you think The Dirty Picture is that. The woman plays a very important role in our society we should create films, we must create thoughts, we must create content which cater. Unfortunately films are a business, the mathematics has to be correct, and stories have to be correct. I do not know but for reasons, no feminist club should be beating me up, but it is always hero-oriented films that we make in India, for reasons beyond me I do not know.
Just to stay on record my maximum major hit films is where the hero has got the main role. Films like Prem Rog, Chandni, Damini, Tawaif, Bobby. Bobby was a girls name not mine!
So what about the film you have done with your wife?
Yes I must say that was a great moment for me when she agreed to do the film. She returned to films after 30 years and this was only because when I heard the story I liked it very much and I really wanted Neetu, my wife, to be apart of it. I said to her, 'listen why don't you hear the story.' She said, 'you must be joking I have forgotten acting.' I said, 'nobody forgets acting. Acting is like cycling once you know how to ride a bike, or act, you cannot forget'. I said, 'no listen, your daughter is married, Ranbir is doing pretty ok for himself. I need you to do this film. I personally feel this is a great story we can tell the people with interest and it will only happen if husband and wife work in it.' When she heard it she said, 'ok I will hear for 15 minutes just for your sake otherwise I am not going to be doing it.' She heard the story for two hours and she came to me and said, 'yes I am doing this film.' And that is how it happened.
I must tell you a very funny anecdote, first day of shooting was very strange Neetu would not remember lines. I thought maybe she is out of touch and maybe that is why she cannot remember lines, but then it went on pretty much often and I said, 'listen you cannot remember two sentences'. She took me to the corner and said, 'listen I haven't brought my glasses, I cannot read so I cannot remember!' It was just that we felt we had never disconnected. Yes she took time of to raise a family and thankfully God was kind and things went alright and we just immediately connected in the film.
Would we be seeing you anytime soon acting with Amitabh Bachchan?
It gives me very immense pleasure to tell you that we are to be. We were to start shooting a film together in the month of April, but unfortunately Mr Bachchan has taken ill and there has been a little set back as far as the schedules have been concerned. We possibly cannot shoot in the summer and the proceeding Monsoons, so the film has been delayed until September/ October. The film is called Mehrunnisa it is a very interesting film for both of us. I cannot disclose the name of the leading lady who is playing Mehrunnisa as it is still under wraps. It is a film that I really look forward too.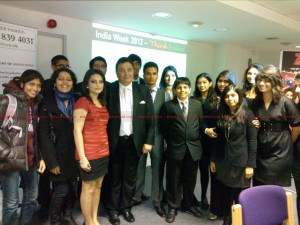 Which is your favourite of all your films?
I don't choose favourites, it is very difficult to choose when you work in so many films.
Why did you feel that people of all social backgrounds can relate to Bollywood films?
A simple answer is that we provide entertainment. It is wholesome entertainment. We do not preach, our films are a little over the top, they are exaggerated. They are the next best thing for birth control!
The Indian film Industry has changed dramatically over the past years. What do you think about this? Do you think it has changed for the better?
I don't think it has changed at all. It is the same. I do not understand why media say this, it has not changed, and it is the same. Maybe it has had some cosmetic changes otherwise it is still the same. We work the same, we have the same relationships, we have the same call times, the same acting patterns, the whole ball game is still the same.
So you do not feel it is becoming more westernised?
I wouldn't say it is becoming westernised. It is not really. Every film is not the case. You would not say Dabaang is a westernised film. We have all kinds of films. They say in the market you can get all kinds of clothes, you can get cotton, you can get silk. So we make all kinds of films. It is up to which ones become popular, which ones become successful. They get underlined a little more, people relate to that. Otherwise it is very difficult to pinpoint what actually works. If anyone knew the success of a film story and how to grow hair on a baldhead, would be genius you know!
LSE SU India Week continues until Sunday 26th February where the event concludes with Indian cricketer Ajay Jadeja speaking at the Lords Cricket Ground.