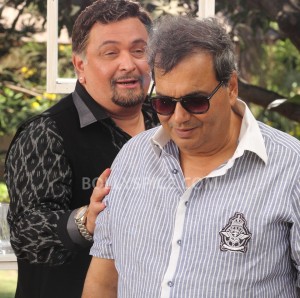 Rishi Kapoor has become a leading face of character driven roles that have negative shades. It started with the menacing Rauf Lala in Agneepath, led to the role of a gangster in D-day and now he plays the role of a flamboyant business tycoon who is the villain in Subhash Ghai's next film, Kaanchi.
Subhash Ghai and Rishi Kapoor have come together after a span of 32 years. Their first film together was Karz. Even though Karz did not do well at the box office, it's now considered a cult film.
Kaanchi will see Rishi Kapoor play a businessman who likes the 3 Gs – Girls, Guns, Guitar.
Subhash Ghai says "We are having so much fun on the sets shooting with Rishi Kapoor and it is a pleasure to work with one of the best actors in the industry. I am sure the audience is going to love his look and character in the film."
Kaanchi stars Kartik Aryan and newcomer Mishti. The movie is going to release on 6th December 2013.