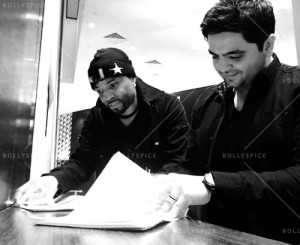 Saturday 15th February 2014 at a top London hotel, Rishi Rich signed to the international Grammy Award producer 'Teddy Riley' for an exclusive production deal with the 'Teddy Riley Music Group' (TRMG).
This marks a great journey which sees Rishi moving to Atlanta USA in April 2014 to begin work on projects with Riley. There are a number of super exciting American and International projects already lined up and waiting for Rishi's arrival!
News of the new deal spread quickly and social media was buzzing immediately with messages from fans and industry heads. Teddy Riley also jumped on twitter and sent a message to Rishi: "Yes we finally did it lil bro, the future is waiting for us"
The acknowledged 'King of New Jack Swing', producer and songwriter Teddy Riley's enviable list of platinum-laced credits include Guy, The Winans, Johnny Kemp, Blackstreet, Keith Sweat, Mary J. Blige, Hi-Five, Al B and Joe (whose Riley-produced 'Stutter' topped both the R&B and pop charts in early 2001). Just one of Teddy Riley's many achievements was co-producing Michael Jackson's Dangerous album!