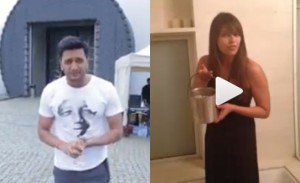 Bollywood just joined in the viral internet phenomenon known as the ALS Ice Bucket Challenge. Starting with Riteish Deshmukh who was nominated by Sania Mirza, Bipasha Basu who was nominated by a friend and Daler Mehndi. The rules are simple, all you have to do is first accept the challenge from your challenger,  nominate persons of your choice who have to accomplish the same within 24 hours, pour on to yourself a bucket filled with cold water and ice, and of course record that unforgettable moment!
The challenge has been accepted by participants from Bill Gates to Mark Zuckerberg, Oprah Winfrey to Steven Spielberg to raise funds and awareness about ALS (Amyotrophic Lateral Sclerosis) which is often referred to as Lou Gehrig's Disease. It is a progressive neurodegenerative disease that affects nerve cells in the brain and the spinal cord. When the motor neurons die, the ability of the brain to initiate and control muscle movement is lost.
Riteish Deshmukh has decided to nominate Akshay Kumar, Ashish Chowdry, Sidharth Malhotra. Bipasha has nominated fashion designer, Rocky S and Raj Kundra. Daler Mehndi has nominated Big B, SRK and Priyanka Chopra.
Accepted my best friend suzie's #IceBucketChallenge!i am nominating RockyS and Raj Kundra! http://t.co/yCTCckaa2Z

— Bipasha Basu (@bipsluvurself) August 19, 2014
The #ALS #IceBucketChallenge for a good cause! I nominate -> @SrBachchan @iamsrk @priyankachopra #RabRakha. https://t.co/awRkTIhJW5

— Daler Mehndi (@dalermehndi) August 19, 2014