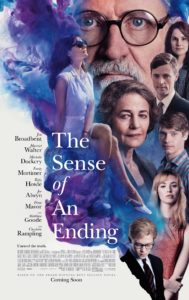 Following his award-winning hit The Lunchbox, Ritesh Batra's new film, The Sense of An Ending, releases exclusively in New York and Los Angeles this Friday, March 10, and nationwide next week on March 17.
Winning rave reviews, the film is also being acclaimed at film festivals. THE SENSE OF AN ENDING was honored at the Mostly British Film Festival in San Francisco with three awards including Jury Prize for Best Film, Best Director, and Best Actor for Jim Broadbent.
Based on the book by Julain Barnes, The Sense of An Ending was adapted for the screen by award-winning playwright Nick Payne and produced by David Thompson and Ed Rubin (Woman In Gold). The drama stars Academy Award® winner JIM BROADBENT (Iris, Gangs of New York, Moulin Rouge!), HARRIET WALTER (Babel, Atonement, Sense and Sensibility), MICHELLE DOCKERY (Babel, Atonement, Sense and Sensibility), EMILY MORTIMER (Shutter Island, Hugo, Lars and the Real Girl), BILLY HOWLE (The Witness for the Prosecution, Cider with Rosie, Glue), JOE ALWYN (Billy Lynn's Long Halftime Walk, Higher Education, Keepers), FREYA MAVOR (The Lady in the Car with Glasses and a Gun, Sunshine on Leith, Skins), MATTHEW GOODE (The Imitation Game, Belle) and CHARLOTTE RAMPLING (45 Years, Melancholia).
Tony Webster (Broadbent) leads a reclusive and quiet existence until long buried secrets from his past force him to face the flawed recollections of his younger self, the truth about his first love (Rampling) and the devastating consequences of decisions made a lifetime ago.
There will be special Q&A sessions with director Ritesh Batra after select New York City shows on Friday March 10 at Lincoln Plaza Cinema, and Saturday March 11 at Landmark Sunshine Cinema. Updates on the release will be available on the film's official site: http://cbsfilms.com/thesenseofanending/.
Stay tuned for our review and an interview with the director!