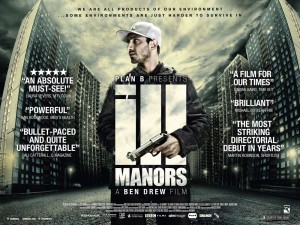 Thousands of screaming fans and a line-up of celebrities that read like the who's who of the music industry turned up last night in the newly refurbished Leicester Square, to celebrate the World Premiere of iLL MANORS – the highly anticipated directorial debut by British music artist Ben Drew (aka Plan B).
Heading the red carpet walk of honour was Ben Drew himself, supported by leading actor Riz Ahmed, who plays the lead protagonist Aaron in the film, as well as co-stars Ed Skrein, Anouska Mond and Jo Hartley.
The premiere was attended by a host of celebrities who, as well as showing their support for Drew's first film, were keen to check out the project that has taken over the artist's life for the past two years.
Celebrities attending included: From the world of music – Alexandra Burke, Rizzle Kicks, Ed Sheeran, Professor Green, Liam Bailey and Delilah; Actors – Jamie Winstone, Reece Ritchie, Shivani Ghai and Laila Rouass; BBC Radio 1 presenter Nihal and TV presenters Alesha Dixon and Claudia Winkelman and a host of others.
iLL MANORS, which releases nationwide on 6th June has already received rave reviews from critics, who are clearly amazed and impressed by the superbly talented music artist's first venture into film-making. Drew successfully combines his knowledge of the streets with his musical expertise, to take viewers on a thrilling ride through action and music.