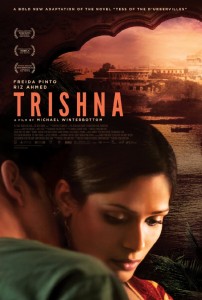 Michael Winterbottom's critically acclaimed film Trishna starring Freida Pinto and Riz Ahmed, is set to hit theaters in the US on July 13th. Based on Thomas Hardy's classic novel Tess of the D'Ubervilles, the tragic romance is re-imagined and set in contemporary India. Trishna lives with her family in a village in Rajasthan, India's largest state. As the eldest daughter, she works in a nearby resort to help pay the bills. Jay is the wealthy son of a property developer. When he takes up managing a resort at his father's request, he meets Trishna at a dance and their fates cross. Jay finds every opportunity to win Trishna's affection and she accepts his efforts with shy curiosity. But when the two move to Mumbai and become a couple, Jay's deep family bond threatens the young lovers' bliss. In Trishna, the lead character Jay is a mix of both Angel and Alec from the Hardy novel. Taking on the challenging role is British actor Riz Ahmed who says, "At first I thought it was kind of daunting to try and combine two great characters from literature but what became clear was that it wasn't going to be a literal adaptation of Hardy's novel." Check out this cool interview with the actor as he talks about playing Jay, working with Freida Pinto and to find our more about the making of the classic English novel into the modern Indian world that is Trishna.
How did you get involved in the project?
Michael randomly got in touch and invited me for lunch and a catch up and told me he had adapted 'Tess of the D'Urbervilles' and that he wanted to set it in modern India, crossing classes and cultures. In his usual informal relaxed way, he offered me the role and I said yes of course!
Who is Jay?
He's the youngest son of a rich Indian businessman. He's in his mid-20s and he hasn't managed to step out of his father's shadow and really make his own way or make a success of his life on his own terms. He suffers from the lost rich kid syndrome. He's on this trip to India from Britain with his friends as a last kind of blow out before he stays on in India to run some of his father's newly acquired hotels in Rajasthan. He's frustrated because he has to slot into that role rather than have his own projects and that both haunts and drives him as a character. Ultimately the project he finds and latches onto is Trishna herself. He seeks her out and tries to develop her, to satisfy his own needs and make something his own. In some ways you could say his privilege is a curse in the sense that he's got a lot to live up to. But in other ways, he does try to break away in his own direction when he goes to Bombay. He's only able to do that and have that financial independence because of his wealth.
Does he really fall in love with Trishna?
Yes, but I guess we've been talking from the point of view of the macro themes and where he's coming from means there's a tragic outcome to the relationship. But, on a personal level, there is something there and he's completely bewitched by Trishna. She represents the ideal of an innocent woman for him – the virgin maid and it is a kind of love. When they're in Bombay they are in love, but the limitations in the relationship come from the gap between them being so vast. There's only so much they can talk about – their world views only overlap to a certain extent. At the point where they're talking about the abortion that's something that really frustrates Jay, because Trishna didn't make her own mind up about that and she kept it from him. I guess honour trumps honestly and openness for Trishna. There is love between them but as with every relationship, what makes up that love is lots of different things. Maybe for Jay at the beginning, he almost over-idealizes her, he sees her as a way of re-connecting with his ethnic background and to reconnect with something pure and innocent and something that's his own. The limitations of all those things in the relationship start emerging and he feels he's failed in his own life.
What was it like working with Freida?
A lot of fun – she's a very cool girl. I think she's an incredibly instinctive and natural actress. She's very generous and there's minimal fuss with her. Working with her is one of the easiest processes because she's incredibly self-sufficient. She's generous about giving you space and time to develop your character. For me, it's ideal to work with someone like that, particularly when you're working with Michael and the process is one where things change and evolve and everything's very flexible. Michael wants you to be natural and that creates a really nice atmosphere on set.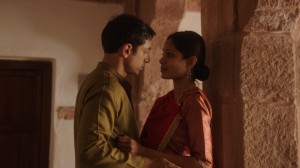 Did you read Tess of the D'Urbervilles before embarking on this film?
After Michael told me about the film, that was when I read the book but I hadn't read it previous to that. At first I thought it was kind of daunting to try and combine two great characters from literature but what became clear was that it wasn't going to be a literal adaptation of Hardy's novel. Angel's love for Tess is pure whilst Alec's is a more selfish love. In the novel they're never really on the scene at the same time so that meant we could take on the spirit or psychology of one character and then at different stages in the story, introduce the other. To begin with, Jay idealizes Trishna in the same way that Angel idealizes Tess. He sees her as a pure woman and views the experience as a return to a natural way and all that is good and pure. When Jay is at the hotel with his friends, he spots this girl from the village and this real obsessive but full-blooded love emerges and at this point we see Angel's spirit of his affection for her, but what we start to get is a gradual decline into Alec. Having a novel to base the characters and ideas on gives you a rich armoury for you to draw on. If we'd have been too faithful to the novel, we'd have all gone mad!
There are strong similarities between Hardy's England and what's happening in India right now. Can we explore that?
Yes, that's a very interesting thing to draw on. India is changing at breakneck speed with modernization, industrialization and mass migration from the countryside into more urban centres and we explore how the old world and new world are rubbing up against each other. The idea of morality is very pertinent because it's very important to point out that some western audiences may find themselves slightly confused as to why Trishna feels embarrassed about sleeping with Jay and why she feels she needs to run away and why she feels mortified at having had the abortion. This is all a big deal for her. The issue is about traditional morality and that's what it's like in large swathes of the world to this day, where sex before marriage and having children out of wedlock is still a huge deal and that shame can destroy a family in terms of their public standing. Maybe people need to realize that's a reality when they're watching the film.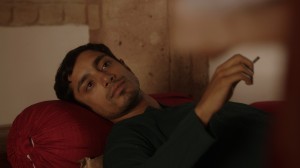 You filmed in India with a small crew, on real locations and there was a lot of improvisation. What were the challenges and what were the joys of that?
Working with Michael, there's always a very small crew, it's a very intimate and very informal experience. Michael never calls action or cut. It's a very relaxed, gentle, natural process in term of the atmosphere created for the actors. For the production crew I guess it's not so relaxed – it's crazy that's because there's so much that's being achieved and Michael has very high standards and he's a real stickler for authenticity. The burden of that kind of pressure probably falls on the production but for the actors it's a really unique experience. There's no right or wrong – you just have to embrace the fact that you don't know what the hell's going happen because there isn't really a script and you've got a very basic idea and you just jump into it and that's the whole nature of improvising and the nature of working with Michael.
What was it like taking on your first romantic lead?
I guess I'd never really thought about it being a romantic lead. It's a romantic story but also a tragedy and a drama. From my point of view I try to make the characters I play as complicated for myself as possible so I don't have to have a very clear grip on who they are day-to-day on set, so you get a fuller picture of them at the end of the film. That's also part of how it is working with Michael – not having a rigid, fixed view of the characters. We had a lot of long conversations and you can build up this very intricate back story to the character – what books he might read, what music he'd like to listen to, how growing up was for him and you concoct this back story but in terms of how the character would be at the end of the journey you can't really control that kind of thing. So, I guess that's a very long way of saying I never really thought of it as a romantic lead!