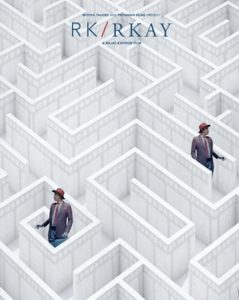 RK/RKAY
Starring Rajat Kapoor, Mallika Sherawat, Kubra Saitt
Directed by Rajat Kapoor
As a movie buff who has always enjoyed the cinema of Rajat Kapoor—Ankhon Dekhi and Mithya being personal favourites—his latest work left me with mixed feelings. It's not that I disliked it. It's just that I didn't like it enough. At least, not as much as I'd have liked to.
As a director Rajat Kapoor remains as audacious and seductive as ever. In RK/RKAY he tears the idea of a doppelganger right out of a movie screen and brings it into his own home.
Let me explain. RK, the director, has just completed a film where he stars as a poet-lover Mehboob,The film, a passionate love story of Mehboob and Gulabo(Mallika Sherawat) has not turned out as well as expected(much like RK/RKAY). The producer, a superb turn by Manu Rishi Chadha , is a disgruntled nervous businessman, who wants the tragic ending to be changed into a happy one.
Here we see Rajit Kapoor vent his sarcasm on the mythical philistinism of Bollywood movie producers. It is an unfair description. Just because you as a filmmaker have no access to big money(this film was made with public funding) you cannot look at the movie-producer ilk as ugh.
But then RK , the director in the film,is as churlish as Rajat Kapoor in real life. RK gets even more churlish when Mehboob(Rajat in a double role), the character he plays in his own film, disappears(yes literally disappears) from the film and lands up at his home as an uninvited house guest.
It is this part of the plot, where RK the director's home space is taken over by Mehboob (who in theory is just a character in RK's film and who doesn't exist) that perks up the proceedings.Without external props, Rajat Kapoor is able to portray RK and Mehboob as two completely antithetical characters .We can see why RK's wife and children begin to warm to Mehboob,or perhaps the idea of Mehboob, as he brings back the poetry so abysmally gone from RK's wife's marriage.
This idea of a character jumping out of the screen was explored far more powerfully by Woody Allen in The Purple Rose Of Cairo. Here it just remains an interesting idea , potentially innovative but largely unexplored. While Kapoor is a smashing success in the two roles, Mallika Sherawat as Mehboob's femme fatale in the film-within-film is a disaster. She looks neither enticing, nor seductive.Kubra Saitt is ill cast as RK's unhappy wife.
Rajat Kapoor's regular cinematographer Rafey Mehmood composes the frames to simultaneously denote a sense of growing frustration and escalating escapism. The camerawork reminds us of how ambitious this film really is.