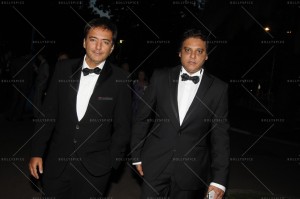 Abis Rizvi and Kamal Sadanah are extremely happy. Kamal's debut directorial venture Roar: Tigers Of The Sundarbans which has been produced by Abis Rizvi has generated a lot of buzz. Not only has the trailer garnered over 1 million hits in a few days, they also had super star Salman Khan grace the film's trailer launch. 
For Abis, this project is very close to his heart.
 Lisa, who is married to Kamal, feels that the Sadanah household is high on excitement and is thrilled with the positive reviews pouring in about the trailer. 
Before the Indian audience, it was the international community in Cannes that got a sneak peek into the film earlier this year when the producer-director duo previewed the trailer there. Now, the people in India have got a taste of this thrilling adventure, and the general response has been very positive. Roar revolves around a young photojournalist who rescues a white tiger cub ensnared in a poacher's nest. From there on, things go wild, literally!
Roar: Tigers Of The Sundarbans
 is all set to release on 
September 19
.