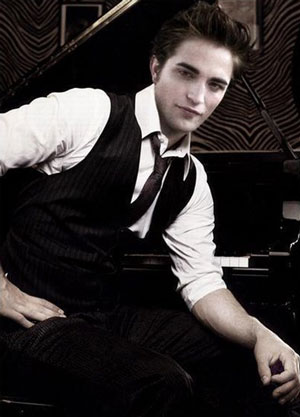 We recently told you that Bella aka Kristen Stewart of the hit Hollywood Twilight series would love to do a Bollywood film and star with Shah Rukh Khan. Well, it seems she is not the only one of the Twilight cast. Hottie Edward aka Robert Pattinson is also a Bollywood fan!
Recently in an interview he said that DDLJ was on his list of favorite movies, "Well, I have five movies in my top list which I really admire and love watching. Notting Hill, 50 First Dates, Sweet November and Ghost . And I also really liked the Bollywood movie Dilwale Dulhania Le Jayenge . I love the sweet romance portrayed in the movie." Cool huh?
Take a deep breathe Bollywood and Rob fans because he says he would love to do a Bollywood movie. He told DNA, "Of course, I would love to do an Indian movie — acting and music together, the best for me."
As you can see he is all for the music and dance in Bollywood films and he went on to say, "The kind of movies made in India sync well with the songs, and I guess the impact of the movies will be nullified without them." Adding, "I believe the movies made in India are high on emotional aspects."
So his favorite star or who would he love to work with? "Shah Rukh Khan is the actor I know and hence the one I like. And Kajol."
As for now there are no plans for a Bollywood film but he would love to come visit India and see the Taj Mahal and Kashmir.
It looks we will have to wait and watch to see the Twilight stars on the Bollywood film stage but if we hear they are you can bet we will let you know first!