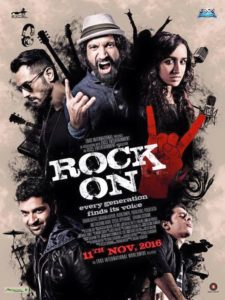 I have been a fan of Magik since I heard the first notes of 'Rock On!!' hit my speakers! I loved the songs and loved the movie even more when Rock On!! hit theaters in 2008. Now Magik is back in the sequel Rock On!!2 and I couldn't be more excited.
Once again Farhan Akhtar, Arjun Rampal and Purab Kohli are back taking center stage and this time Shraddha Kapoor and Shashank Arora have joined the band. Now we have only seen a very intriguing teaser but we do know that we can't wait to watch the film when it hits the stage on November 11th!
Bringing the rock music back again are the ever cool and fabulous Shankar, Ehsaan and Loy. For vocals, Farhan Akhtar is back singing lead and what is cool is that Shraddha Kapoor also takes the mike. So does Magik still rock? Read on to find out!
Oh it is so brilliant to hear Magik again! I loved the guitar riff that grounded the jam that is Jaago. Of course, Farhan Akhtar, with his gravelly vocals, is the perfect voice for this track. He has gotten stronger as a singer and I was really impressed with the power and passion he put into his performance. A bit mellower in the beginning, which had a cool groove, the track goes full on rock and I loved it! I am proud rock chick so this is hits all the right notes for me! Loved the screaming Jaagooooo! And the brill harmonies are another standout. Killer rock jam from the smooth and soft to the screaming vocals, to the shredding guitar, to the pounding rock percussive beat! Rock finger salute dudes!
We get an interesting change up with the beginning of Udja Re with a very classic Indian feel to the music. The always great Shankar Mahadevan is brilliant with a very traditional sound and classic runs. Joining in are the beautiful tones of Shraddha Kapoor in a more modern vibe. She is a fantastic singer. She is the real deal. Then we get the Magik flavor and Shraddha is fab in the power rock sections as well. I loved her soft lilting tones as juxtaposition to Shankar's more wailing tone. Shout out to the musicians too. Another awesome track.
A cool breezy guitar line starts off You Know I Mean and I am tapping my feet. Then it transposes to another great rock infused beat. Farhan Akhtar is in good voice but it does seem that the tempo is bit fast for him so much so that he is struggling to stay with the beat. The track was just missing something. I did not really get the spoken You Know What I Mean. But maybe the track will make sense in the movie. A fun song, the musicians really are wicked, but not my favorite.
Give me an acoustic guitar line and I am happy girl. Manzar Naya has such a lovely one at its base so I was so music smiley listening to this song. 'Manzar Naya' slows down the tempo a bit but it still rocks! Farhan Akhtar sings with wonderful feeling and inflection. It also showed the range of his voice, so impressive. I usually have a whistle bias, but not in this song. Such a pretty song that I wanted to hear again before it was even over. Another amazing SEL track, they just know how to make music sing!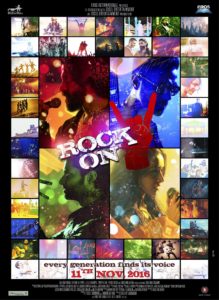 Totally 


loved the beginning of Tere Mere Dil with the vocal being the music line and loved that it continued through out the track. 'Tere Mere Dil' has a very cool groove with such a unique sound. Shraddha Kapoor again is terrific. She has such a pretty quality to her voice but then she can hit the strong notes too. Another great track on an OST full of excellent songs. Give this one a spin!
A lovely piano line starts off Woh Jahaan and I am in a musical happy place. With a whispering tone to her vocals Shraddha again is in good voice. The one thing I will say was that I missed some emotion from Shraddha, she sang with a lovely tone but I did not really feel the lyrics. Loved the Sarod played by Soumik Dutta; it added a very interesting layer. We get to hear Farhan Akhtar as well and I prefer his rendition. I feel more from him when he sings. The guitar solo is another highlight! I would say give 'Woh Jahaan' a listen, especially for Farhan and the music. I think it is going to play better within the Rock On 2 world.
I have to be honest I was a little confused when Hoi Kiw/Chalo Chalo began. It is something completely different. A frisky lively beat and a very spicy inflection makes the sound of the song. The song features Summersalt, a Khasi band from Meghalaya (Front/Acoustic Guitar – Kitkupar C.Shangpliang, Duitara – Adorbha C.Shangpliang, Drums/Vocals – Dawadhok C.Shangpliang, Female Vocals – Pynsuklin Syiemiong, Bass Guitar/Vocal Support – Baiaineh Gregory Ford – C.Shangpliang, Electric Guitar/Vocal Support – Nongrum Percussion Support: Ka Bom – Damang Syngkon) who are brilliant. There is a mix of Hindi and Khasi lyrics and flavors to the music. The singers Usha Uthup, Kit Shangpliang, Pynsuklin Syiemiong are fabulous. The track does add in the more hard rock backbeat, which is wicked. It is a very interesting merge of the two. It does not seem to work at times but at the same time it totally does. Repeated listens made me appreciate it even more. I will leave this up to you to decide but I am a definite fan.
Again SEL mix moods, vibes and flavors in Ishq Mastana but it all melds to make a very most excellent track that makes me say "oh yeah Rock On 2!! rocks!" It has a trance underlay that is really cool. It does break into full hard-hitting rock and well it ROCKS! Shankar Mahadevan and Digvijay Singh Pariyar are marvelous. I just loved this song because it was such a mix of Indian vibes and vocals, rock beats with wailing electric guitar and thumping percussion and more that just came together to make a wicked jam!
Though with a different sound; Magik and SEL rock again! I loved 'Jaago' (yes, every time I read that I hear the scream!), 'Ishq Mastana' and 'Manzar Naya' best but all the tracks, with maybe the exception of 'You Know What I Mean' on this OST are worthy of an add to 'Songs that Rock' playlist. I can't wait to see the movie and the concerts when Rock On!! 2 hits theaters on November 11th!