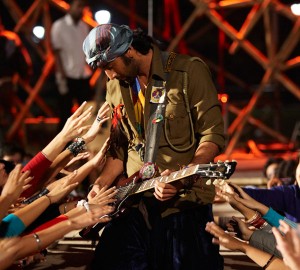 In these times when a movie's fate can be sealed by the comments it provokes on social networks, even Rockstar faces positive and negative feedbacks on Twitter. But the negative ones, mostly claiming the film to be tedious and Imtiaz Ali to have failed as the director, are in a minority against the positive ones raving about the film, Ranbir Kapoor's outstanding performance, AR Rahman's music and Imtiaz Ali to have excelled as the director.
Amitabh Bachchan told his Twitter community, "Just back from 'RockStar' and living in the brilliance of all – Imtiaz Ali, Ranbir, AR and Nargis" while Karan Johar assured, "Watched ROCKSTAR…and am a certified Ranbir Kapoor fan!! His performance is unbelievable!" Bipasha Basu had been one of the first to tweet, "Ranbir Kapoor as Jordan,U have to fall in love with him!Imtiaz Ali is an outstanding filmmaker!"
Filmfare editor Jitesh Pillaai exclaimed, "What an overwhelmingly beautiful film is Rockstar. And what a standout bravura performance from Ranbir Kapoor. Imtiaz Ali, Ranbir take a bow." Amul Mohan was touched by both Ranbir and Shammi: "Rockstar in one word, sensational! What an acting performance by Ranbir Kapoor take a bow! People welcome a great actor to the industry. Watching Shammi Kapoor on screen in Rockstar is like a dream. N watch out for Ranbir's homage to him." And Shailesh Kapoor, though harshly critizising Imtiaz Ali and Nargis Fakhri, praised Ranbir's " stirring performance" and added, "I have decided that I'll sue anyone who takes Ranbir Kapoor's name in the same breath as Imran Khan."
Filmmaker and actor Anurag Kashyap was overwhelmed: "Rockstar is not so much about rock as it is an individuals story…its another kind of coming of age film..just can't get it out of my head. It is easily Imtiaz Ali's best. This is how a love story should be told. Soul stirring. Still assimilating. It is unlike most films.. no cacophony of sounds..quiet.. no unnecessary background to propel it forward..Ranbir is just awesome. Such an unexpected film.. does not take any easy route.. does not become a clap trap or a crowd pleaser..It's just so heartfelt."
Devansh Patel of Bollywood Hungama joined Kashyap in his opinion that Rockstar is more than just another easy-going popcorn film: "It takes time to absorb some movies and in rare cases you come across films like ROCKSTAR that make you think ten times b4 u pen the review", adding: "One advice to all the movie buffs: Stop judging movies on 'rating' and 'stars'. It's not about saving money or a pound or a dollar, it's about your passion for cinema that should make you want to buy a ticket."
Kashyap's colleague Viveck Vaswani demonstrated his respect to Rockstar and the movie's makers and audience: "Rockstar presumes the audience is grown up and flaws notwithstanding respects them! That's why its going to be a hit! Ranbir performs for an audience presuming their intelligence and without patronizing them for a second! That's why its a milestone! Imtiaz Ali has made a film which, flaws notwithstanding has redefined the average age of the Indian audience! As did Udaan, Delhi Belly! Post Rockstar, the bar has been raised! And 21 cr business in 2 days proves the audience will always respect those films that respect them!"
Words every film maker should hang over his desk and remember forever.